'70s-Era David Bowie Drummer Dennis Davis Passes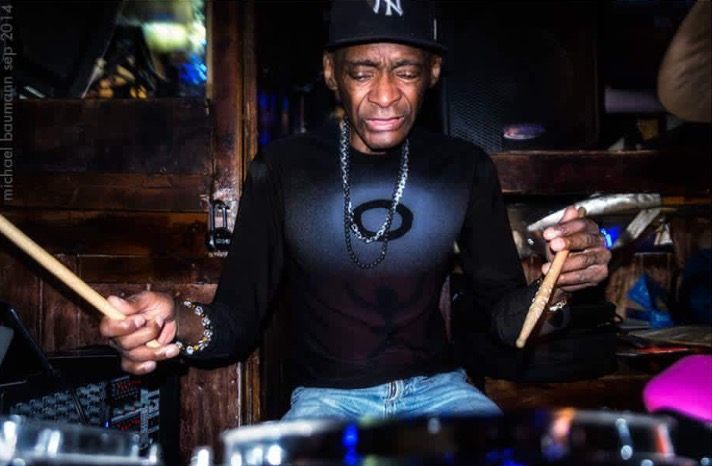 Longtime David Bowie drummer Dennis Davis passed away yesterday. Davis appeared on a string of Bowie studio albums in the '70s, beginning with Young Americans in 1975 and ending with 1980's Scary Monsters. The run of recordings, which also includes Station to Station ('76), Low and Heroes (both '77), Lodger ('79), and Scary Monsters ('80), represents not only the exploratory peak of Bowie's creative output, but, some would argue, classic rock's. It includes some of Bowie's most groundbreaking work with producer Tony Visconti, and comprises the famous Bowie/Brian Eno trilogy of Low, Heroes, and Lodger, which found two of rock's most outrageous artists creating material that to this day is used as a referenced by music's barrier-pushers. Davis was often in the middle of that creative cauldron, and provided critical rhythmic ideas and an open-minded attitude that allowed such huge artistic steps to be successful.
"Dennis was so open," David Bowie confirmed to Modern Drummer in 1977. "He was almost orgiastic in his approach to trying out new stuff. He'd say, 'Yeah, let's do that new shit, man.' I told him about a Charlie Mingus gig that I saw where the drummer had polythene tubes that would go into the drums, and he would suck and blow to change the pressure as he played. Dennis was out the next day buying that stuff. Dennis…had a lot of his own thoughts on things, and he would throw us all kinds of curveballs."
Beyond his work with Bowie, which also includes the 1978 live album, Stage, Davis appeared on albums by crossover jazz artists Roy Ayers and George Benson, on Iggy Pop's Bowie-produced 1977 solo debut, The Idiot, and Stevie Wonder's Journey Through the Secret Life of Plants ('79) and Hotter Than July ('80).