May 2016 Issue of Modern Drummer featuring Andrés Forero of Hamilton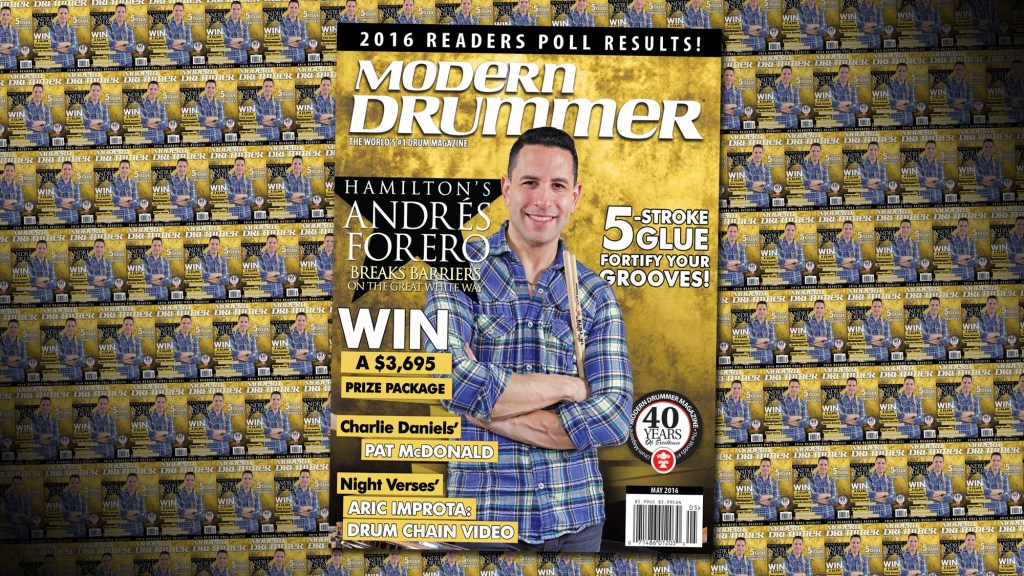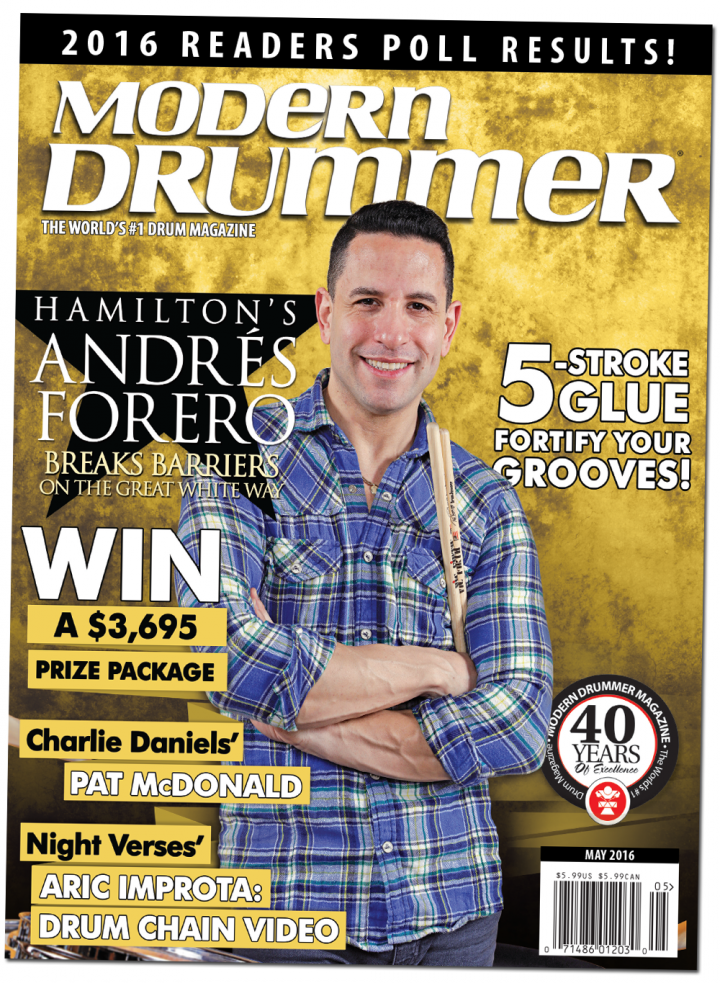 (Available digitally March 31, 2016; in print April 1, 2016)
On the Cover
Andrés Forero
"Andrés Forero is one of the most creative and versatile players of our time, and his participation in Hamilton solidifies his stature as one of the great drummers of Broadway."
That's a quote from the legendary Journey/Vital Information drummer Steve Smith. We couldn't have put it better. – by Ilya Stemkovsky

FEATURES
Catching Up With…JACK DEJOHNETTE and Night Verses' ARIC IMPROTA
THE 2016 MODERN DRUMMER READERS POLL WINNERS
Your favorite studio, rock, pop/R&B, prog, metal, fusion, alternative, country, jazz, and up-and-coming drummers—plus top picks in the MVP, percussionist, clinician/educator, educational product, and recorded performance categories.
PAT McDONALD
The veteran drummer with the famous Southern rocker Charlie Daniels hasn't always had it easy, but he's never let life's challenges keep him from bringing it hard every time he climbs up on that riser. – by Aaron Strickland Advertisement
RON THALER
RON THALER's credits include Alicia Keys' megahit "No One," speaking and drumming roles on NBC's Lipstick Jungle, video game soundtracks, and clinics…and that's just the tip of the iceberg. – by Ilya Stemkovsky
PAUL WELLS
PAUL WELLS defines the word authentic with the pre-swing jazz institution Vince Giordano and the Nighthawks—then turns around and backs the contemporary jazz and pop vocalist Curtis Stigers. It's all in a day's work. – by Jeff Potter
Up & Coming LONIEL ROBINSON
LONIEL ROBINSON has spent many a night in the rock 'n' roll trenches. With the new album by the post-hardcore band Letlive in the can, the masses are about to get a clear idea of just how much he's capable of. – by Willie Rose Advertisement
EDUCATION
Basics : Five-Stroke Glue
Fortify Your Grooves With a Staple Rudiment – by Rich Redmond (click here for supplemental video content)
Rock Perspectives : Progressive Drumming Essentials
Part 10: Implied Metric Modulation Madness – by Aaron Edgar (click here for supplemental video content)
Rock 'n' Jazz Clinic : Groove Construction
Part 1: Snare Displacement – by Jost Nickel (click here for supplemental video content)
Jazz Drummer's Workshop : Rhythmic Conversions
Part 1: Modulating Accented 8th-Note Phrases – by Steve Fidyk
In the Pocket : The Collapsing Concept in 6/8
Crushing Stickings to Create Odd Afro-Cuban Ideas – by Steve Fidyk and David Garibaldi
Concepts : Drum Clinics
What Happened? – by Russ Miller
EQUIPMENT
Product Close-Up
• DW Collector's Series Pure Oak Drumset(click here for supplemental video content)
• Paiste Signature, 2002, 602, and RUDE Additions (click here for supplemental video content)
• Canopus Solid Brass and Harvey Mason Signature Snares (click here for supplemental video content)
• Shure PGADRUMKIT7 Mic Pack (click here for supplemental audio content)
Gearing Up : Deftones' Abe Cunningham
Spotlight : Remo Belli How Time and Circumstance Gave
Rise to the King of the Mylar Drumhead – by Miguel Monroy (click here for supplemental video content)
New and Notable
DEPARTMENTS
AN EDITOR'S OVERVIEW Tour Realities
by Willie Rose
Readers' Platform
News
It's Questionable Mind Matters: State-Dependent Learning
Showcase Featuring Drum Market
Critique Taking the Reins, featuring Ches Smith, Randy Gloss, and Chris Parker
Kit of the Month The Green Machine
and more!