On the Beat With Ray Marte of Moon Tooth: Talks Influences, Improving, and Learning New Styles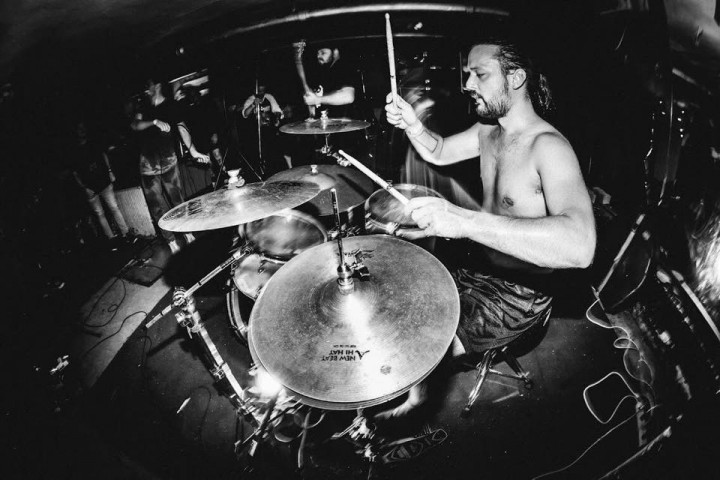 Hello! There is not much that makes me happier than playing the drums. I started playing and taking lessons from Mark Edwards at South Shore Music in Massapequa, NY before I even knew how to write in cursive, or even print legibly. I still cannot do either of those things, but luckily we have modern technology to help fill in the gaps that I instead filled with drums over the last two decades.
My family was and still is very musical and that had a big influence on me picking up the drums. They have always been my biggest supporters. My dad was blasting Zeppelin and Stevie Ray Vaughan in the house throughout my childhood so that is a big reason why blues and rock will always be the backbone of my approach. My mother, sister, and father all played guitar so it seemed right to learn something that no one else knew anything about. I had a lot of energy and it was better for me to burn it out playing drums than annoying them with it all day.
My earliest big influence was John Bonham (what a surprise) but as I moved into middle school I started to learn from metal drummers such as Vinnie Paul and Dave Lombardo. They can be very intricate players but they know when to shut up and just give the listener something to air-drum to—this is an approach I always try to incorporate into my own writing. Advertisement
On Moon Tooth's new album, Chromaparagon, I've started to incorporate linear drumming for the first time; it has definitely been a challenge to take on a new style. The song "Vesuvius I" has a couple of parts that incorporate what I have taught myself about linear drumming through studying the work of guys like Thomas Pridgen and Tony Royster, Jr. Those two drummers alone have given me a couple lifetimes' worth of work to do.
Aside from drumming in Moon Tooth, my partner, Anthony Lopardo, and I own a recording studio and have been successfully working together for the better part of ten years. I have played on hundreds of the records we've produced over the years, and that has definitely made me a stronger player. Recording myself constantly has really helped to improve my timing, consistency, and general songwriting ability.
In addition to drumming, I have been playing guitar and bass for fourteen years and have written several parts for these instruments on the upcoming Moon Tooth record. The tapping techniques I used for the song "Offered Blood" definitely were made easier because of my background with rhythm and my percussive approach to playing guitar. Advertisement
Currently I'm using Precision Drum Company shells, a Tama Star Classic snare, Zildjian cymbals, and a DW 9000 kick pedal.
Thanks for reading!
Watch Ray Marte and Moon Tooth "Offered Blood" play-through video here:


Pre-order Moon Tooth's debut album, Chromaparagon at moontoothny.bandcamp.com.
For more on Marte and Moon Tooth, visit Facebook facebook.com/moontoothband.