On the Beat With Jason Ganberg from Deep Dark Blue and the TV Show <em>Undateable</em>: Live Television and New Ventures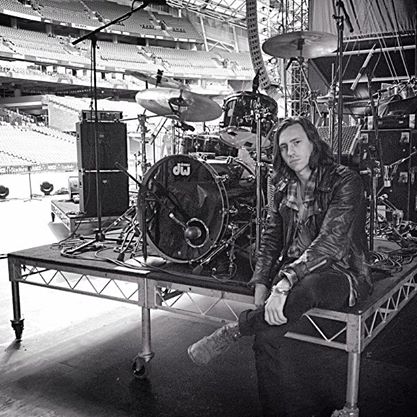 Hey Modern Drummer readers! My name is Jason Ganberg, I'm a British drummer and have been living and working in Los Angeles for seven years now. It's been quite a while since my last On the Beat, so thought I'd fill you in on what I've been up to.
Since moving on from my last full time band Purple Melon, I've been keeping myself busy with various sessions, gigs, and touring. I've also been diving deep into writing music and sharpening my production tools in the studio. I've been a sub-composer on a couple of TV shows including Surviving Jack, which was on FOX, and Undateable, which just finished its third season on NBC.
Undateable became an interesting gig for me as the network decided to make the third season 100% live on TV. If you're not familiar with the show, it's a multi-cam comedy (similar format to Friends) with a bunch of great stand-up comedians. We film two shows in front of a live audience for east and west coast time zones—it can be a crazy, hectic, fun time! The house band consists of just two of us, we play the theme song and cues in and out of commercials, kind of like Saturday Night Live (except it's just the two of us doing the job instead of about twelve). We have to be really on the ball with this gig as cues can change at anytime depending if the show is running over or under schedule. It's been a really fun time working on the show; we just wrapped the season but you can watch every episode on Hulu and hopefully we will be back for season four in a few months. Advertisement
Another new venture for me has been starting my own new duo project called Deep Dark Blue with my best bud/vocalist/musical extraordinaire Bryce Alber. Our first self-titled EP is due to be released and features one of my other best buds, Owen Barry, on guitar. He's is an incredible player and well worth checking out if you aren't familiar with him. Bryce and I produced and wrote everything on the EP with gear that can fit into my backpack.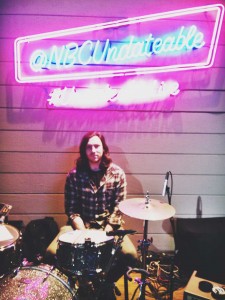 I've recorded and written music for this band all over the place while I've been on tour and traveling, even recording a song, which made the cut, at my mum's little solar-powered house in the Spanish desert. Lucky for me my mum is really cool; both my parents are musicians so there's a drumkit and a piano in her place. I really embrace working in this way, recording sounds and textures outdoors, and inside on anything I can get my hands on.
Deep Dark Blue's sound blends a lot of electronic elements and samples with real playing and acoustics, creating an ambient soundscape kind of vibe—but with lots of energy and upbeat grooves, too. It's a style I've been into for years now, having been heavily influenced by bands and artists like Caribou, Four Tet, and Tame Impala, to name a few. Advertisement
Thanks to Sabian cymbals and Canopus drums. Hope to see you at a show sometime soon and thanks so much for reading!
You can check out the band here on our website: deepdarkblueband.com/. We have a couple of unreleased songs under "sounds."
Also, feel free to keep up with our tour dates and EP release at facebook.com/deepdarkblueband/ and Instagram @deepdarkblueband.
Check out Ganberg's first On the Beat at moderndrummer-com.go-vip.net/2011/01/jason-ganberg/ and for more on the TV show, visit www.nbc.com/undateable.