On the Beat With Simon Hanson of Squeeze: Continuing the Success of 2015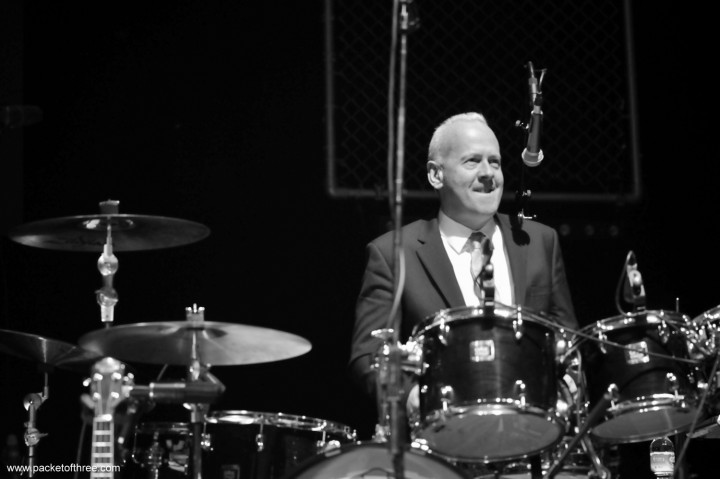 Hello MD readers, I'm Simon Hanson from the English band Squeeze ("Tempted," "Cool for Cats," and "Pulling Mussels from the Shell"). I've been associated with the band for the last twenty years and a full time member for the last ten. Before that I was a member of the British cult band Death in Vegas and have also had the pleasure of working with Grace Jones, Ozzy Osbourne, Liam Gallagher, Paul Weller, the London Quireboys, Tony Hadley, William Topley, and Ace of Base. I did some TV work with Hall and Oates in the UK, as well.
In 2015, Squeeze had a wonderful year, a new UK album, and a long and sold out tour. Cradle to the Grave was the first full original studio album for the band in seventeen years and it was great that the world received it so warmly. We found ourselves once again on national radio and TV playing new songs, which for any band is the lifeblood of happiness and success. We played our favorite venues, the highlight being London's Royal Albert Hall that was so packed with enthusiastic fans I couldn't even get my mum in! The album was recorded at Glenn Tilbrook's London studio and was produced by Glenn and the legendary producer Laurie Latham, most famous for producing Ian Dury and the Blockheads and Paul Young.
Although I have a long affiliation with the wonderful Yamaha drum company, on this album I used a mix of drums—mainly my mid-sixties Ludwig drumset, mostly because the band wanted an older sounding sound. I used a beautiful old Yamaha 5×14 wooden snare and I like to use small sized bass drums, 15×20, and two toms, 12×13 and 14×14. I also used a pair of very old Maxwin concert toms. Some of the old Squeeze songs were recorded using the concert toms live, so they fit in well. I also love the sound they make with Remo Black Dot heads. I decided this year to take my vintage Ludwig kit out on the road because it had that classic sound I wanted. Advertisement
I'm producing an album for the wonderful musician and poet Johnny Morris and his band Wildsmith (www.wildsmith-music.com) at Ray Davies' Konk Studio. It's great to swap hats and produce records now and again. It's a completely different approach. Although I will be drumming on the record, seeing the complete musical picture from the ground up is challenging. I have a secret weapon though—the most amazing engineer, Dougal Lott, who has worked with U2 and Metallica.
This year we are working on new songs for the next album and we have done a couple of TV shows in the UK. There are plans for us to head to the States in September 2016, so if you see us playing near you, come on down and say hello!
For more on Simon, visit www.simonhanson.co.uk, www.facebook.com/simonhansondrums, and www.squeezeofficial.com.