On the Beat With Chris Reeve of Filter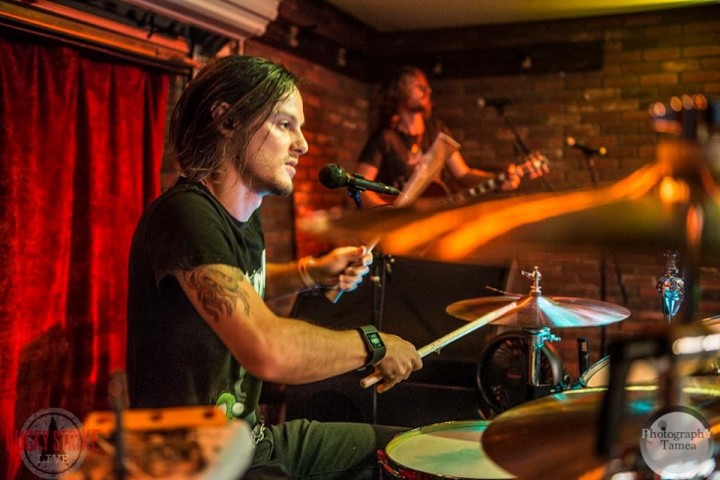 Hi Modern Drummer readers! 2015 has been a huge year full of opportunity and struggle—but you think we musicians have it tough? Let me tell you about a group of kids I was honored to meet this year when I thought I was having a hard time.
It all starts in LA, the city of dreams! Every opportunity you could ask for can be had here. But in an industry that is slowly decaying due to Internet streaming and labels/artists tightening pockets, musician life is getting tougher. Fans aren't paying as much for media now, therefore bands don't make as much; thus, the days of surviving off of one tour a year are rare. Huge artists out here are living just like me, month to month and off of savings. When we musos are off the road, many will pick up odd jobs to make ends meet. The reality is that the guitarist in your favorite band could be waiting your table. I didn't have that luxury due to my old P visa locking me in to only working for Filter. On the road it was great, but off the road…things started to get scary in my bank. When things get scary in your bank, things start to get scary in your life as well.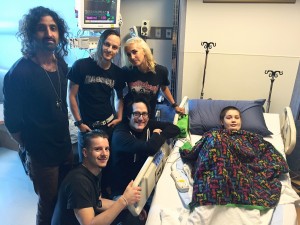 Then, my life changed forever when we flew to Arizona to perform at the Stars of the Season event for Cardon Children's Medical Center, an annual fundraiser for the hospital's "Music Is Therapy" program (which Chester Bennington from Linkin Park and his wife are heavily involved in). We arrived a day early to shoot a music video and meet some of the children in the cancer/leukemia wards. As we received the tour of this beautiful facility, our faces lit up with how well they treat the children. Their rooms are a safe haven, not a needle or a drug in sight. There's a room specially designed to administer their treatments, then they go back to their wonderfully decorated rooms. Then, Dr. David Curran looked at us before entering Room 1 to meet our first little guy and said, "This is where it gets serious."
We walked into Jacob's room to see him huddled up in his Beatles blanket. He loves music very much and was happy a famous rock band had come to see him. After talking with him about his favorite bands, his maturity level really struck me. We then walked over to Naomi's room (who is now a bit famous due to Taylor Swift's donation to her) and she, again, was so grown up. We were all in awe of these kids—in their very short years they have had to deal with the fact that they really need to live and love in the moment because you never know what's next. It felt like we were talking to fifty year olds.
But the next room completely floored me. We walked into the Music Therapy room to be greeted by all the staff and kids in the ward. We met lots of kids, all of them with big smiles despite some of them not even having the energy to shake hands due to the chemo. There were instruments everywhere and we immediately sat down and started an impromptu jam session. We played a couple of Filter tunes and even some Taylor Swift and Beatles numbers with the kids and staff all joining in with percussion and singing. Every time I hit that djembe I grew closer and closer to crying, until finally I did. I always try to play with the mentality of "this could be the last time you hit a drum so give it everything you've got," and this was the epitome of that. The looks on these kids' faces were priceless. They sang and played from the heart with everything they had. It was a joy and love that I had never seen before, and we all shared it together.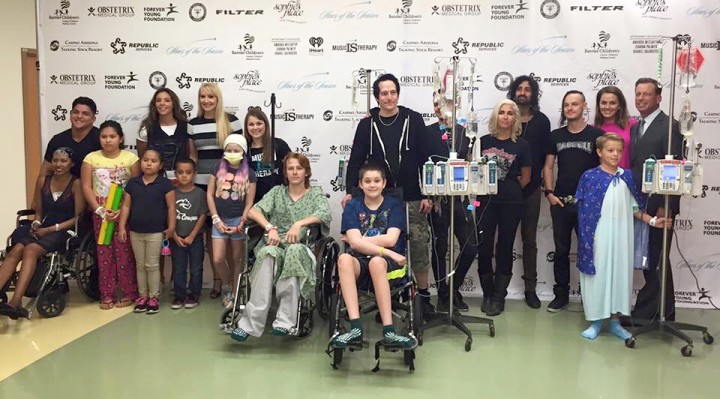 So as 2015 comes to a close, my eyes and heart have been opened. We all seek to have a cool life, but really there are some people who fight daily just to be alive. All we really have in this world is how good we feel, not how many records we've sold. Money and accolades don't matter—people matter. So I encourage everyone to do what you love and play from the heart. If you get a chance, go and perform for those battling to survive. Music really is a healer and the brightness your gift can give to others can truly mean the difference between being alive and living.
For more on Chris Reeve, visit Instagram@reevemusic or Twitter@reevex.
Here is the Official Video for Filter's "It's Just You," created for the 6th Annual Stars of the Season, featuring patients and staff of Cardon Children's Medical Center with the support of the Forever Young Foundation.