News: Galactic Drummer, Stanton Moore, Announces Third-Annual SONO Drum Camp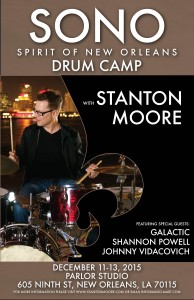 Students at Stanton Moore's Third Annual Spirit of New Orleans (SONO) Drum Camp will enjoy the once-in-a-lifetime chance to sit in and jam with Grammy Award-winning essential funk band, Galactic. Hosted December 11–13, 2015 at Parlor Studios located at 605 Ninth St, New Orleans, LA, the exclusive three-day music camp celebrates the legacy and rich musical tradition that is uniquely New Orleans'. On the last day of camp, students will have the opportunity to sit in and play with all the members of Galactic at the finale concert at the Contemporary Arts Center.
From Mardi Gras Indian and second line drumming to the evolution of jazz and funk, students will enjoy three days of hands-on drumming, special guests including legendary New Orleans drummers Johnny Vidacovich and "King of Treme" Shannon Powell, as well as private lessons, live performances, and much more.
The Spirit of New Orleans Drum Camp will offer a limited number of students the chance to play with and learn from superstar drummer Stanton Moore in an ultra-intensive classroom setting. Each student will play on an individual practice drumkit allowing for an intense, educational experience that guarantees results. Advertisement
Parlor Studios is a recording studio located in the Irish Channel neighborhood of uptown New Orleans where Galactic and a host of other legendary artists including Trombone Shorty, Dumpstaphunk, Givers, Soulive, and North Mississippi Allstars, have worked and recorded.
A lifelong resident of New Orleans, Stanton Moore is a highly respected drummer and authority on New Orleans' musical history who has toured the world as a performer and educator, garnering accolades for his drumming skills, clinics, and for his popular Groove Alchemy book and DVD.
Sponsors include Gretsch Drums, Crescent Cymbals, Latin Percussion, Vic Firth, Remo, DW, Puresound, Cympad, Roland, Tight Screw, Gator Cases, and Audix Microphones.
For more information, please visit www.stantonmoore.com. To register for Stanton Moore's Spirit of New Orleans Drum Camp, please visit http://www.muso-mart.com.