News: Ronnie Scott's to Live Stream the Steve Gadd Band to a Global Audience, November 18th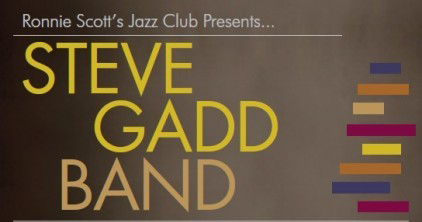 Steve Gadd is regarded as one the most influential drummers in contemporary music and is one of the most sought-after studio musicians in the world. This month, Gadd brings together a band of stellar musicians for a three night run at London's Ronnie Scott's. Joining him are Larry Goldings on keyboards, Jimmy Johnson on bass, Michael Landau on guitar, and Walt Fowler on flugelhorn/trumpet—the entire backing band of legendary songwriter James Taylor—that together make a formidable jazz supergroup.
Ronnie Scott's is delighted to announce the live web streaming of the band's final London show. Broadcasting their full performance on Wednesday, November 18 at 8:15 pm GMT (3:15 pm EST), Ronnie Scott's provides an opportunity for global audiences to experience Steve's jazz supergroup, in one of the world's most iconic venues, all in stunning HD.
The web stream is the latest in a series of highly successful live streams that date back to 2013 when Wynton Marsalis broadcast to a worldwide audience of over 25,000. Further streams of sold-out shows have followed from Cécile McLorin Salvant, Jarrod Lawson, Dianne Reeves, and most recently, fellow drum master, Billy Cobham. Advertisement
As expected from Ronnie Scott's, the technical setup is high-end, with a state-of-the art multi-camera AV operation broadcast from its own recording studio. The club's specialist team mix the audio/visual stream live, broadcasting in-the-moment vivid high definition images onto screens across the globe, giving viewers a genuine impression of being amidst the live audience and a real feeling for the club's intimate atmosphere. For the Cobham stream earlier this year, two of the eight cameras were positioned to include a bird's eye aerial view over Billy alongside a drummer foot cam, a must for the drum enthusiast.
Viewers simply need to log onto the club's website www.ronniescotts.co.uk on Wednesday 18 November at 8:15 pm (3:15 pm EST). Pre-registrations are available, although not essential. Access to the live stream is £4.99 (available internationally) with the performance available to watch again indefinitely for a thirty-day period.