On the Beat With Tamara Tadic of Conquer Divide: A One of a Kind Journey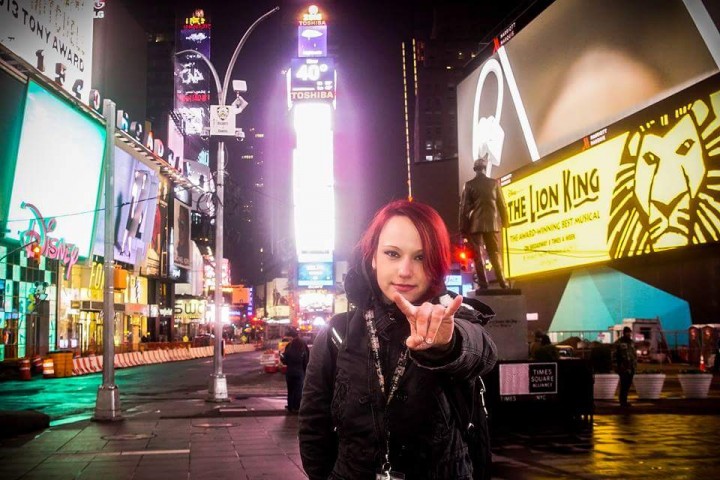 Hi, I'm Tamara and I've been stuck to my drums for the past nine to ten years. Let me tell you how it all started; my journey to becoming a drummer is one of a kind. My story is actually comparable to one of those love stories, when you fall of in love unexpectedly.
I was born in Yugoslavia, specifically in Bosnia—Republics of Serpska. Not long after my birth, my parents moved right before the roads were closed to Belgrade, the capital of Serbia. I was about two at that time. We lived there about ten years. After that, we went back to live in Banja Luka, which is in Bosnia.
I didn't have many friends who were interested in similar music while growing up. In general, my brother was my best friend. We always liked the same things. The places where I lived had very limited accessibility to music, especially when it comes to instruments and suppliers. Shows and concerts were rare. Advertisement
My family lived in a house at that time and we had neighbors surrounding us, so the thought of having drums or anything as loud as that at home was an insane thought and very serious. Thankfully, my brother was insane enough to keep bugging my parents to buy him a drumset, even though he was more of guitar player. After few months of working to convince my parents, they gave in and bought him one. I still remember that day—when I came home from school and found drums in my brother's room!
But after only two months, my brother decided to return to guitar playing. He wanted me to be his drummer. Of course I said, "Why not"? My first gig with our band was after only two months of rehearsing! We did cover songs like "Master of Puppets" by Metallica and "Futureal" by Iron Maiden. These songs bring so many memories to life each and every time I hear them.
That first show we had awakened something in me and I knew in that moment drumming was something I wanted to do for the rest of my life. I did time in a few local bands after that, but due to circumstances of where I lived, things never worked out. I realized that if l stepped aside from the bands, and started working on my own progress, playing drums in a basement, I could develop my skills more that way, as opposed to just playing in a band. I was making my own small world. Advertisement
My window to the big world was YouTube at that time and I wanted to take my chances with it. After a few years of being self-taught, I decided to contact one of my biggest influences in drumming, George Kollias of Nile. Interestingly, at the same time, George started offering video lessons via his forum, so that was a big help for me!
I eventually moved to the US and after about a year living here, Kristen from Conquer Divide contacted me through my YouTube channel about forming the band. Even though I live in Sacramento and she's based in Detroit, I knew things would work out for us because I've seen many bands overcome that obstacle, as long they remain serious and dedicated about it, which Kristen definitely seems to be!
Life where I lived was really hard, the country is poor and war slowed it down to the point where it is many steps behind the rest of the world. Moving here gave me a chance to finally express myself in way that I always imagined. Advertisement
Please enjoy my YouTube videos below and thank you for reading.
August Burns Red – Empire (drum cover by Tamara)
Short Lesson – few examples of applying the rudiment

For more on Conquer Divide, visit www.facebook.com/ConquerDivideUSA.