On the Beat With Andrew Campanelli of the Revivalists: Talking Go-Go Rhythms and <em>Men Amongst Mountains</em>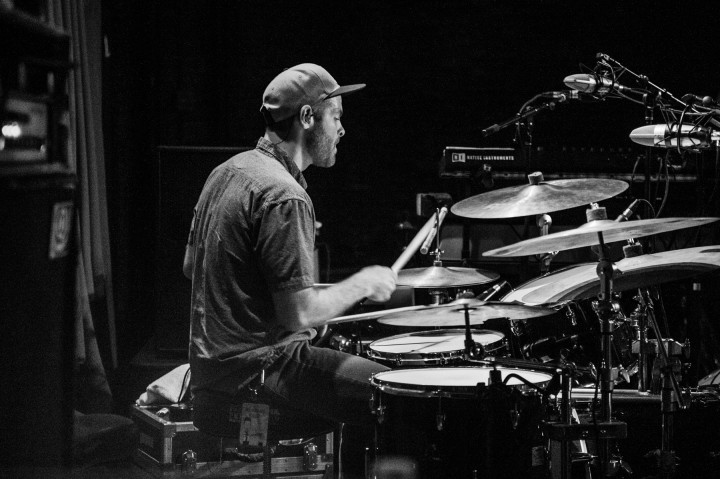 Hello Modern Drummer readers. My name is Andrew Campanelli. I play drums and write songs for the Revivalists. I've been learning from articles and exercises in Modern Drummer since I was ten so it's a huge honor to be included with all the great drummers that have shared their wisdom on this site.
Growing up near Washington, DC I would always hear street drummers on the corner banging out go-go rhythms on buckets but it wasn't until I moved to New Orleans in 2005 that I understood go-go as one of many musical traditions that represent the sound and the pulse of the local people in a city. I recognized a lot of similarities between the street music of New Orleans with brass bands, Mardi Gras Indian chanting and funk—and the go-go I would hear walking around DC. Built on the interplay of melodic rhythms often performed by multiple percussion players, the music itself is alive and requires players who listen well. There is also a communal aspect to the music and it belongs as much to the audience as it does to the players.
Touring with a rock band that plays nearly two hundred shows a year is nothing like carrying the bass drum in a second line band but that attitude helps shape the way I approach playing with the Revivalists. New Orleans musicians are known for their technical abilities but more impressive is the inherent ability to move a crowd. Putting on a high energy, musically creative show is a much different art than making a great studio recording. The live show spills out of the club and parades through the streets. It's a group effort that seeps into your daily life and it doesn't matter if there's a crowd of ten or 10,000, the drummer makes it impossible for anyone within earshot to stand still. Advertisement
As a musician I focus on improving my chops and feeling comfortable in a variety of musical situations. Being a good drummer requires continual technical practice but being a good musician requires listening and being in tune with your surroundings. A great live show is more than the sum of its parts, it engages the audience and provides a tangible energy felt throughout the entire room. This engagement with the audience is what keeps the music fresh for me night after night.
Our third record, Men Amongst Mountains (2015, Wind-up Records), was released in July. Along with producer Ben Ellman we decided to go for a warmer, more live sound than our previous record so we tracked the bulk of the album live to tape in one room. Our songs continue to grow and change as we tour and our goal with this recording was to capture an honest snapshot of the songs, as they existed at the time of the session. In terms of both performance and tonality in the studio, we're constantly asking ourselves whether we are conveying the message of the song, or distracting from it.
Over the years I've grown more attuned to tones that work well for our music. I use Remo White Suede heads on the toms (12″ and 16″) and an Evans Black Onyx Emad on the kick (22″) of my Yamaha Maple Custom Absolute to get a warm boom-y sound that's great for live and really versatile in the studio. Selecting the right snare drum is crucial to framing the song. A snare that might sound terrible in one context could be perfect for another kind of song, so when I'm in the studio I try any snare I can get my hands on to find the right sound. I prefer medium or light cymbals and on this album I used Meinl Vintage Sand hi-hats (14″), Byzance Medium Thin jazz ride (20″), Vintage Sand ride (22″), and a Bosphorus Trash crash (20″). I like to get a different sound by stacking broken 15″ crash and 10″ splash cymbals together to get a kind of industrial sound reminiscent of a bucket drummer in DC using a shopping cart to cover that part of the beat. I use Vic First sticks. Advertisement
Percussionist Mike Dillon (a name I'm sure MD readers are familiar with) put on a clinic in the studio jumping between congas, bongos, timbales, tambourine, vibraphone, cuica, cabasa, and shaker. Check out his work on "All In The Family." That is one of my favorite percussion tracks because it echoes the go-go feel I grew up on. (see below)
Thanks for reading and happy drumming!
Watch the Revivalists "All In The Family" Live Session below: