News: "Breast Cancer Can Stick It!??? to Host Fundraising Drumathon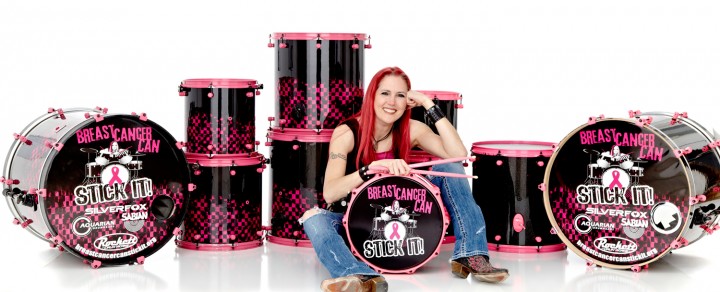 Breast Cancer Can Stick It! will host a drumathon on October 25, 2015 from 10 am to 7 pm at the Village Fountain, 329 Town Place, Fairview, TX, and is calling on all drummers in both DFW and across the country to participate in the fundraising event to help "stick it" to breast cancer.
April Samuels, founder of Breast Cancer Can Stick It! is a professional drummer and breast cancer survivor dedicating her energies to beating breast cancer. "I came up with the slogan 'Breast Cancer Can Stick It!' just a few weeks after my diagnosis five years ago. I decided then that I wanted to be the biggest advocate in the fight against breast cancer that I could be. I'm a drummer so I like to make a lot of noise, which is exactly what we are doing," said Samuels.
Individual drummers of all ages and abilities can register and set up a fundraising page to get individual friends and family to support them for the drumathon. On the day of the event, registered drummers will have the opportunity to demonstrate what they've got. The participants will be a part of beating breast cancer as they play and show the world and celebrity rock stars their talent. Advertisement
At least sixty-plus drummers have the opportunity to be a part of this event and will be in the company of celebrity drummers Carmine Appice, Vinny Appice, and Matt Starr—hailing from such groups as Rod Stewart, Ace Frehley, Black Sabbath, Ted Nugent, Ozzy Osbourne, and Mr. Big. Dan Shinder of Drum Talk TV will be emceeing and they will also film the event for an upcoming Drum Talk TV exclusive documentary.
Breast cancer seems to touch everyone, including the celebrity rockers who are participating in the drumathon. "I like doing charity things and I had friends and cousins that had breast cancer. So, I thought I'd join the fight," said Carmine Appice. Vinny Appice added, "Carmine and I have always had a fighting drum attitude and now together we are fighting breast cancer."
"I'm grateful to be joining April Samuels for this great cause and to be sharing the stage with the Appice brothers. Cancer can stick it," said Matt Starr.
The registered drummers will play for five minutes each, alternating between two drumkits until all have played. Other registration packages include a drum circle, a drum circle, junior (for ages twelve and under), and an online drumline for drummers who won't be able to attend or for non-drummers. Advertisement
Breast Cancer Can Stick It! hopes to raise funds for continued breast cancer research and awareness to the public, especially during October, which is breast cancer awareness month.
"Our goal is to fight breast cancer one beat, one drummer at a time during the drumathon. It is going to be a rocking, epic event. We're calling all drummers to come out and take part," said Samuels.
To participate in the Breast Cancer Can Stick It! drumathon and qualify for special prizes, including both a Breast Cancer Can Stick It! limited edition custom snare drum and guitar, register online at www.breastcancercanstickit.org/drummathon/.
Breast Cancer Can Stick It! Foundation, Inc. is a non-profit 501(C)(3) organization.