On the Beat With Sam Doyle of the Maccabees: Make It Your Own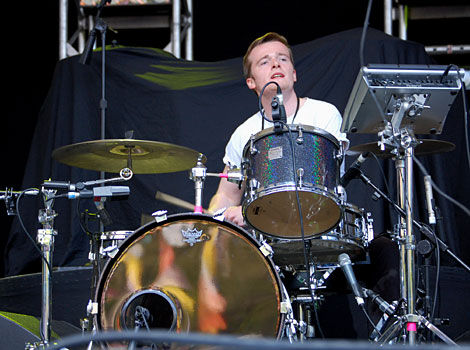 Hi, Modern Drummer readers, Sam from the Maccabees here. I'm writing this from our studio as our fourth album, Marks To Prove It, is about to be released. While that brings a sense of trepidation about how it's going to be received, there's also a big sense of accomplishment as well as excitement about celebrating a finished record and touring it.
We've already done a couple of tours pre-album release, which were great, but as there were so many recording related issues to be addressed while doing those tours we really couldn't get stuck in fully. As of this weekend, the record will be out, and out of our hands in a sense. So now we can fully get into the UK and European festivals we're doing this summer and look forward to our own tours and festivals around the world.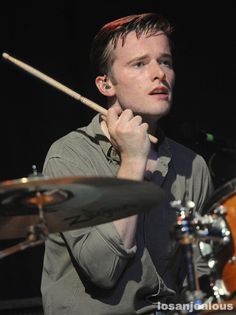 Kit-wise I've had an endorsement with Zildjian cymbals for the last few years, which are brilliant and really accommodating. I'm currently playing a Yamaha recording custom vintage kit, 22″ bass drum, 10″, 12″, 14″, 16″ toms, and a 5×14 Ludwig Black Beauty snare. I recently bought a 6.5×14 Gretsch snare with wood hoops; there's a nice contrast between a shallow, cranked metal snare's snap and a loose wooden, deeper snare's beefy low end. We've also got a lot of in-store and acoustic sessions coming up, so to make life easier I just got an Odery Café kit, which is a nice, little compact kit. Advertisement
Having three and a half kits (a Café kit doesn't count) feels like a massive luxury, considering when I started playing I didn't even have one. I was living in the middle of nowhere in France, and our neighbor was a Welsh session bass player on cruise ships. He was about to go on a three-month cruise and said I could borrow anything from his home studio. So at age eleven, I naturally gravitated to the drums. The isolation of the Breton countryside allowed endless hours of practicing (I say practicing but at first it was just bashing about as loud as possible), and after spending a long time playing along to my favorite records I honed some basic (made-up) techniques and carried on the self-teaching path.
Back in London I joined a few different bands (of questionable quality), which acted as a learning curve to get to a standard of playing that I was confident with. I'm a strong advocate of self-teaching and I think it really helps to develop a personal style (which, hopefully, I have to some extent), as opposed to going through a music college route in which everyone is taught the same techniques based on established styles. Originality, individuality, and personality is what I rate the most in a drummer, so for anyone starting out playing, my advice would be make it your own.
Watch the video for the Maccabees' current single, "Marks To Prove It," here:


For more on the Maccabees, visit http://www.themaccabees.co.uk.

10/02 – Austin City Limits – Austin, TX
10/05 – El Plaza Condesa – Mexico City, Mexico
10/07 – The Troubadour – Los Angeles
10/09 – Austin City Limits – Austin, TX
10/15 – CMJ High Road Showcase at Mercury Lounge – New York, NY
10/16 – Great Scott – Boston, MA
10/17 – Milkboy – Philadelphia, PA
10/19 – The Basement – Columbus, OH
10/20 – Thalia Hall – Chicago, IL
10/21 – Magic Bag – Detroit, MI
10/23 – Thunderbird Cafe – Pittsburgh, PA Advertisement