On the Beat With Jaska Raatikainen of Children of Bodom: Changes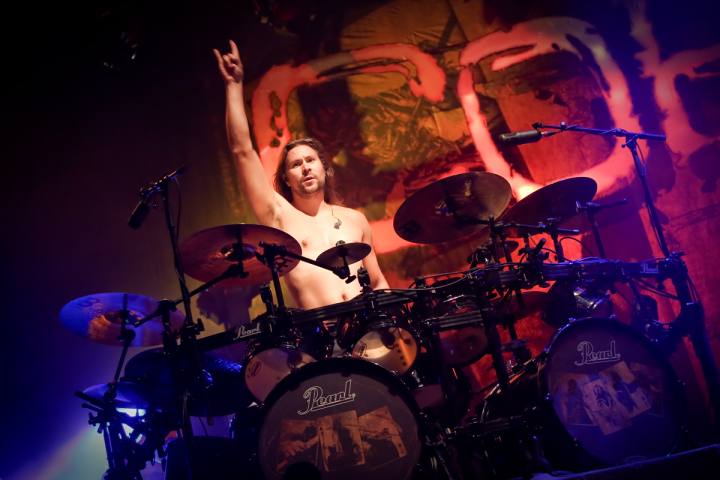 Hello, MD readers! My name is Jaska Raatikainen and I play in a Finnish metal band called Children of Bodom. I started playing the drums when I was twelve years old. A year later I started a band with a friend from school, Alexi Laiho. Back then I dreamed of supporting Metallica (probably a wet dream of every teenage rocker), and that actually happened last summer.
In 1997, when we recorded our first album, I was seventeen and still in high school. The next year we headed out for our first European tour. Wow, we got to be full time rock stars for three weeks, although I needed permission to be absent from school from the principal.
The world of music has changed since I was a teenager. For example, there was no YouTube, and because of the limited amount of visual material available I was forced to train my ears and listening skills. What you hear and what you see are two different things. Something what looks cool is not necessarily good or essential or important when it comes to the music you hear. But usually something that sounds good to you is very essential and necessary, even if it is boring to look at. Advertisement
When you are younger, developing yourself is easier when you have all the time in the world. How do you keep developing when the band business takes time or you're constantly on tour? Basically, in whatever state of mind, you can practice as that keeps your skills up to date. Processing something more creative requires a moment of its own. Therefore, the band tries to have a break from the shows so that we can truly focus on the album. For us it takes around six months to create an album from scratch.
A drummer's most important tool is the body because playing the drums is such a holistic thing. Touring actually keeps you in good condition since you play for ninety minutes (plus warm-up) for five to six times per week—for metal drummers that usually means getting good cardio exercise. Some things, like playing faster, are easier when you are younger. Your body changes over time and you need to compensate that somehow, like adopting a different technique. Your style changes anyway along with the countless shows you play. Practicing and playing live makes your playing more powerful and maybe a little more relaxed.
COB has been together for almost twenty years now. Our ninth studio album is coming out this fall and we have toured around the world a number of times. It's great to make a living through music and touring and I'm hoping it stays that way for a long time. Advertisement
Currently I live in Finland with my family and have two kickass daughters. The older one already has a drumkit of her own covered with cool stickers and her little sister just found her own hair and figured out how to clap.
I hope to see you at our shows!
Watch Children of Bodom discuss the drum recording process for I Worship Chaos here:
https://www.youtube.com/watch?v=qBAVTqfTsGk.