News: Julien's Auctions Announces Ringo Starr and Barbara Bach Property Auction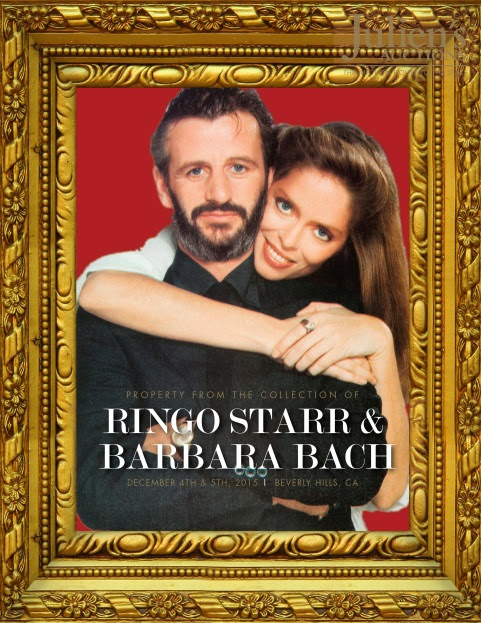 Julien's Auctions is auctioning property from the collections of Ringo Starr and Barbara Bach on December 4 and 5, 2015. The collection by Ringo and Barbara features items from their London estate and Beverly Hills and Monaco residences. Comprised of musical instruments including drums and guitars, career memorabilia from the Beatles era, and Ringo's solo career including his All-Starr Band, the auction also contains fine antiques, custom-made eclectic furnishings, fine art, and personal items.
Among the seven of Starr's personal drumkits in the auction is the musician's first 1963 Ludwig black oyster pearl three-piece drumkit. The kit was used by Starr in more than 200 performances between May of 1963 and February of 1964 and used to record some of the Beatles biggest hits including "Can't Buy Me Love," "She Loves You," "All My Loving," "I Want to Hold Your Hand," "Money," and "I Wanna Be Your Man." Paul McCartney also used the Oyster Black Pearl kit on his first solo album, McCartney. This specific drumkit has not been seen in public for more than fifty years.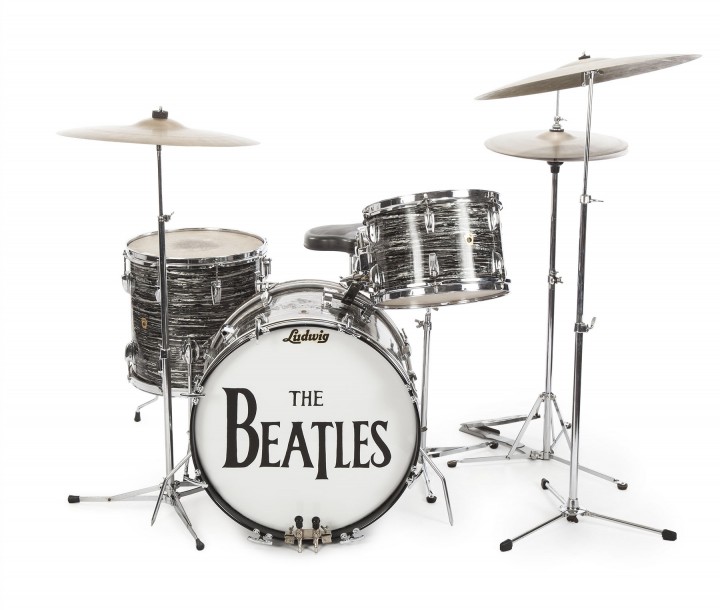 Ringo Starr's other kits offered include a custom-built silver sparkle kit commissioned for Starr by George Harrison and used in the Beatles' "Hello Goodbye" promotional video filmed in November 1967. Advertisement
In 2002 Starr performed on a Ludwig four-piece kit in gold sparkle with a hammered bronze snare at the George Harrison memorial concert, Concert for George. Starr played that night with "George's Band" alongside Paul McCartney, Eric Clapton, Jeff Lynne, Tom Petty, Billy Preston, Dhani Harrison, and other musicians.
A unique set of Ludwig clear Vistalite drums with interior lights used by Starr in his 1978 television movie, Ringo, is also included in the auction. The 1989 inaugural tour of Ringo Starr and his All-Starr band toured three countries in five months and the drummer played a Ludwig silver sparkle while performing with Clarence Clemmons, Rick Danko, Levon Helm, Dr. John, Jim Keltner, Nils Lofgren, Billy Preston, and Joe Walsh. Starr continues to tour with a rotating line up of All-Starrs.
Among the hundreds of items to be offered are some of Starr's other percussion instruments including tambourines, bongos, a hand drum inscribed to Starr by Harry Nilsson, and homemade noisemakers. A limited number of Starr's own stage-used custom-made drumsticks will also be offered in the sale. Advertisement
"I am not sure I can find the right words to describe how remarkable this auction is," said Darren Julien, founder and CEO of Julien's Auctions. "To be able to say you are representing such music royalty as that of Ringo Starr and Barbara Bach is not only an honor but one of the greatest privileges of my life and professional career."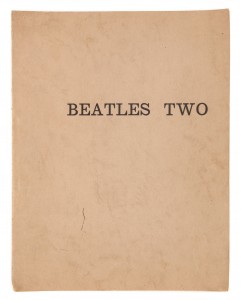 The auction includes over 800 items that will be featured in a full color, silver box set limited edition collectible catalog available for purchase at www.juliensauctions.com. There will also be 250 limited edition gold box sets of catalogs signed by Ringo and Barbara with 100-percent of the proceeds benefiting the Lotus Foundation.
"This collection features so many remarkable items from the Beatles to Ringo Starr's solo career to those special items collected by Barbara Bach for their residences," said Martin Nolan, Executive Director of Julien's Auctions. "Every time we begin to look through the inventory of this fantastic collection we simply are stunned when we think of the history truly represented here." Advertisement
Portions of the auction proceeds will benefit the Lotus Foundation US, a charity founded by Starr and Bach. The Lotus Foundation is an organization that assists with a wide range of worthy causes around the world, focusing primarily on family and child welfare, women's issues, addiction recovery, and education. The Lotus Foundation is based in the United States and London.
For more information, visit juliensauctions.com.