News: PMC Announces Appointment of Sarah Hagan of Zildjian to Advisory Board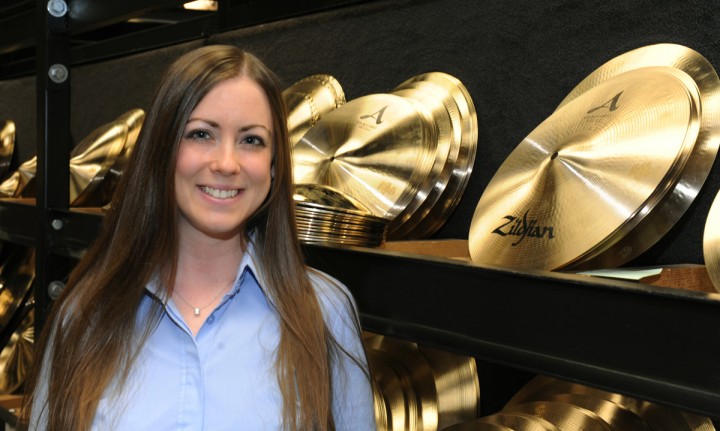 The Percussion Marketing Council (PMC) Executive Committee is pleased to announce the appointment of Sarah Hagan to its advisory board. A drummer and former teacher, Hagan joined Zildjian as a marketing and events coordinator and was promoted to artist relations manager for the East Coast before becoming director of artist relations–worldwide in 2014. Hagan has been an active member of music industry for more than ten years and has worked closely with R&D and marketing.
Hagan is located in Zildjian's Norwell, MA headquarters and actively participates in many educational and promotional activities for the company's global strategy and product development.
PMC Co-Executive Director Karl Dustman commented, "We are most fortunate to have Sarah join the advisory board in the marketing-promotions leadership position, previously held by Billy Cuthrell, of Progressive Music Center, who stepped down due to time restraints. Sarah will be overseeing our updated PlayDrums.com website content and concentrating on further growth of the Percussion In The Schools program through her access to many qualified program facilitators nationwide. We look forward to her long-term contribution to the PMC."
The executive committee consists of Brad Smith (Hal Leonard), Dave Jewell (Yamaha Corporation), Karl Dustman (Dustman and Associates), and Stacey Montgomery-Clark (Sabian). Sarah Hagan now serves on the advisory board along with the three other board members. The eight-member PMC board combines people and company affiliations with diverse talents and resources to grow the organization for the future. Advertisement
Formed in 1995, the Percussion Marketing Council is the percussion industry's official trade organization. The PMC is a non-profit with a mission to actively promote the many benefits of drumming to the general public. Part of this mission is to provide professional marketing incentives, advertising campaigns, educational programs, and activities that bring increased public awareness to drumming, thus increasing the number of people playing all types of drums. Members belonging to the organization represent every facet of the percussion industry including manufacturing, distribution, publishing, and educational festival-events.
For further information about the Percussion Marketing Council and its programs visit www.playdrums.com and www.rootsofrhythm.net.