On the Beat With Alan Balamut of Rivers of Nihil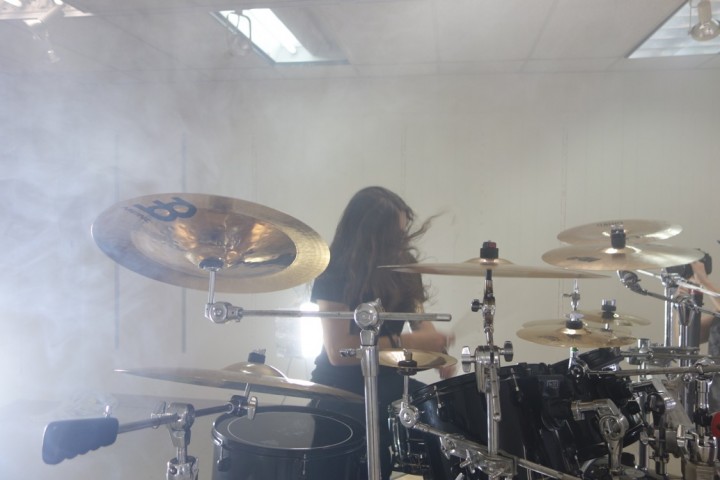 Hello, everyone! My name is Alan Balamut, and I am the drummer for Rivers of Nihil. I joined the band early of 2014, and we have been doing a lot of touring with bands such as Whitechapel, Carnifex, Death, Obituary, Revocation, Devildriver, Fallujah, and more. It was an honor and pleasure to tour with all of them. In 2015 we went into the studio to work on our next album.
I started drumming at the age of fifteen and got instantly hooked. I practiced non-stop striving to learn the fundamentals of drumming. As time went by I got more interested in extreme drumming. I found it fascinating and my goal was to work my way into playing that style. I played in multiple bands throughout the years in New York City, which helped me understand the reality of the music biz. I also enjoy playing the guitar and produce electronic music under the name Snarekrow.
In January 2014, Rivers of Nihil contacted me asking if I was interested in joining and going on tour the following months. I put school on hold because I knew this would be a great opportunity, so I went straight to the kit and learned all the necessary songs for the set list within a couple weeks. Advertisement
My practice routine on tour is always the same. I set up my kit and then I scout the venue and find where I can set up my "warm up station," which is a practice pad on a snare stand and two kick drum practice pads for my pedals to clamp on to. I always warm up at least forty minutes to an hour before performing.
I've been playing on my Pearl Export for the past few years. My setup contains 10'", 12″, 16″ toms with two 18×22 kick drums and a 6.5×14 Sensitone Elite brass snare. I recently got an endorsement deal with Meinl cymbals, and I couldn't be any more thankful. Their selection of cymbals can satisfy any drummer for any genre, and the service they provide for their artists is superb. When it comes to kick drum pedals I use the Axis A Longboards. The response I get from the pedal is exactly what I need to play comfortably. For kick drum triggering I use the e-kits that attach to the pedal along with the Roland SPD-S for sampling.
I believe that if you have a goal in life and if you really have the passion for it, you can accomplish anything but it will take time and a lot of obstacles so never give up because nothing's impossible! Advertisement
For more on Alan Balamut check out his YouTube Channel at www.youtube.com/user/KrowDrumDude and his Soundcloud at soundcloud.com/snarekrow.