News: Rush 40th Anniversary Tour Offers Canadian Fans a Chance to Step Behind Drummer Neil Peart's DW Drumkit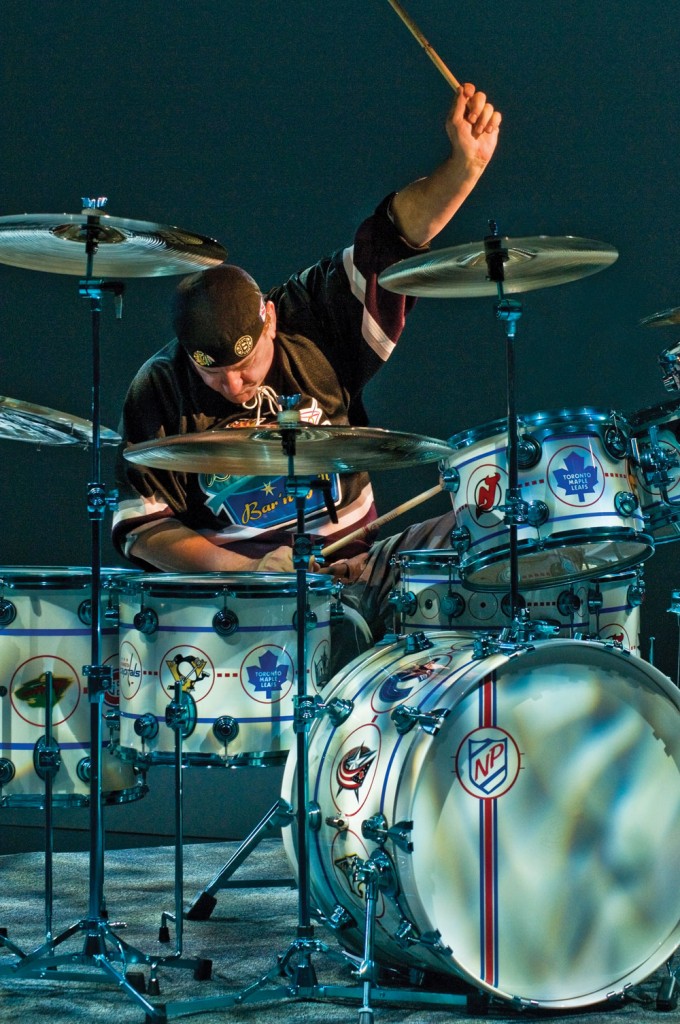 Canadian fans of iconic prog-rock band Rush will have a once-in-a-lifetime chance to pose for a picture behind drummer Neil Peart's one-of-a-kind DW Collector's Series hockey-themed drumset at select dates during the band's R40 Live Anniversary tour.
Highly recognized by hockey fans and Rush fans alike, Peart was featured playing his percussion-focused rendition of "The Hockey Theme" on the drumset in the opening sequence of hockey telecasts on the Sports Network (TSN), and it has been on display in the Hockey Hall of Fame along with the Stanley Cup since 2010. Peart's iconic drumset will be displayed on the Canadian dates of the R40 tour alongside a signed, limited edition Neil Peart Icon snare from DW and a signed Sabian cymbal, which will both be auctioned on eBay. One hundred percent of the photo donations and auction proceeds will go to the Princess Margaret Cancer Foundation.
"This drumset has brought a lot of excitement to hockey fans and Rush fans all across Canada," said Drum Workshop vice president of marketing, Scott Donnell. "It's only fitting that these fans be afforded the opportunity to get behind this special kit as part of Rush's R40 Canadian tour dates. We also felt it was fitting that Neil's drums of choice could raise dollars and awareness for The Princess Margaret Cancer Foundation, Neil's charity of choice." Advertisement
Photo opportunities with Peart's iconic hockey kit will be available on the Canadian R40 Live Tour dates including:
June 17, Toronto – Air Canada Centre
June 19, Toronto – Air Canada Centre
June 21, Montreal – Bell Centre
July 15, Calgary – Scotiabank Saddledome
July 17, Vancouver – Rogers Arena
For a minimum $10 donation to The Princess Margaret Cancer Foundation, photo opportunities with Neil Peart's DW hockey drumset will be available when doors open one hour prior to the start of each show and will be available until the end of the band's scheduled intermission. A valid concert ticket is required.
From July 18 to July 27, Rush fans from around the world can bid in the eBay charity auction for a Neil Peart Icon snare drum autographed by Rush. An exact replica of the snare drum on Peart's one-of-a-kind #R40 drumset, this limited edition snare is made from 1,500-year-old Romanian river oak salvaged from the bottom of the Olt River. Inlaid with intricate, laser-cut exotic woods, and complimented by gold-plated hardware, only 250 of these drums were ever produced. A signed and numbered certificate of authenticity and deluxe carrying bag will accompany each drum. In addition, fans will also have the opportunity to bid on a 17″ Paragon crash cymbal from Sabian autographed by Geddy Lee, Alex Lifeson, and Neil Peart. One hundred percent of the proceeds from the auction of these items will go to Peart's charity of choice, the Princess Margaret Cancer Foundation.
"We are absolutely thrilled to be partners in this amazing touring event," stated Paul Alofs, president and CEO of the Princess Margaret Cancer Foundation. "As a long-time fan, to have Neil Peart select The Princess Margaret as his charity of choice is a real honor, and will help us in our mission to conquer cancer in our lifetime." Advertisement
The iconic hockey kit was created for Peart in DW's custom shop in 2009 and features airbrushed, lacquer graphics of thirty NHL logos and custom ice blue hardware. The kit was used in Peart's recording of "The Hockey Theme" written by Dolores Clamen, which was made available on iTunes with a portion of proceeds benefitting Hockey Fights Cancer, and was also featured in the 2010 DVD Fire on Ice: The Making of the Hockey Theme.
The kit will make its final stop in Calgary, where it will permanently reside at Studio Bell, home of the National Music Centre, and join over 2,000 artifacts in NMC's collection, which represent the history of music technology and tell the story of music in Canada. Learn more at www.nmc.ca.
Celebrating forty years, the R40 Live Tour will visit thirty-four cities throughout North America this summer, which began May 8 in Tulsa, OK and finishes August 1 in Los Angeles, CA. Go to www.rush.com for tour dates and more. Advertisement
Visit http://dwdrums.com/hockeykit/ for more information.