BeachGlow Music Festival To Benefit Little Kids Rock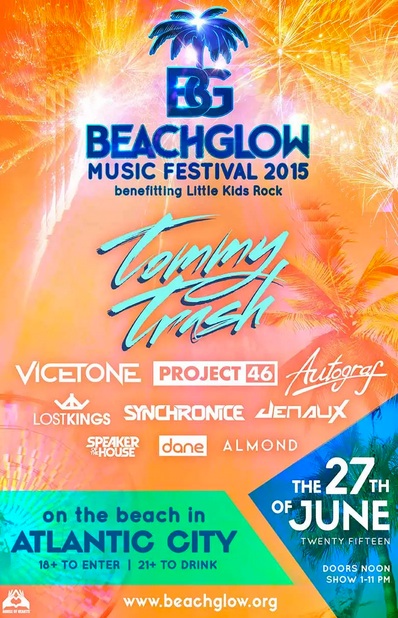 BeachGlow Music Festival 2015 is hitting the shores of its new home in Atlantic City, NJ for a day full of sun, sand, surf, and sound on June 27th! Get ready for ten amazing EDM acts, an incredible light show, fun activities, delicious food & drink, and fireworks! —All to benefit Little Kids Rock, bringing music programs to Philadelphia and Atlantic City schools.
Little Kids Rock believes that kids deserve to learn to play the music that they know and love, from rock, to hip hop, to EDM. On June 27, the BeachGlow Music Festival will bring some of the hottest EDM DJ's to Atlantic City to spin and raise awareness for Little Kids Rock!
Date: Saturday, June 27th, 2015
Place: Atlantic City, NJ, on the beach off of Michigan Ave. and Boardwalk, doors open from noon, show from 1:00 P.M. to 11:00 P.M.
Artists: Tommy Trash, Vicetone, Project 46, Autograf, Lost Kings, Synchronice, Jenaux, Speaker of the House, Dane, Almond, and others.
Tickets: $35 to $110
Ages: 18+ to enter, 21+ to drink
Experience: Food court, beer garden, raised VIP zone with catered food and private bar, merchandise vendors, bodypainting by Bodypaint.Me, dunk tank, beach volleyball, cornhole, and more! Advertisement
You can help make a change in kids' lives by coming to the BeachGlow Music Festival on June 27. Hope to see you at the beach!
About BeachGlow:
BeachGlow believes in the power of contemporary music to raise awareness among young adults about societal issues and causes. BeachGlow is a non-profit, all-volunteer organization. We create and produce cutting-edge music festivals that showcase and raise funds for worthwhile charities, especially those that benefit today's youth. BeachGlow's goal is to educate, motivate, and inspire a generation to become a force for significant social change.
BeachGlow.org
About Little Kids Rock:
We are dedicated to ensuring that all students have the opportunity to unlock their inner music-maker. That is Little Kids Rock's mission, and since 2002, we have given more than 400,000 underserved schoolchildren across the U.S. access to fun, engaging, Modern Band music classes and brand new instruments at no cost to the students, teachers, or school districts.
Littlekidsrock.org