Shed Sessions Worldwide New York Edition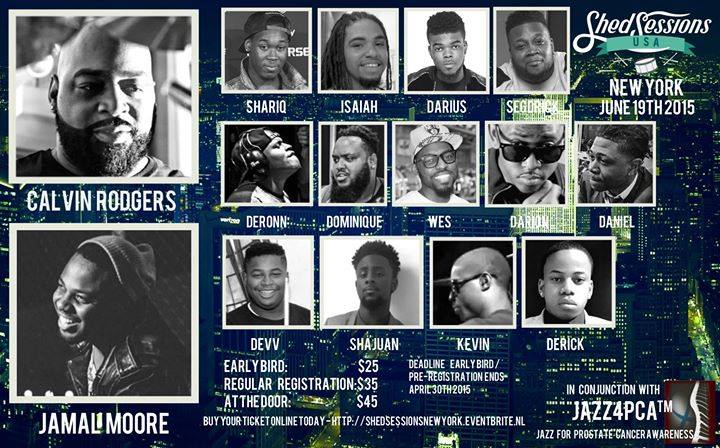 Shed Sessions will be holding an event at the Hotel Courtyard at New York's LaGuardia Airport this coming June 19. Featured will be drum clinics with Calvin Rodgers (Fred Hammond), Jamal Moore (Backstreet Boys, Natasha Bedingfield), Shariq Tucker (2014 Guitar Center Drum-Off champion), Isaiah Johnson (Lil' Kim), Darion Ja'Von (Flo-Rida), Darius Woodley (50 Cent), Segdrick Marsh (Angie Stone, Patti LaBelle), Dominique Austin (Kurt Carr, Shirley Ceasar), Wes Watkins (Marcus Johnson), Shajuan Andrews (Jason Derulo, Rita Ora), Kevin Williams Jr. (Fabolous), Daniel Revell (David Metayer), Deronn Bash MarvinWoodside Sr. (J. Moss, Andre Byrd), Devv Harris (Flo-Rida, Stevie Wonder), and Derick McElveen Jr., plus a "mega shed session."
Reserve your tickets before May 17 and get a $10 discount off the $35 regular registration fee ($45 at the door). The Hotel Courtyard at the LaGuardia Airport is located at 90-10 Ditmars Blvd., Queens, NY 11369. To reserve a room at the hotel ($169/night plus tax), ask for the Shed Session room block upon registration at shedsessions.nl.
Shed Sessions Worldwide is an organization based in the Netherlands and the United States that is dedicated to music talent development. This is the group's first Stateside event. For more information, go to shedsessions.nl.