News: Drum Corps International Marches into US Cinemas for a Live One-Night Event to Kick-Off the 2015 Tour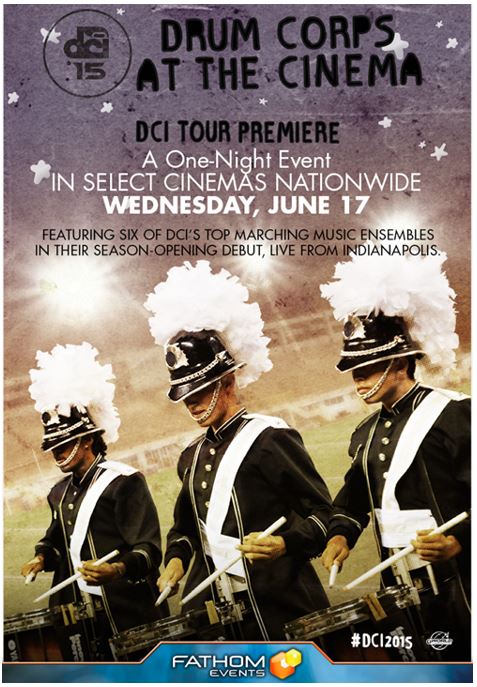 Six of Drum Corps International's elite teams will kick-off the 2015 season with "Drum Corps at the Movies: 2015 DCI Tour Premiere," coming to select US cinemas nationwide on Wednesday, June 17, at 8:30 pm ET/ 7:30 pm CT/ 6:30 pm MT/ 5:30 pm PT.
For the first time in the event's five year history, the performances will be presented live in theaters from Lucas Oil Stadium in Indianapolis, IN, and will showcase DCI's top marching music ensembles for its season-opening competition. This year's event will feature performances from some of nation's fiercest competitors—Blue Stars (La Crosse, Wisconsin), Bluecoats (Canton, Ohio), Carolina Crown (Ft. Mill, South Carolina), Madison Scouts (Madison, Wisconsin), the Cadets (Allentown, Pennslyvania), and the Cavaliers (Rosemont, Illinois)—as they compete for top honors in the first of over 100 competitions in more than thirty states on DCI's fifty-three day summer tour.
Tickets for "Drum Corps at the Movies: 2015 DCI Tour Premiere" are available at participating theater box offices and online at www.FathomEvents.com, or at participating theater box offices. The event will be presented in over 550 select movie theaters in the US through Fathom's Digital Broadcast Network. For a complete list of theater locations and prices, visit the Fathom Events website (theaters and participants are subject to change). Advertisement
From modest beginnings four decades ago, Drum Corps International (DCI) has developed into a powerful, nonprofit, global youth activity with far-reaching artistic, educational, and organizational influence. Its competitive summer tour, consisting of DCI-sanctioned competitions throughout the United States (known as the Drum Corps International Tour), culminates in August with the week long DCI World Championships. Through the annual DCI Tour and more than forty World Championships in nineteen North American cities, Drum Corps International provides entertainment to millions through live performances and broadcast events. DCI continues a tradition of exceptionally high-quality performance ensembles, with membership in the top corps highly sought-after and extremely competitive, attracting the interest of potential members from many countries. Drum Corps International is Marching Music's Major League.
"The DCI events are extremely attention-grabbing and an amazing segment of our performing arts events that we bring to the big screen. Being able to watch these events live in theaters allows the audience to fully experience the talent of these teams," said Fathom Events CEO John Rubey.
Tickets are available now at participating theater box offices and online at www.FathomEvents.com. For a complete list of theaters, click here.