News: Anthrax's Charlie Benante Releases "Benante's Blend??? Coffee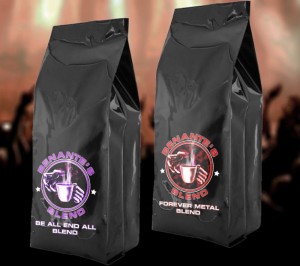 Anthrax's Charlie Benante has entered the world of entrepreneurship with his new coffee company, Benante's Blend. The coffee will come in two different varieties: the Be All End All, which is a dark roast, and the milder Forever Metal. Benante's Blend is available via Benante's website, www.charliebenante.com/Store/.
"I grew up in a large Italian family, and coffee was a daily staple in our home," says Benante. "As a kid, I loved coffee so much, my mother said that at one point she put some coffee in my bottle. For me, the taste of coffee is one of the greatest tastes that there is on earth, so I decided to create what was, for me, the perfect cup of coffee."
This is Benante's second foray into the world of coffee. Years ago, he joined up with Dave Mustaine for a line of coffee and coffee products. "I've learned so much since then," says Benante, "especially about selecting and blending the right beans, and how important roasting is." Advertisement
Benante hooked up with a company that specializes in coffee roasting. "I was pretty specific about the tastes I was looking for," Benante explains. "I told them the type of coffee I wanted, what some of my favorite coffees were, and we built it from there. We combined beans from different regions—Brazil, Costa Rica, Mexico, Sumatra, and Africa—and tweaked the amount of time the beans were roasted to get just the right taste. It was a process. I tested a lot of different blends, but it was a lot of fun."
In between coffee tastings, Benante has been recording the next Anthrax album, which is due out later this year. The band kicks off its 2015/2016 global tour on April 24. Dates are below.
APRIL
24     1stBank Center, Denver, CO*
25     Rushmore Plaza Civic Center, Rapid City, SD*
27     Spokane Arena, Spokane, WA*
28     Adams Center, Missoula, MT*
29     WaMu Theatre, Seattle, WA*
MAY
1       Revolution Place, Grande Prairie, AB*
2       Rexall Place, Edmonton, AB*
3       Calgary Stampede Corral, Calgary, AB*
4       SaskTel Centre, Saskatoon, SK*
6       Brandt Centre, Regina, SK*
7       Ralph Englestad Arena, Grand Forks, ND*
9       Northern Invasion Festival, Somerset Amphitheatre, Somerset, WI
10     WJJO MayDay MayLay, Alliant Energy Ctr. Memorial, Madison, WI
12     General Motors Centre, Oshawa, ON*
13     TD Place, Ottawa, ON*
14     Quebec Colisee Pepsi, Quebec City, QC*
15     CEPSUM Montreal, Montreal, QC*
17     Rock on the Range – Mapfre Stadium, Columbus, OH
18     Dow Events Center, Saginaw, MI*
19     Ford Center, Evansville, IN*
20     Aragon Ballroom, Chicago, IL*
22     Tyson IBF Events Center, Sioux City, IA*
23     Rocklahoma/Prior Creek Music, Pryor, OK
24     Rockfest, AT&T Center, San Antonio, TX
25     Baloonfest, Wet and Wild Water World, El Paso, TX
27     Verizon Grand Prairie, Dallas, TX*
28     Bayou Music Center, Houston, TX*
30     Rockfest, Liberty Me. Park, Kansas City, MO
31     Outdoors at Pop's, St. Louis, MO* Advertisement
JUNE
2       Hammerstein Ballroom, New York, NY*
* with Volbeat