Feature Stories, Lessons, What You Need to Know About
What You Need to Know About…Electronic Percussion
This article originally ran in the Nov/Dec 2012 issue of Drum Business.
Drummers are drawn to electronic percussion for the same reasons today as we were back in the early '80s, after the introduction of the Linn LM-1 and the Roland TR-808 drum machines: low acoustic volume, versatility, portability, and the ability to trigger and sequence MIDI performances. For songwriters and producers, skipping the need to find a reliable drummer—a task in itself—and to rent a studio to adequately record him or her was a big selling point, as was being able to house an entire percussion section in a handy multi-trigger pad. These days, more and more drummers are embracing electronics, which is helping to keep sales thriving.
In this article we'll address some of the common categories of electronic percussion instruments.
---
Electronic Drumsets
Several prominent manufacturers offer options ranging from basic to luxurious electronic kits, to suit everyone from the beginner to the seasoned pro. Roland's V-Drums and TD series and Yamaha's DTX line lead the pack, along with less expensive offerings from Alesis, Simmons, and others. Trigger quality, sound-module features, and the number of inputs help determine the price tag on these complete kits. Be sure to point out the flexibility of sound modules that include MIDI and USB outputs for their ability to work with computer VST instruments and recording programs like Pro Tools, Ableton Live, Studio One, Cubase, Sonar, and Logic.



---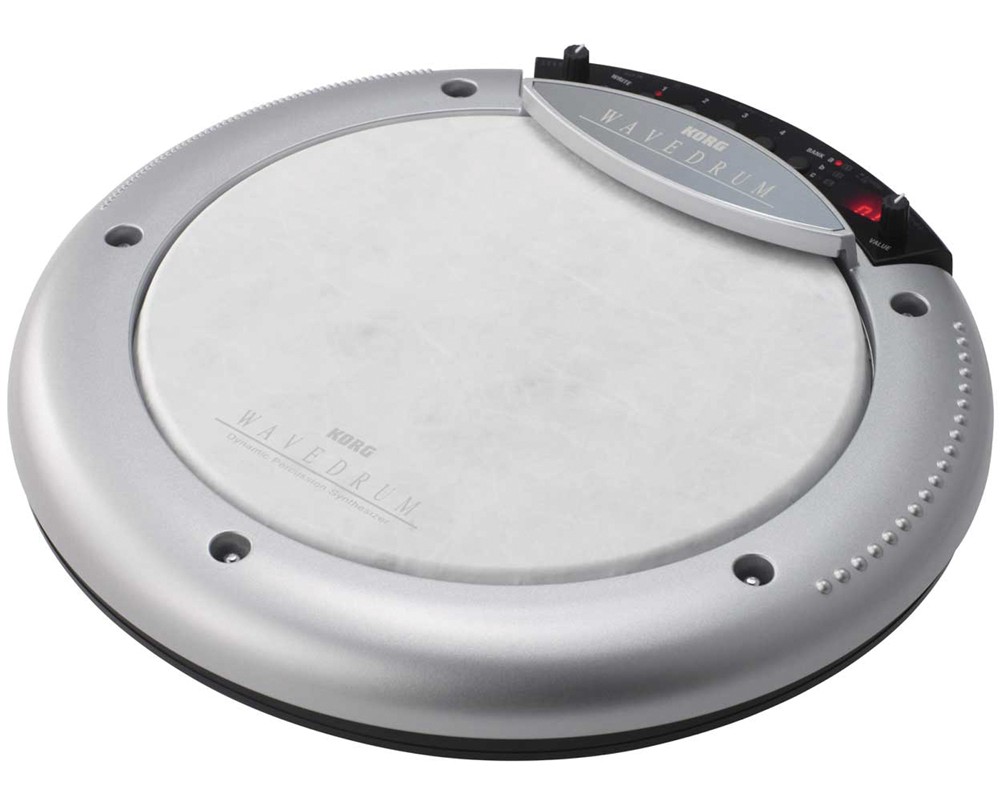 Electronic Hand Percussion
The Korg Wavedrum and Roland HPD-10 and HPD-15 HandSonic pads are electronic percussion instruments designed to be played with the hands, though they can be played with sticks, mallets, or brushes as well. These all-in-one units combine triggers with sound/DSP (digital signal processing) modules containing hundreds of high-quality drum, cymbal, and percussion samples.



---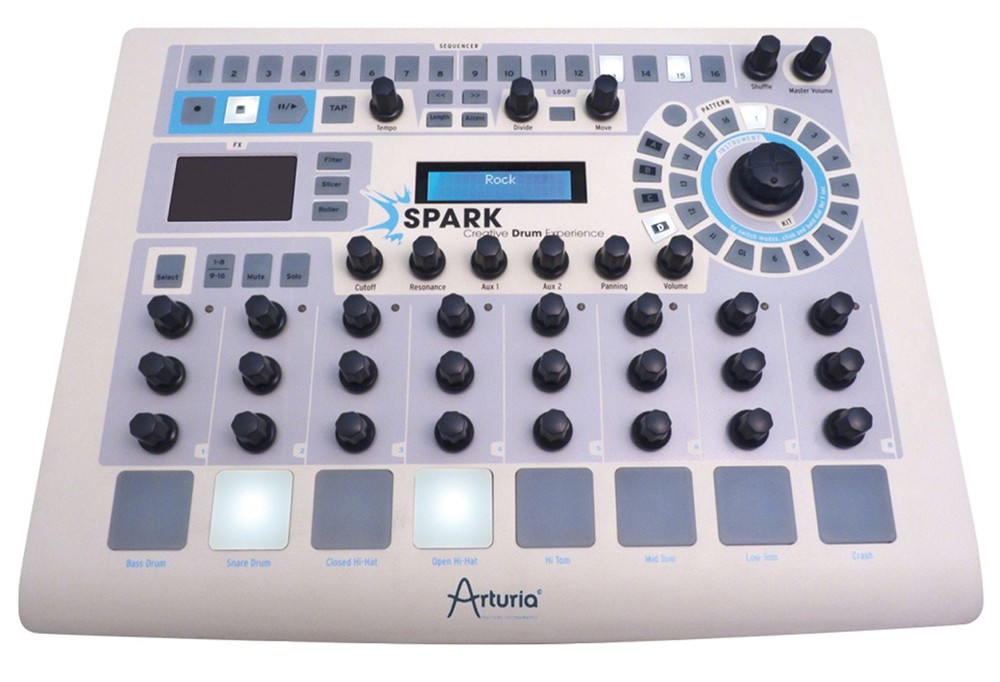 Drum Machines
Models such as the Alesis SR18, Boss DR-880, and Akai XR20, along with Akai's MPC series, represent drum machine technology from the last twenty years or so, while newer "vintage" models, such as the Arturia Spark and Dave Smith Instruments Tempest, endeavor to capture the beefy analog and sampled sounds of early-'80s drum machines. Though sales of these products are declining somewhat, due to the ability of many software sequencers to match and even supersede their features, computer-shy drummers are still buying them.



---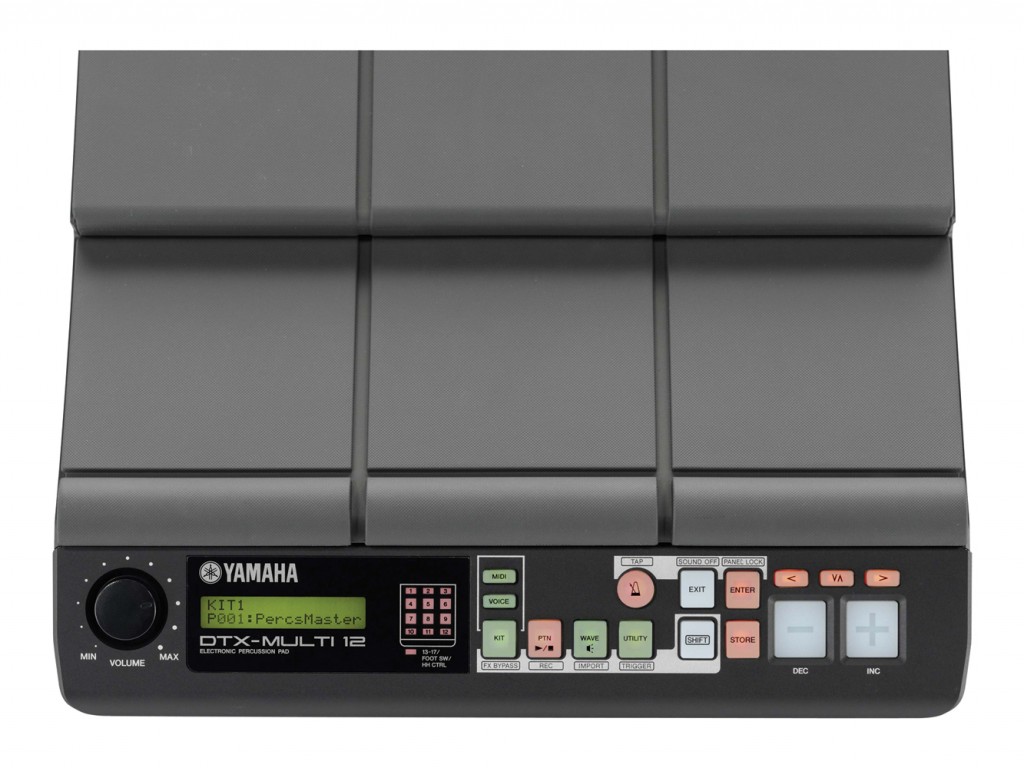 Multi-Trigger Pads and Samplers
These units employ the ability to both create and trigger WAV samples through multiple velocity-sensitive trigger pads and often include built-in DSP to make them some of the most powerful electronic percussion instruments available today. Flagship pieces include the Roland SPD-SX and the Yamaha DTX-MULTI 12, both of which come loaded with hundreds of high-quality sounds and are capable of playing and creating WAV samples. These models are especially useful to high school band programs for triggering large and expensive percussion instruments such as gongs, chimes, wind chimes, waterphones, and other special effects.
Other common non-sampling multi-trigger pads include the Roland SPD-30 Octapad, Alesis's PerformancePad and PercPad (a value standout with a street price of only $99.99), and the Simmons SDMP1.
Though not exclusively a percussion-oriented piece, the Roland SP-404SX and SP-555 samplers are favorites among working DJs for creating and triggering one-shot samples and sound effects. They can also be of use to percussionists who don't need a stick-friendly interface.



---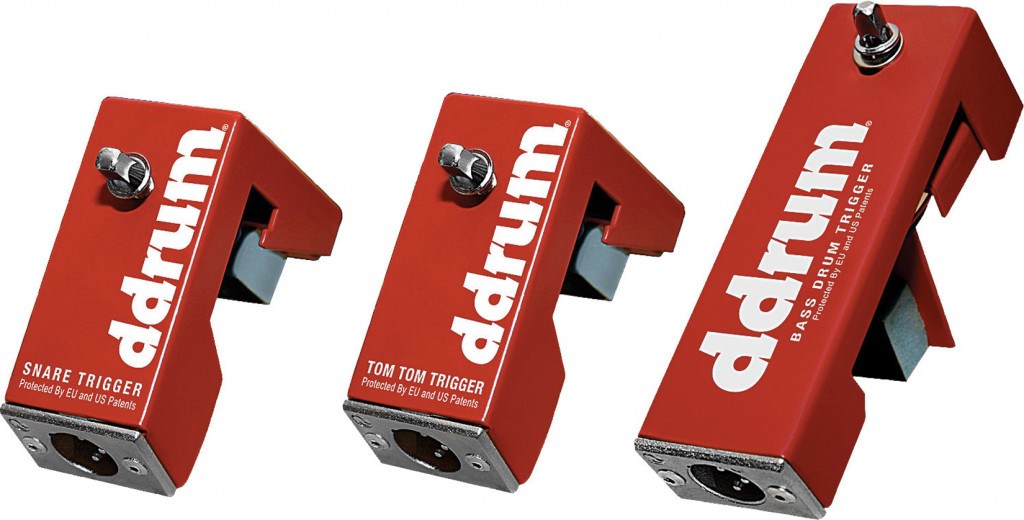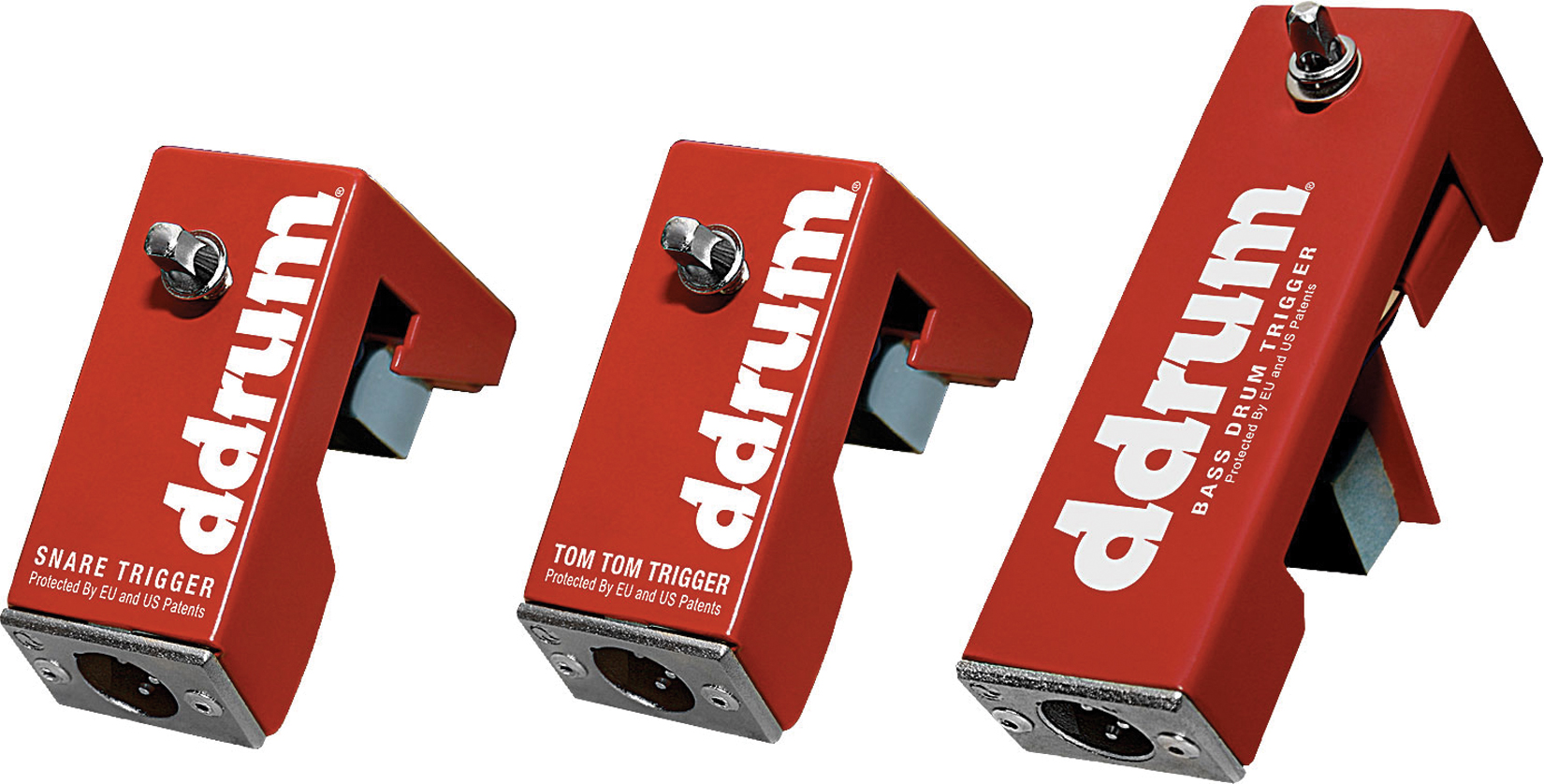 Triggers
Electronic triggers for acoustic drums provide the ability to create digital signals that track dynamics and capture a player's feel better than some electronic pads can. The Roland RT series and ddrum's broad range of triggers stand out as industry leaders and can be used with the sound module of your choice. Great results can be achieved by combining miked drum sounds with triggered sounds, to fatten up or otherwise enhance a drum's acoustic tone. Some players even use triggers on stage in order to utilize the exact sounds from their band's records while retaining the look and feel of acoustic drums.



---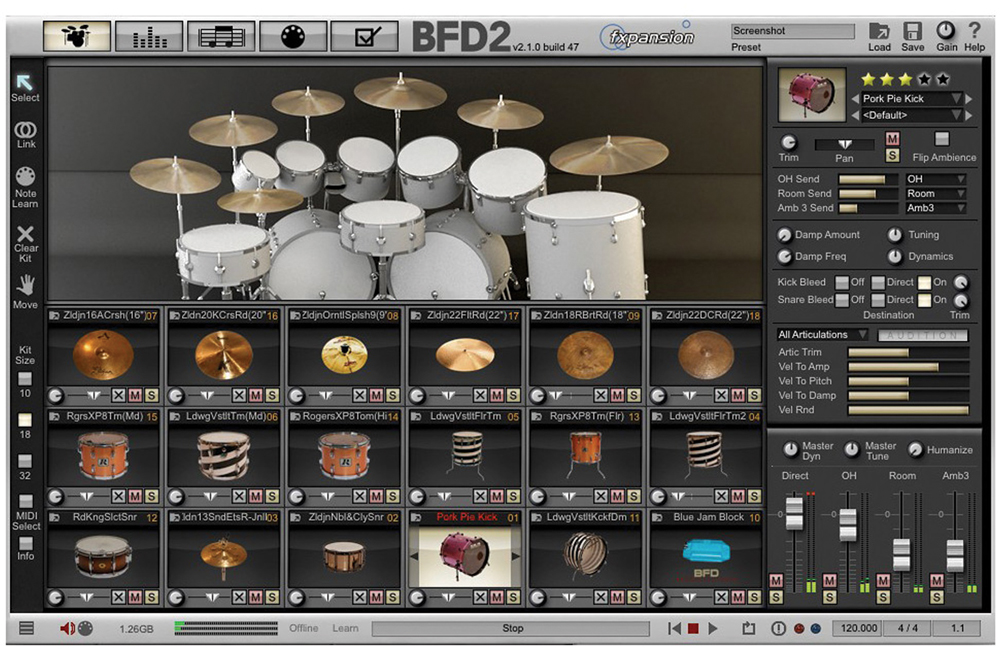 VSTs and Sound Replacers
VST (virtual studio technology) instruments and sound replacers like Drumagog and Trigger are pieces of software housed inside a DAW (digital audio workstation) that can be used to create realistic drum tracks using either MIDI data or replacing/adding to multitracked drum recordings. XLN Audio Addictive Drums, Toontrack EZdrummer and Superior Drummer 2.0, FXpansion BFD2, and Native Instruments Studio Drummer are some of the most popular VST software suites, and each is capable of creating drum tracks that are difficult to tell apart from real acoustic tracks. High-quality samples of real drums and cymbals, hundreds of premade patterns and grooves, the ability to swap out drums and cymbals, and mixing control make these some of the most powerful tools for creating drum tracks other than actual drums.
---
MIDI
Despite having been around for thirty years, MIDI can cause much confusion among consumers. The main thing to understand about MIDI is that it's not audio; it's a data format designed to allow musical instruments, triggers, sound modules, and computers to communicate with each other. First introduced in 1983, MIDI makes it possible to record and edit pitch, velocity, note duration, and clock data, along with aftertouch, if the trigger devices and VST/sound modules being used have that capability.
You can make entire songs using MIDI, and it's often difficult to differentiate MIDI tracks from real acoustic performances. Most consumers use MIDI to trigger samples of classic and vintage keyboard instruments like Fender Rhodes, Wurlitzers, Hammond organs, analog synths, and high-quality acoustic pianos.
---
Hybrid Electronic/Acoustic Technologies
Zildjian and Pearl, among others, are now offering hybrid electronic/acoustic percussion systems, including Zildjian's Gen16 cymbals and the Pearl ePro Live drumkit. These products are designed to function as triggers that look and feel more like acoustic instruments. The Gen16 system combines innovative low-volume acoustic cymbals, dual-element mini-microphones, and a five-channel module that provides a wealth of possible sounds through modeling.



---
In Use
As with any situation when you're considering a purchase, we suggest that you think about how your electronic percussion gear will be used, in order to find the best models. And don't forget about common add-ons like balanced and unbalanced patch cables, XLR cables, direct boxes, mics, mic stands, mixers, DBX DriveRacks, and other pro-audio components. For instance, small-capsule condenser mics such as Audio-Technica's PRO 37 and Sennheiser's e614 are great for xylophone, marimba, vibraphone, and other keyboard percussion instruments. They're easy to mount, reject feedback, and capture the full range of the instruments.