Showroom: TRX Consolidates Cymbal Lines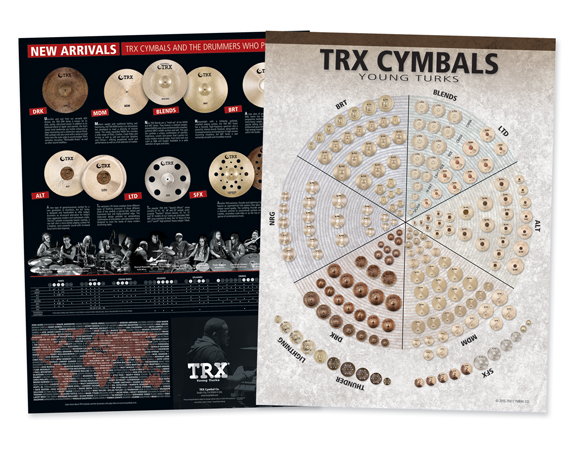 The TRX Cymbal Co. has announced a realignment and consolidation of its cymbal lines by moving many of its Icon and Dark Icon models into its MDM and DRK series and adding the Icon stacker (vented) cymbals to the SFX series.
"Streamlining our cymbal lines is a good example of the less-is-more philosophy," explains TRX president David Levine. "We feel that offering a wider range of sounds within fewer series makes things better and easier for drummers and for dealers."
The expanded TRX DRK cymbal series will now feature lighter weights for a deeper, darker tonal quality and comes pre-drilled with holes for TRX's removable rivets. The DRK series will also include a 23″ ride. Advertisement
Several models from the Icon series will now be offered in the MDM series, including a 22″ heavy ride, 16″ hi-hats, 18″, 19″ and 23″ crash-rides, 9″ and 11″ splashes, and 15″, 17″, 19″ and 21″ Chinas.
The 14″, 16″, 18″, and 20″ symmetrically vented Icon stackers will retain their brilliant-finish and become part of TRX's SFX series.
For more information, visit www.trxcymbals.com.