News: Drummer Eddie Bayers Receives Berklee's "American Master??? Award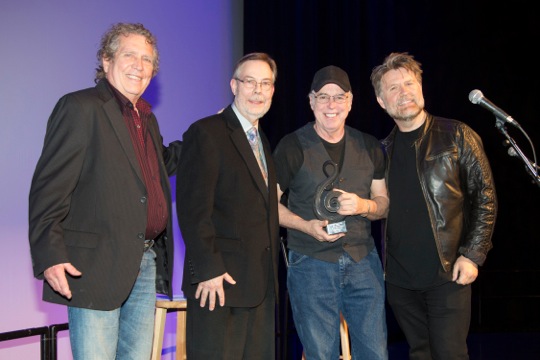 Berklee College of Music presented its first American Master Awards on Tuesday in Nashville, to Curb Group CEO Jim Ed Norman, Grand Ole Opry vice president and general manager Pete Fisher, and Eddie Bayers, drummer on more than 300 gold and platinum records.
The awards, celebrating the 30th anniversary of the college's Nashville student trip, were presented at Opry Studio following a Grand Ole Opry concert by Larry Gatlin, the Willis Clan, Lee Greenwood, and alumnus Charlie Worsham.
For thirty years, groups of Berklee students have spent their spring break in Nashville, getting an intensive, in-depth look at the music industry and gaining invaluable insight through clinics and workshops with accomplished alumni artists, songwriters, producers, and engineers. The trip, which began with five students, has grown to 120 students per year, led by Pat Pattison, professor of songwriting, and Stephen Webber, program director for music technology at Berklee's Valencia campus. More than 3,000 students have attended the program since its inception. Advertisement