AJ Pero Dies at Age 55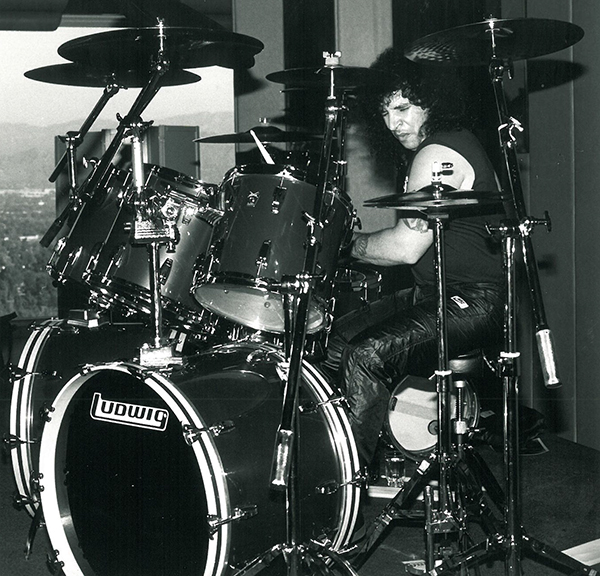 Last Friday, March 20, longtime Twisted Sister drummer AJ Pero died in Poughkeepsie, New York, from an apparent heart attack while on the road with Adrenaline Mob. He was fifty-five. "My friend, my brother, my band mate passed away today," Twisted Sister singer Dee Snider tweeted. "My heart is broken. RIP AJ Pero." Twisted Sister posted an announcement of the drummer's death on Facebook.
Anthony Jude Pero grew up in Staten Island, New York, and joined Twisted Sister in 1982. He was the drummer on the band's 1984 breakthrough album, Stay Hungry, which contains its two biggest hits, "We're Not Gonna Take It" and "I Wanna Rock." He left the group later in the '80s in order to rejoin the band Cities but returned for a '90s reunion and remained with Twisted Sister until his passing. He replaced Mike Portnoy in Adrenaline Mob in late 2013. Pero even found the time to act in independent movies, including the 2008 crime drama Priceless, in which he played a Russian mobster.
Although Pero drew raves over the years for his blistering hard-rock drumming, he didn't get into rock 'n' roll until his mid-teens, and by then he'd been playing for years; his early favorites were Gene Krupa, Buddy Rich, and Sonny Payne. "I really didn't draw my influences from rock drummers," Pero told MD in a February 1986 feature, "and I think what most rock drummers have been playing over the last twenty years has been taken from what our forefathers—Krupa, Rich, Morello, Shaughnessy—have always done. Basically, rock drummers have transferred what these drummers did back then by adapting it to their playing methods today." Advertisement
In that same MD article, Pero showed the kind of dedication that made him so beloved to his comrades and his audience. "As far as the band goes," he said," we all have respect for each other, and since the other band members are aware of what I'm capable of, they know I'll come through. They can depend on me. I'll put out my best on every track, and if something goes wrong in the studio, they know I'll be back the next day to take care of it. Giving 100 percent of myself to the music means everything to me, because our fans deserve the best that we can give them. The fans—all the kids who come to our shows and buy the records—are the ones behind us, so we do it for them."