Menage's Gabriel Ferreira Talks Fusing Styles Via Musical Diversity and World Exploration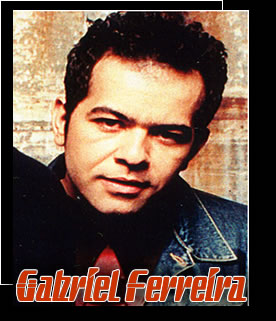 Hey, MD readers! I'm Gabriel Ferreira, and I'm the drummer/percussionist for the band Menage. I am also a lyricist and songwriter and do both in Menage, but I won't delve into that "dark side" of my work in this blog.
Menage came to be with my brother, Basilio Ferreira, and sister Bela in 2012. We wrote a bunch of songs and soon after booked our own tour and hit the road. We played across the US spanning ten states, over many months, and all before an album was even released. In 2013 we released our self-titled debut and on October 17 of 2014, we released our first of three EPs, entitled EP.
I was born and raised in Toronto, Canada, but from an early age I spent my summers in a small farming town in Portugal called Seixo De Mira. What was meant to be quality time with my grandparents on their farm turned out to also be an eye opening experience—I discovered European radio stations! Where as Toronto's radio formats were very structured in what they played (one hundred percent English) and stuck to a high percentage of Canadian acts, European radio was anything but. It was not odd to hear a Portuguese rock song followed by a French folk song then an Italian pop song all on the same FM station. The abundance of music from different countries really opened my ears to what is out there and inspired me to play music. It also influenced me to endlessly look for great bands from around the world, regardless of what language they sing in, which I still do today. Advertisement
After years of piano and guitar I started at the drums at age thirteen at the Royal Conservatory of Music of Toronto, but it wasn't until attending the Ontario College of Percussion at age eighteen that I started to practice daily just to keep up. Marching snare, jazz, and classical percussion were the primary focus of the school. My college classes would prove their worth on the recording of the first Menage record.
Between the time after graduation and starting Menage, I spent a few years in a Los Angeles-based band that my brother and I started. With that band I toured through thirty-six of the fifty states in the US and parts of Canada and had a song on active rock stations that I co-wrote called "Addicted." We had the song as the title track for the Nascar video game, as well as being featured on the commercial. I also played drums and worked on arrangements for an album by Dillon Campbell (son of Glen Campbell).
During that time, I was introduced to Sako Karaian who became my drum tech. Sako is well-known as the drum tech for John Dolmayan from System of a Down, and because of the association I got to know the band's music, and really appreciate their ability to fuse Armenian music from their roots with North American metal. That really got me questioning my own style as a drummer, and started a whole re-evaluation of how I approach the drums. Instead of following the herd why not look at my ethnic background to create my own style, one that fuses my roots? Then I started thinking, why stop there? Why not fuse marching and classical as well? I had blown all my savings on college learning it anyway! Advertisement
When Menage came to be, I made a conscious decision to move forward and use my new approach within Menage. No "stadium rock" type drumming that I had been doing with my previous bands, instead I went for a more diversified style of playing, fusing everything I know and everything I grew up on. This process involved bringing in a marching snare, parade bass drum, bomba (Portuguese drum), marimba, shakers, triangles, orchestral snare, symphonic chimes, etc., into the recording sessions of the Menage debut record. Luckily my brother and sister embraced my new style of playing and opened their minds to it while writing and recording their parts.
Track #3: "Wake Up" (link here), is off our debut. It's is a rock tune that's pretty fast and the song kicks hard all the way through. When it reaches the bridge it does not lose momentum but turns completely into a Portuguese style song (acoustic guitars and triangle played in a folkloric style take over for the electric guitars). The drumming on the bridge transforms, as well, into a drum and bass pattern that complements the Portuguese folklore playing really well.
Track #1: "Our Time Is Now" (link here), is off our EP from October. The song starts off with a nylon string guitar and a Portuguese fado guitar soloing over it, and then leads into the verse where the drums come in. I play a pattern in the verses that is traditionally used in Portuguese folklore music, but do so on a drumkit as opposed to the traditional Portuguese drums such as the bombo and the tabor. Advertisement
For drummers who are trying to stand out from the pack and create your own sound, looking into your ethnic background or possibly discovering new music while traveling abroad might be the answer. Neil Peart himself admitted to using a tribal beat on the Presto album that he heard played by a local tribe on one of his cycling trips through Africa. I believe that you should always play for the song, but there are more than the two or three examples provided to us by pop radio. Just keep an open mind, and don't let the fear of being judged negatively stop you from exploring new ground.
For more about Gabriel Ferreira and Menage, visit www.menagetheband.com.