April 2015 Issue of <em>Modern Drummer</em> featuring Bernard "Pretty??? Purdie
(Available digitally February 26, 2015; on newsstands March 3, 2015)
On the Cover
Bernard "Pretty" Purdie
The depth and breadth of the legendary drummer's career are simply astounding—and he's not even close to slowing down.) – by Billy Amendola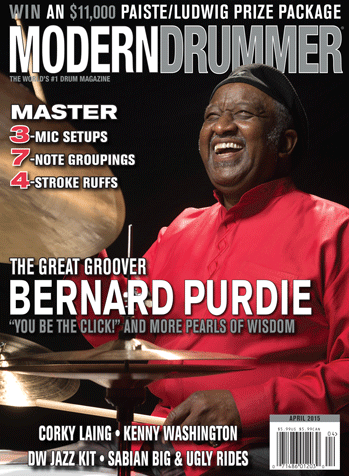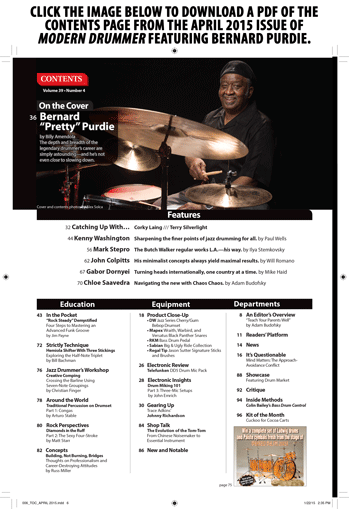 FEATURES
Catching Up With… Corky Laing /// Terry Silverlight
Kenny Washington Sharpening the ner points of jazz drumming for all.
Mark Stepro The Butch Walker regular works L.A.—his way.
John Colpitts His minimalist concepts always yield maximal results.
Gabor Dornyei Turning heads internationally, one country at a time.
Chloe Saavedra Navigating the new with Chaos Chaos.
EDUCATION
In the Pocket – "Rock Steady" Demysti ed Four Steps to Mastering an
Advanced Funk Groove. By Jim Payne.
Strictly Technique – Hemiola Shifter With Three Stickings Exploring the Half-Note Triplet. By Bill Bachman.
Jazz Drummer's Workshop
Creative Comping Crossing the Barline Using Seven-Note Groupings. By Christian Finger.
Around the World – Traditional Percussion on Drumset Part 1: Congas. By Arturo Stable.
Rock Perspectives – Diamonds in the Ruff Part 2: The Sexy Four-Stroke. By Matt Starr.
Concepts – Building, Not Burning, Bridges Thoughts on Professionalism and
Career-Destroying Attitudes. By Russ Miller.
Equipment
Product Close-Up
• DW Jazz Series Cherry/Gum Bebop Drumset
• Mapex Wraith, Warbird, and Versatus Black Panther Snares
• RKM Bass Drum Pedal
• Sabian Big & Ugly Ride Collection
• Regal Tip PJason Sutter Signature Sticks and Brushes
Electronic Review – Telefunken DD5 Drum Mic Pack
Electronic Insights – Drum Miking 101 Part 3: Three-Mic Setups. By John Emrich.
Gearing Up Trace Adkins' Johnny Richardson
Shop Talk – The Evolution of the Tom-Tom From Chinese Noisemaker to Essential Instrument
New and Notable
DEPARTMENTS
AN EDITOR'S OVERVIEW
"Teach Your Parents Well" By Adam Budofsky
Readers' Platform
News
It's Questionable Mind Matters: The Approach – Avoidance Conflict
Showcase Featuring Drum Market
Critique
Inside Methods Colin Bailey's Bass Drum Control
Kit of the Month Cuckoo for Cocoa Carts
and more!