Drummer Blog: WALK THE MOON's Sean Waugaman on Recording the New Album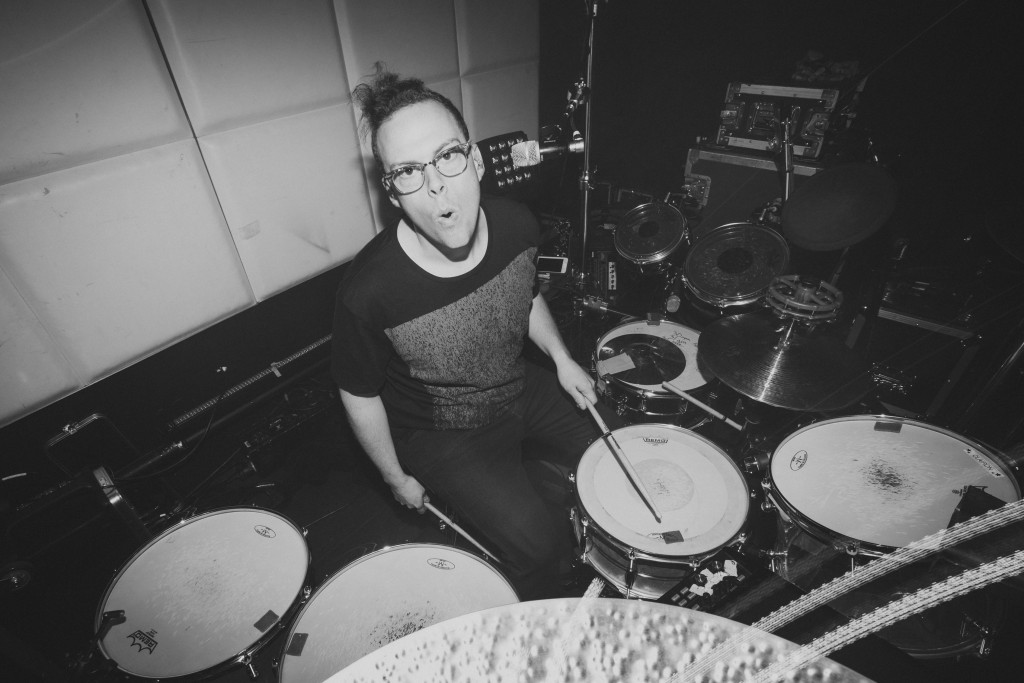 Hey, MD drummers! Sean here. Since this is my first time writing a blog, I'll start off by telling you a little bit about myself and try not to bore you with too many details. I grew up in Columbus, Ohio, and I've been playing drums for sixteen years. I'm a lefty, and I alternate between open and closed handed techniques on a right-handed kit. Over the last four years or so, I've recorded two albums, a few EPs, and toured extensively around the world with my band, WALK THE MOON.
We worked on our latest album, TALKING IS HARD, during every little bit of free time we've had during last couple of years. Many of the songs were envisioned during jam sessions we had between the rare sound check. After we toured for pretty much two years straight, we rented out a former Masonic-lodge-turned-artist-commune in Kentucky for a few weeks. There we started fine turning these jams into songs and really started the process of making the album. In the end, we wound up with about fifty complete songs. Selecting twelve out of those was no easy task.
When it came time to start tracking, we chose Tim Pagnotta (Sugarcult, Neon Trees) as our producer. Tim was a blast to work with. Like myself, he's a drum nut, and we had the luxury of spending a ton of time tweaking drum sounds to make them fit the songs in the best way possible. The tracking room was relatively small (about 18x17x16) but ended up sounding massive. During pre-production, we spent a couple days tracking drums to get a good idea of how to proceed sonically during the main tracking. Advertisement
Primary drum tracking for this record was done in about ten days at Tim's tracking room/personal studio in North Hollywood. The main kit was a '65 Ludwig black oyster pearl with a 22″ kick and 13″ and 16″ toms. I lugged about ten of my own personal snares across country, including some nice '40s and '50s Slingerlands. In the end, the winners were my 6.5×14 hammered Black Beauty with thirty-strand snares, Tim's 6.5×14 standard Black Beauty with twenty-strand snares, and two 6.5×14 Supraphonics that we had at different tunings to swap out. We used Remo Coated Control Sound batter heads on snare, Coated Emperors on toms, and a Clear Power Sonic kick batter. Cymbals were a mix of Paiste 602s, Signatures, and Zildjian Constantinoples. We also got pretty crazy with Rototoms, timbales, and about every percussion instrument we could find during the overdub sessions. I'm proud to say that I added a file cabinet on a couple songs.
We performed on Jimmy Kimmel Live back on December 2, followed by a short tour around the US. The TALKING IS HARD tour takes place March through May across North America. I hope to see some of you there.
I play Masters of Maple drums and Paiste cymbals.
I'll leave you with a clip of us playing "Aquaman" from a recent sound check filmed by fellow drummer Greg from Saint Motel.
For more on Sean Waugaman, visit www.walkthemoonband.com, and facebook.com/walkthemoon.