News: Guitar Center's 26th-Annual Drum-Off Finals Brings Together Legendary Drummers to Celebrate the Nation's Best Undiscovered Talent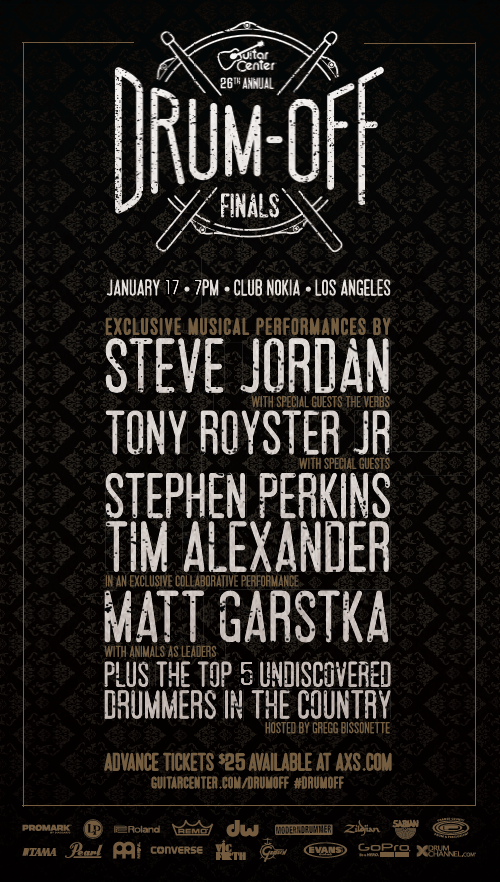 Guitar Center's 26th Annual Drum-Off finals will take place January 17, 2014 at 8 pm at Club Nokia at LA Live, 800 W Olympic Blvd # 335, Los Angeles, CA 90015.
Five talented drummers from across the country have been chosen from over 5,000 drummers entered in more than 1,000 local competitions nationwide to compete as finalists in Guitar Center's 26th Annual Drum-Off, the world's premier drum competition. A proven platform for success, celebrated and embraced by the drumming community, past winners have gone on to play for the likes of Prince, Beyoncé, Jay Z, the Mars Volta, and more. At stake is a prize package valued at over $45,000 including cash, gear, and endorsement deals.
The night will be hosted by Gregg Bissonette (Ringo Starr, David Lee Roth Band, Santana), and will feature exclusive musical performances by a host of renowned drummers and a special ceremony honoring Steve Jordan's legendary career with an induction into Guitar Center's RockWalk. All five finalists will perform live to compete for the winning title in front of a panel of celebrity judges and an audience full of fans and industry professionals. Between the host, performers, judges, and RockWalk inductees the event is one of drumming's most celebrated events and brings together masters of the craft.
Artists performing include Steve Jordan (Keith Richards, Eric Clapton, John Mayer Trio), Tony Royster, Jr. (Jay-Z, 1995 Drum-Off Champ) plus special guests Stephen Perkins (Jane's Addiction) with Tim Alexander (Primus, A Perfect Circle), and Matt Garstka with Animals As Leaders Advertisement
Guitar Center's Drum-Off judges include Cora Dunham (Beyoncé, Prince, 2002 Drum-Off Champ), Peter Erskine (Grammy Award-winner, Weather Report), Nisan Stewart (Dancing With the Stars, Jamie Foxx), Thomas Lang (Asia, Paul Gilbert, Award-winning Instructional Books/Videos), Chris Johnson (Rihanna, Invented Like Stars), Nick Smith (Snoop Dogg), Dave Elitch (Antemasque, the Mars Volta), Gorden Campbell (Herbie Hancock, Earth Wind and Fire), and DeShaun Allen (Juicy J, Kenrick Lamar).
Guitar Center's Drum-Off finalists are Jharis Yokley (Webster Groves, MO), Shariq Tucker (Rosedale, NY), D'Andrew Gosey (Houston, TX), Clyde Frazier (Sumter, SC), and Forrest Rice (Rancho Cuamonga, CA).
Advance tickets are available for $25 and can be purchased here: http://bit.ly/1zvlXXN.
Partners include DW, Promark, Orange County Drum and Percussion, LP, Meinl, Roland, Gretsch, Pearl, Modern Drummer, Vic Firth, Zildjian, DW, Sabian, Remo, Tama, Evans, Drum Channel, Converse, and GoPro. Advertisement
More information can be found at guitarcenter.com/drumoff.