Cannibal and the Headhunters' Robert Zapata Talks Influences, New Album, and Tour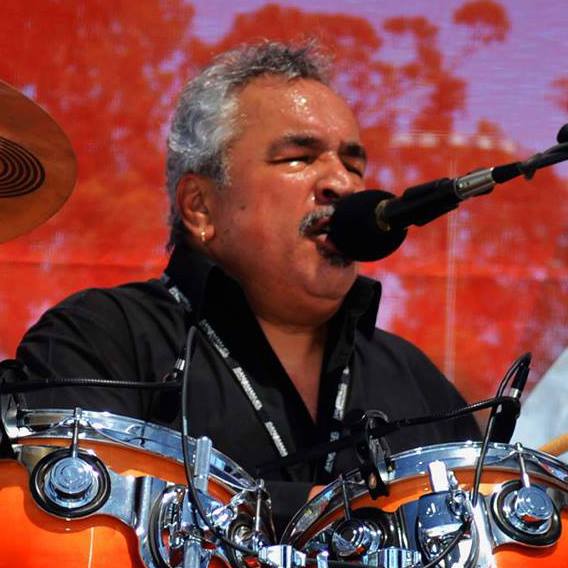 Hello, Modern Drummer blog reader. My name is Robert Zapata, and I have been the drummer for Cannibal and the Headhunters for forty-six years now. For those who don't know the group you might know the song "Land of a 1000 Dances." Frankie "Cannibal" Garcia was the founder of the group and he even toured with the Beatles back in 1965.
I started playing drums at the age of seven with my brother Richard Zapata who played bass guitar. I always found myself playing with my brother's friends who were about four to five years older then me. I think that was a plus for me and I learned a lot from them.
Some of the drummers I liked growing up were Buddy Rich and Louie Bellson. As I got older I started picking up on Billy Cobham, Harvey Mason, James Gadson, and a lot of funk drummers. I think it's good to have a wide range of styles to pick from so you're not limited in what you need to do in any song situation. Advertisement
I was born in East LA, and I take great pleasure in having the opportunity to work with some of the great rock and rollers of the '60s and '70s like Jerry Lee Lewis, Chuck Negron, Bobby Kimble, Chuck Berry, Willie BoBo, Denny Laine, Joey Molland, Terry Sylvester, Tiny Tim, Bobby Boris Pickett, the Tokens, the Jordanaires, and Peter Noone, among others. I thank God for all I've done over the years.
As of today, Cannibal and the Headhunters have a new CD called Stop Foolin' Around and it features new songs as well as some classic hits. We have a show called "British Rock Meets American Pop" with Denny Laine (former member of Wings/Moody Blues) and Dennis Tufano (the original voice of the Buckinghams). This is an ongoing show and we book all over the US and Europe.
This is my first blog with Modern Drummer and I hope you enjoyed learning a bit about me and I hope to see and meet some of you one day. Keep the beat going!