News: John Wackerman's <em>Drum Duets Volume II</em> Features Duets With Chambers, Hawkins, Bozzio, Lang, and More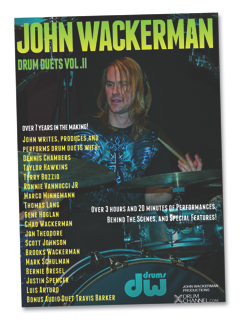 The follow-up to the popular and successful CD and book release, Drum Duets Volume I, John Wackerman's Drum Duets Volume II features top LA session drummer, composer, and producer John Wackerman teaming up with sixteen world-class artists. The video project was shot with multiple camera angles at Drum Channel, runs over three and a half hours with exclusive behind-the-scenes footage, and includes duets with Dennis Chambers, Taylor Hawkins, Terry Bozzio, Ronnie Vannucci Jr., Marco Minnemann Thomas Lang, Gene Hoglan, Chad Wackerman, Jon Theodore, Scott Johnson, Brooks Wackerman, Marc Schulman, Bernie Dresel, Justin Spencer, Travis Barker, and contest winner Luis Arturo.
"I'm proud to say that this is the only DVD of its kind," Wackerman explains. "Seeing so many great performances by so many great drummers from so many angles—plus getting a close-up view of the creative process by watching the behind-the-scenes segments—will help any drummer become a better player and a better musician."
John Wackerman Drum Duets Volume II is now available by digital download and DVD at local and online drum shops and music dealers, as well as from the Drum Channel store at www.drumchannel.com/store.
Drum Channel is an education and entertainment company providing a wide variety of interactive drum education content, including www.drumchannel.com. The Drum Channel website features hundreds of lessons, lesson plans, and live events, as well as Drum Channel's DVDs and Digital Video Downloads, available at http://www.drumchannel.com/store. Advertisement
Watch the promotional video below.