Gregg Bissonette "After All??? Chart and Drum Groove Video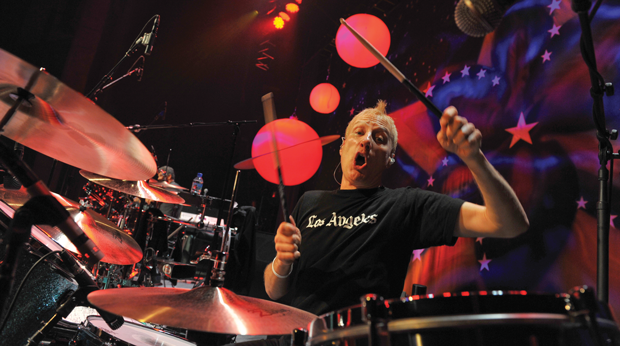 The December issue of Modern Drummer magazine features first-call L.A. player Gregg Bissonette on the cover. Bissonette has been Ringo Starr's live drummer for the past several years, and he recently released his solo album Warning Will Robinson!
Earlier this year Gregg invited MD to film him during rehearsals with Ringo, and here we share a clip of him playing a favorite groove, which he elaborates on below. But first let's hear what he has to say about creating drum charts such as the one below, for the Warning Will Robinson! track "After All," which we present here in two mixes, one with drums and one without so you can play along.
"After All" (with drums) | M4a
"After All" (without drums) | M4a
Click here to download pdf of the chart.
"My longtime great friend and drum buddy Chris Brady, who used to be a student of mine and is now artist relations manager for Aquarian Drumheads, is the guy I always go to for writing out the best, cleanest drum cheat-sheet charts," Bissonette says. "These charts are not exact transcriptions. Rather, they're meant to quickly and clearly tell you things like the tempo, the basic groove and feels of the song, where the fills go, and, most importantly, the song's form and musical road map. Advertisement
"Warning Will Robinson was written and produced by my brother, Matt, who is also my favorite bass player, songwriter, and producer," Gregg continues. "'After All' is a tribute to one of our best friends, the amazing bass player Bob Birch, who passed away a few years ago. Bob was one of the greatest.
"I like how Chris writes out a groove that goes for eight bars by writing the one-bar groove and then the words '7 more.' Next he writes out the main groove of the intro, which on this song is kind of like Coldplay meets Ringo. The next groove is again very Ringo-ish, like a combination of the Beatles' 'Tomorrow Never Knows' and 'Ticket to Ride.'
"Chris puts an I for the intro, a V for the verse, and a C for the chorus. Then there's the 'Skrillex' section—my brother and I are heavily into Skrillex dubstep-type half-time, heavy grooves—and 'Drum Solo Blushda Section,' where the band mirrors the blushda fills I play (rL, RRL, rL, RRL). Advertisement
"Again, this chart is not meant to be an exact transcription—those are way tougher to try to sight-read. It's meant to be a way to quickly get through the song musically.
"Now let's talk about the video. [Below] It was filmed in early June at our Ringo All-Starr Band rehearsals in Toronto, by Miguel Monroy, who did a great job writing my cover story in Modern Drummer. This is actually where John Lennon and the Plastic Ono Band did their first gig—and as I'm writing this today, it's October 9, which is John's birthday!
"The groove that I'm doing is kind of focused around keeping a shaking tambourine going throughout, which is made possible with my new signature DW Tambo Pedal. I play 8th notes with my left foot as if I were playing 8ths on my hi-hat, and this gives a 16th-note shaking feel.
"As I was playing I was thinking of the song 'Train to Willoughby' from my solo CD Submarine. Then I started filling around, thinking of Ringo playing his famous eight-bar drum solo on the Beatles song 'The End.' I also threw in a few blushdas!" Advertisement