EVENT: Brian Frasier-Moore Homecoming Clinic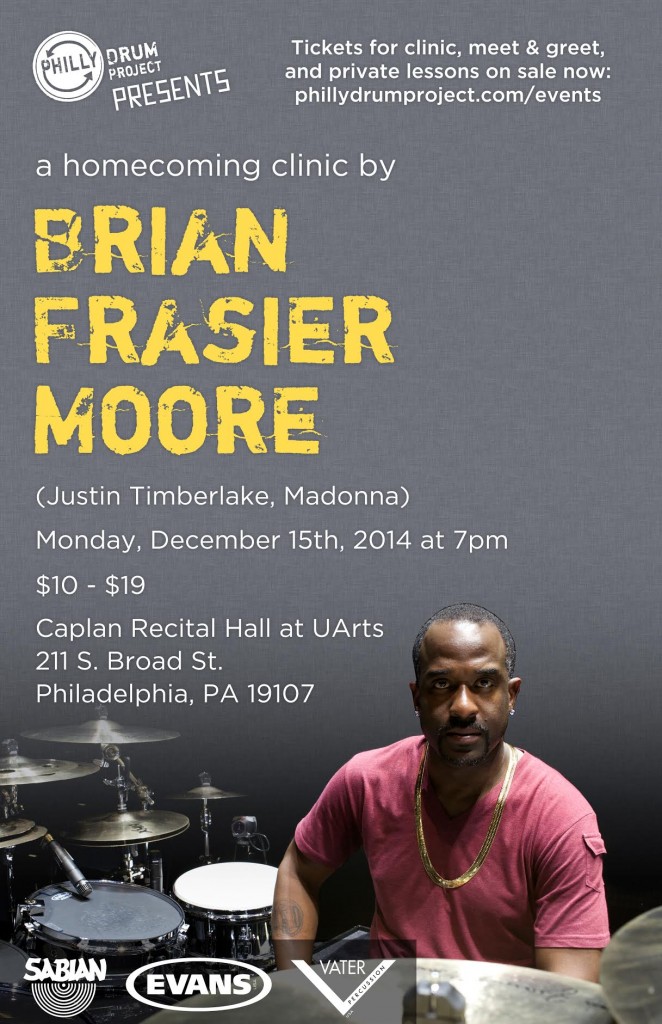 On Monday, December 15th at 7pm, Philly Drum Project will be hosting a "homecoming" drum clinic with musical director/drummer Brian Frasier-Moore. A Philadelphia drummer who paved the way for the younger generation of R&B, gospel, and hip hop drummers, Brian Frasier-Moore returns home for his first Philly clinic in almost a decade. Frasier-Moore has worked with Usher, the Backstreet Boys, Justin Timberlake, Toni Braxton, Keny Babyface Edmonds, Christina Aguilera, Janet Jackson, Madonna, Timbaland, and Queen Latifah. Tickets for GA, Meet & Greet, and Private Lessons with BFM are on sale here.
Brian Frasier Moore Homecoming Clinic
Caplan Recital Hall at UArts
211 S. Broad St. Philadelphia
Tickets available now for GA and VIP here.
Philly Drum Project is a percussive collective dedicated to making drumming more accessible in the Philadelphia area by helping drummers in the region share gear, lessons, and beats. PDP was founded by Ryan Crump in 2011 with the aim of providing community resources for drummers of all backgrounds and experience levels. The organization is run by an advisory committee and three operating committees: Gear Committee, Lessons Committee, and Beats Committee. For more info on joining one of our committees, email Ryan at ryan@phillydrumproject.com.