Drummer Blog: Trace Adkins Band's Johnny Richardson on Keeping an Open Mind and Having a Battle Plan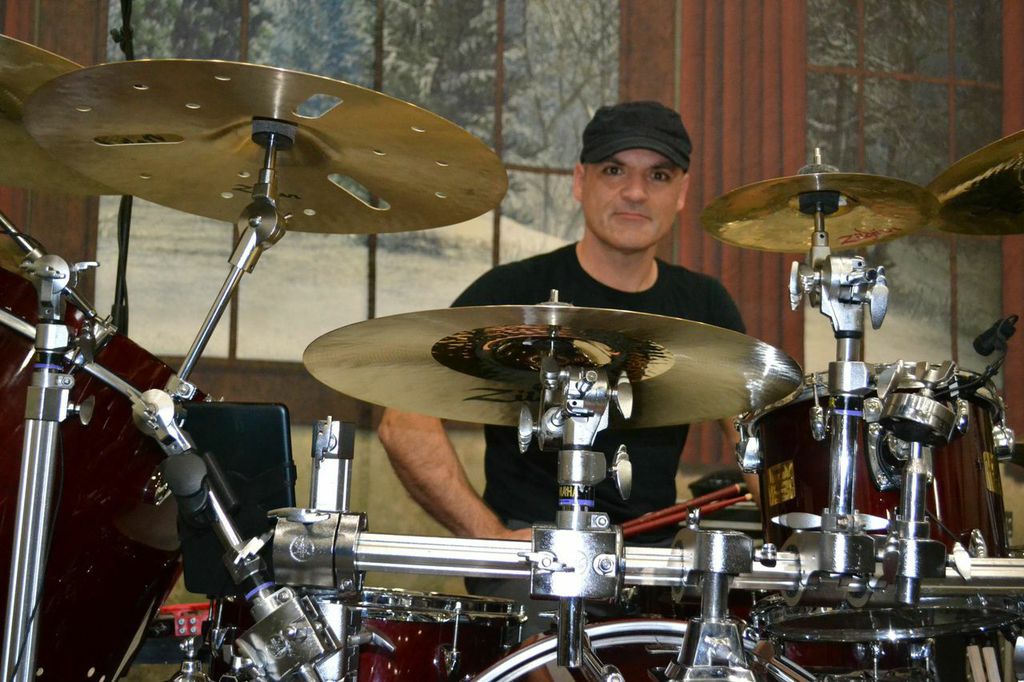 Greetings, Modern Drummer universe! Johnny Richardson from the Trace Adkins band here, checking in from the road. As our regular touring season winds down, I thought this would be a good time for my second MD blog.
As I write this, we're finishing up shows before heading into rehearsals for Trace's second-annual Christmas Show Tour for the months of November and December. Ok, I know what you're thinking, "Ugh, Frosty the Snowman and Rudolph." Well, actually, no. And that brings me to the overall message I hope to convey with this blog; things are not always what they seem or what you first think.
A year and a half ago when I was first told that Trace was recording a Christmas record (with a subsequent tour), my first thought (after "When can I get the material and start learning it"?), was "Well, this will be interesting." As it turns out, it is interesting and very challenging and incredibly fun. My first listen of the record revealed that this wasn't your typical Christmas record. What it was is a collection of ancient and nontraditional Christmas-related songs recorded and arranged in a Celtic style. I'm talking involved arrangements, lots of percussion, and some odd-time signatures thrown in. To properly recreate the songs and arrangements on the record, we would be complementing our regular band with a four-piece string section, bagpipe player, a classical guitarist, etc. I had my work cut out for me and would be driving a twelve-piece band. Advertisement
Assuming I have plenty of lead time, my first move when learning a large amount of new material is just to live with it for a bit. Listening while I'm driving around town running errands, on a plane, making dinner—just letting it get in me. I've found this makes the next steps easier and more efficient. In this case, my next step was to map out my ideas on how I was going to cover the drumset and percussion parts. What songs had both elements, and could one person cover them? If not, what was more important? Could any of the parts be tracked? Does this song call for sticks, brushes, rods, or a combination? What percussion instruments did I need, and how and where would they be implemented into my existing kit? I actually find this part of the process to be a lot of fun; it's like a battle plan for drummers!
My last step, before I sit down at a drumset, is to write detailed charts. (This is the where the importance of being able to write and read drum notation comes in.) Regardless of the situation and whether I'll be using a chart on stage, I always write a chart. I have found that writing a chart helps greatly in the process of really learning a song. I'm able to visualize the chart when I'm playing, and I can make notes on the charts during rehearsals to go back and refer to. By the time I start playing the songs, it's amazing how well I know and am "inside" them. Granted, this is under ideal circumstances with plenty of time to prepare, but the basic concepts apply regardless of the situation: do your prep work, learn to write and read drum manuscript, have your gear in shape, and always keep an open mind regarding music. Things are not always what they seem.
For more information and photos of my drum and percussion kit, be on the look out for a Gearing Up feature in an upcoming issue of Modern Drummer.
For more on Johnny Richardson and the Trace Adkins Band, visit facebook.com/johnnytheclock, and traceadkins.com.