Showroom: DW True-Sonic Snare Puts a Modern Twist on a Vintage Favorite
Drum Workshop has recently released a snare drum that pays tribute to an American classic and includes today's latest innovations and build-quality. This drum, the True-Sonic, features a pre-tensioned, highly-adjustable snare bridge that said to provide orchestral-like sensitivity and articulation.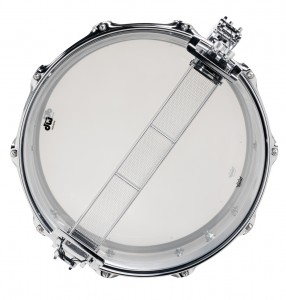 DW founder, Don Lombardi, expounds, "So many drummers had the original design, I happen to be one of them. Today, drummers prize these snares because they have a very distinct voice. We thought we could bring this drum back, but make several key improvements. The pre-tensioned wires worked, but were never easy to adjust and wouldn't throw-off completely. The shells were also very inconsistent. After playing it for a while and showing it to some of our artists, I feel that we've added another interesting texture to our DW snares. That's what it's all about, giving drummers more to work with and more sounds to spark their creativity."
The 5×14 dual-beaded chrome-over-brass shell comes with chrome hardware, MAG throw-off system with 3P (3-position) butt-plate, True Tone snare wires, True Pitch stainless steel tension rods, 3.0mm steel True Hoops, and DW Heads by Remo. Advertisement
Lombardi adds, "Rich Sikra, DW head of manufacturing, and I worked very hard on this project. We wanted to make sure it had the character of the original, but with all of the modern upgrades that drummers expect these days. We spent a lot of time dialing in the snare beds and testing them to make sure the snare bridge was doing its job. We even added a resonant Diplomat head to achieve the sound we thought most drummers like about this type of drum. The details always take the most work."
Retail price is $915.
Visit www. dwdrums.com for more information.