Little Kids Rock Will Honor Joan Jett At Annual Star-Studded Benefit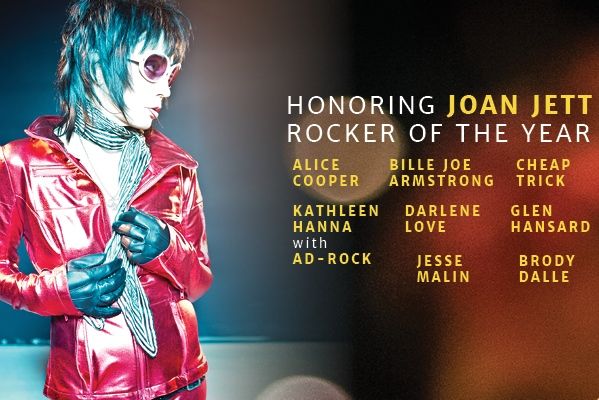 Alice Cooper, Tommy James, Billie Joe Armstrong, Darlene Love and other special guests will join Jett at the sixth annual 'Little Kids Rock Benefit' presented by Guitar Center and hosted by Hammerstein Ballroom at The Manhattan Center to raise funds to support U.S. public school music programs
To ensure the continuation and revitalization of music education in economically challenged public schools across the country, non-profit organization Little Kids Rock will host its sixth annual Little Kids Rock Benefit, honoring Joan Jett and her music. The annual event, this year presented by Guitar Center and produced by Steven and Maureen Van Zandt, will take place on Thursday, Oct. 23 at New York's iconic Hammerstein Ballroom at The Manhattan Center. Alice Cooper, Tommy James, Billie Joe Armstrong, Darlene Love, Glen Hansard, Jesse Malin, Brody Dalle, Jake Clemons and other special guests will make up the all-star roster of musicians that will pay tribute to Jett with musical performances, produced by Steven Van Zandt.
Little Kids Rock will honor the hardest-rocking Blackheart, Joan Jett, as the "Rocker of the Year" for the impact that her career, influence, and music have had on the charity's 'Modern Band' music program, which equips public school music teachers with the instruments, training, and curricular resources they need to teach popular musical styles that kids know and love, like rock, hip hop, country, blues and funk. More than 300,000 kids have benefited to date. Annually, this event raises enough funds to bring music education and instruments into the lives of tens of thousands of additional public school children who otherwise would not have access due to school budget cuts. Advertisement
Jett joins past honorees such as Lady Gaga, Steven Van Zandt, Darlene Love and Clarence Clemons, and performers such as Bruce Springsteen, Elvis Costello, Brian Wilson, Tom Morello, Dion and many others devoted to giving public school children access to music education. The biggest stars of the evening will be the Little Kids Rock students who will share the stage with some of rock and roll's biggest names.
Guitar Center CEO, Mike Pratt will also be honored during the evening, which will include musical performances, speeches and appearances by special guests to be announced. The annual Big Man of the Year Award, in honor of early Little Kids Rock supporter and E Street Band member Clarence Clemons, will also be presented during evening, but that honoree is yet to be announced.
A focal point of the evening will be a live and silent auction featuring unique donated items like dinner with Maureen and Steven Van Zandt, autographed musical memorabilia, cruises from Royal Caribbean, limited edition Citizen Watches, and the opportunity to play onstage with the evening's performers. All proceeds raised during the live and silent auction will enable Little Kids Rock to bring free lessons and instruments to over 135,000 disadvantaged public school students in 13 states. Advertisement
RESERVE YOUR SEATS: www.littlekidsrock.org/2014benefit/reservations/ or call 973-746-8248.