The Essence of Progressive Drumming

by Mike Haid
What is the rhythmic essence of progressive music? What makes prog so different from other genres? Does it require a specific skill set on the drumkit, or does the nature of the music make it open to interpretation? MD posed these and other questions to the drummers in Spock's Beard, King's X, the Devin Townsend Project, Haken, Glass Mind, the Flower Kings, and the Adrian Belew Power Trio, all of whom performed on the 2014 edition of Mike Portnoy's Progressive Nation at Sea cruise. The answers they gave were wide-ranging, thoughtful, bold, even poetic—much like the music itself. Before we get to the drummers, though, let's hear from a man whose contributions to the art of prog-rock guitar are legendary, and who's been known to lay it down at the kit as well.
Adrian Belew
"Without my drumming background, I don't think that I could have written the kind of music that I did in King Crimson."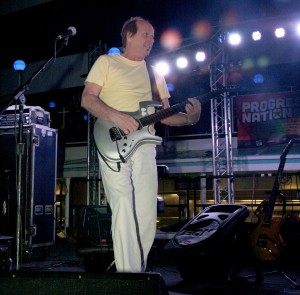 Progressive music is a broad term. But it does have some essentials to it. To me it usually means [music that's] somewhat epic in proportion, with a lot of different modes to it. You have to be a very good player to play it, because it's typically complex music. The music can become quite intense at times. But there are also usually some calm moments with beautiful vocals and melodies involved. It's a unique form of music.
Before I ever played guitar, the first band that I really loved, beyond the Beatles, was King Crimson. That to me was progressive rock, along with Yes, Gentle Giant, Genesis, and so on. Those were the bands that really started this form of music. I love this music, and I'm glad to see that it's still around and doing well. After being on this cruise, I've seen just how immensely it's grown and how good the music has become. There were many bands on this cruise that I'd never heard before. But I'll be looking them up online and checking them out. Advertisement
My teenage daughters, who are with me on the cruise, are very into music. They really liked Next to None, which has Mike Portnoy's son, Max, on drums. I thought they were fantastic. I spent some time with their guitar player on the ship. These kids are all teenagers, and they're very musically advanced for their age. The kids today that are growing up playing this kind of music are going to become much more advanced in their musicality and intelligence. This is complicated and challenging information that these kids have to digest in order to create this level of music. It's very impressive and inspiring.
I still play drums, in fact I've been doing a lot of the drumming on my new recording, Flux, which should be out soon. I enjoy playing drums on my own material because nobody can tell me that I suck, or that I should play something different! [laughs]
I love drumming. It's totally in my heart, and there's nothing else like it. I started playing drums when I was ten, got into marching band in junior high, started my first band at age fourteen when the Beatles first came to America, and was inspired by the music of the British invasion. I never tire of drumming. There's something totally unique about it. And without my drumming background and my interest in drums and percussion, I don't think that I could have written the kind of music that I did in King Crimson. Something like "Three of a Perfect Pair" is not what a guitarist without a rhythmic background would naturally have written. Advertisement
I have tried to improve my drumming skills, but I always seem to come back to the same level. [laughs] When I worked with Bill Bruford, he would share a lot of drumming information, thoughts, and ideas. At that point, I made a step forward. So I made a small step beyond Ringo—somewhere between Ringo and Bill, which is a good place to be, really.
The main thing I love to do with drums is be creative. I like doing wacky, wild things like using a sample of a car door as a snare drum. It's more about sound and rhythm and interesting things like that for me than it is technique or ability. So when I play my own drums, I like to try and get in that same arena, like putting a cymbal on the floor and playing it with a triangle.
Tobias Ralph from my band is quietly amazing. He's the nicest musician in the world, and when he sits down at the drums, he simply amazes me. He's so unassuming about it, but when he sits down and plays, you really pay attention. He's so impressive to me, and he's done so well in my band. Tobias has been exactly what the doctor ordered. He showed up on this cruise after not playing this music for three months, and nailed it. Advertisement
Jimmy Keegan of Spock's Beard
"These younger bands are fearless in their ideas. Some of them are trying too hard, but they'll get over that and find their voice."
To me, the essence of progressive music used to mean "musical freedom." In a sense it was the brother to jazz. Now there are more rules to conform to in modern prog music. But I like the fact that prog drummers are still trying to find new ways to communicate rhythmic ideas. We're like the modern dancers of the world, pushing rhythm in new directions and searching for inspiration in unexpected places.
Before we tracked our last record, I was listening to Karim Ziad, an Algerian musician who creates a fusion of Mediterranean/North-African rhythms and contemporary drumming. And he's a beautiful singer. I wanted to try and incorporate some of this idea that odd meter doesn't have to sound herky-jerky. I want the odd rhythms to flow and feel smooth, just like a dance record.
Phil Collins [Genesis] is one of my favorites. In traditional progressive music, Phil, Alan White [Yes], and Bill Bruford [Yes, King Crimson] and all of the Crimson drummers past and present are my favorites. In today's prog world, it's Gavin Harrison [Porcupine Tree], Danny Carey [Tool], and Matt Cameron [Soundgarden] for me. Soundgarden isn't considered prog, but it really is. Advertisement
I feel there are two schools of thought in prog. There's the Bill Bruford way of playing, with finesse and a melodic way of creating rhythms in a way that you'd least expect it. And then there's the Alan White school of thought, which is more rock-oriented with a strong backbeat. Mike Portnoy is amazing in that he throws himself out there in every type of musical situation and continues to push the envelope of drumming while carrying the flag for progressive music, wherever he goes.
One of the drummers on the cruise that really impressed me was Felix Lehrmann with the Flower Kings. He's such a well-rounded player. And I saw King's X last night—Jerry Gaskill has such a beautiful backbeat. King's X is a hard band to talk about individually because they work so well together as a unit. I also listened to Matt Halpern and Matt Garstka. Wow, those are the guys that make me want to go back and practice. I hear these guys coming from the Soundgarden, Tool, Mars Volta arena, which is what I consider the new prog music. They're creating from a new perspective that appeals to the younger generation—though, sadly, most of the new music is dark, because much of the younger generation feels like their lives stink and the world is a horrible place.
The cruise has been amazing in that you get to see all these great bands, from old-school to cutting edge. I've made a point of checking out the new, younger bands in the smaller venues just to see what's going on with the younger generation from a musical perspective. These guys are more fearless in their ideas. Some of them are trying too hard, but they'll get over that and find their voice. They feel they have nothing to lose, so they play what they really feel inside without thinking too much about it, and I like that innocence. This cruise is also great because I can go up on stage and be Mr. Rock Star, and then step off stage and run to the next venue to see a band and be a fan, like everyone else. Advertisement
Jerry Gaskill of King's X
"I never considered myself a progressive drummer. King's X is a trio of misfits that just don't fit in anywhere."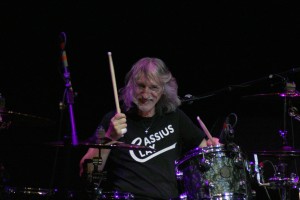 Talking about progressive music is a little difficult for me, because I never considered myself a progressive drummer, or even to play in that genre. With King's X, we've always been lumped into different scenes that I never felt we were a part of. First we got lumped into the metal scene, because we were on MegaForce Records. Then we got pushed into the prog scene because we were on InsideOut Records. But I never really saw us as any of that. That's been the King's X story from the beginning. We're a trio of misfits that are too hard to categorize, and just don't fit in anywhere.
When it comes to modern prog music, there's a little too much math going on for me. With bands like Periphery and Animals as Leaders, I love what they're doing, but I'd have to practice way too much to play that style. I saw the drum clinic with both Matts, Garstka and Halpern, and they are amazing at what they do. Those guys have a great handle on that style, and that's what they're drawn to. That's where their emotion lies. That's what they believe in. I just feel like I'm a rock 'an' roll drummer. I might apply some of that stuff without knowing, but I don't consider myself a progressive drummer.
Back in the day I liked Carl Palmer [Emerson, Lake and Palmer], but that's about as progressive as I got. My earliest influence was Ringo Starr. I was playing before that, so there was something already inside of me that I can't explain. But when I saw the Beatles on Ed Sullivan, that's the only thing that made sense. Then along came John Bonham [Led Zeppelin]. He changed everything. He's the epitome of rock 'n' roll drumming. Then there's Buddy Rich. I believe if you could put Buddy Rich and John Bonham together in one drummer, that, to me, would be perfect drumming. Don Brewer [Grand Funk Railroad] was also a big influence on me, as well as Carmine Appice [Vanilla Fudge]. Carmine was the only double kick drum player that really influenced me. Advertisement
Regarding this cruise, I was a little skeptical at first, because I'd never been on one. But it has been absolutely amazing. I've met so many great musicians and fans. There's camaraderie in this type of festival setting that you can't find anywhere else. I've seen and met some great drummers. I'd never seen or heard Periphery until this cruise, and I fell in love with them. They might be my new favorite band.
Ryan Van Poederooyen of the Devin Townsend Project
"The essence of progressive music is progress."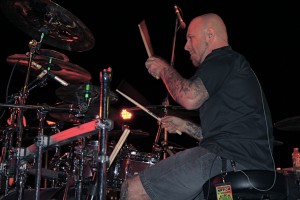 To me, progressive music means being able to create music that allows you to express yourself with no musical limitations. What got me into progressive music was Neil Peart. Growing up in Canada, he was my biggest influence, and still is. I learned the drum parts from every Rush album. I took lessons when I was younger and learned the rudiments, and I pushed myself with the metronome. But I needed something more. That something more was Rush and Neil Peart. That's what fueled my love for progressive music.
My next big influence was Scott Rockenfield from Queensrÿche, and then Stewart Copeland with the Police. After that it was was Tim Alexander from Primus. All these guys are very musical, percussive players. My current favorite drummer is Gavin Harrison. He's the most musical drummer that I've ever experienced. Now I take what I've learned from all these guys and put my own spin on it in Devin's music. I push myself to grow and improve with every new recording. That's what I consider the essence of progressive drumming. It's about progress. Advertisement
Where it's going right now is amazing. The two bands that have inspired me on this cruise are Periphery and Animals as Leaders. They're pushing the music in a new direction, and that's what I strive for in my drumming as well.
What I've enjoyed most about this cruise is the variety of musical styles and drummers. Mike Portnoy did an outstanding job of gathering a wide variety of artists, from prog legends to new, cutting-edge bands. I've learned a lot from watching and getting to know several of the drummers on the cruise.
Ray Hearne of Haken
"Mike Portnoy and Gavin Harrison know how to make it sound simple while playing some pretty ridiculous stuff."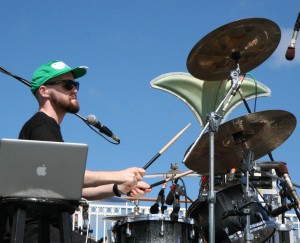 I got into progressive music through heavier bands like Metallica and System of a Down. Most of that drumming is quite straightforward and simple, but very effective. That made a big impact on my early drumming. I try to keep the drumming in Haken relatively simple underneath the music, which can be quite complicated at times. That's partly because it's easier to access for people, and partly because I don't have the technical ability to do much more. Advertisement
I listened to a lot of Dream Theater in my teens, and then Porcupine Tree later on. So Mike Portnoy and Gavin Harrison are really big influences from a technical and odd-time-signature level. But they also know how to make it sound simple while playing some pretty ridiculous stuff. Gavin has an uncanny way of making the groove the dominant factor while he's playing seriously complex patterns.
I listened to a lot of Sting's music as well. That's when I was introduced to the amazing Vinnie Colaiuta. That led to learning about the more fusion-oriented players like Dave Weckl and Steve Gadd. An amazing drummer that I've been into a lot lately is John Weathers from Gentle Giant. He was a wonderful multi-instrumentalist and vocalist. So I take little bits from each of these players and create a style that feels good with Haken's music. Lately I've been writing my drum parts out and creating specific parts for Haken that I wouldn't normally play if I were just creating on the spot. I feel like this pushes me to grow as a player by forcing me to learn things that wouldn't normally come naturally to me.
I don't like to pigeonhole music into specific categories like progressive. That's just too broad of a term. I would consider Haken's music as epic and symphonic with progressive and metal elements. Advertisement
Edgar Garduño of Glass Mind
"'Intelligent Music for Intelligent People'—I believe that's what progressive music is all about."
Tobias Ralph with Adrian Belew really impressed me, as well as Felix Lehrmann from the Flower Kings. Tobias played some amazing things when he was improvising that I never expected. It's easier to play prearranged parts that you have memorized. But when you have to improvise, you can really show your true abilities. And Tobias had some amazing chops. He was very creative and played very tastefully. Felix also had awesome chops and technique; very dynamic.
My two favorite bands on the cruise were the Flower Kings and Haken. They have great musicianship with well-written music. Our band is more metal, but we really focus on our musicianship. There is a prog website called PerfectProg.com and their slogan is "Intelligent Music for Intelligent People." I believe that's what progressive music is all about.
Tobias Ralph of the Adrian Belew Power Trio
"You have guys like Matt Halpern and Matt Garstska combining elements of metal and gospel chops. The prog genre is always morphing."
Growing up, I was a fusion-head. So what started me into progressive drumming was what Billy Cobham and Tony Williams were doing. To me, that was progressive. In the specific genre of progressive music, Neil Peart and Rush were the icons of at the time. I got into King Crimson in the '80s—though I never looked at King Crimson as "progressive," because the way Adrian arranged and sang his melodies, there was a certain pop element that was very listener-friendly, and you could sing along and dance to it. Advertisement
But Rush blew my mind. I mean, here was "Tom Sawyer" and "The Spirit of Radio" being played on commercial pop radio stations. I had never heard drumming like that on pop radio. Also, when Yes put out 90125 it was somewhat progressive, but in a different way. It was more progressive in the production. Then along came Dream Theater with Images and Words, which, to me, was the perfect blend of progressive and metal aspects of music. And it seems a lot of the progressive groups today are a direct extension of that sound.
Today progressive drumming has reached such a high level of proficiency. You have guys like Matt Halpern and Matt Garstska that are combining elements of metal and gospel chops. So the prog genre is always morphing.
On the cruise I got to hear and meet so many great drummers for the first time. I really liked what Felix Lehrmann from the Flower Kings was doing. He reminded me of a German Dennis Chambers, with some of his fusiony chops. Also, Mike Portnoy's son, Max, blew me away with his technique at such a young age. I'd say the most powerful drummer I heard on the cruise was Ryan with Devin Townsend's band. He's a serious driving force with Devin's music. Advertisement
What I love most about this cruise is the camaraderie among the drummers. It's really like a healthy competition, an inspiring atmosphere to grow and learn something from all the drummers.
Felix Lehrmann of the Flower Kings
"Playing prog isn't very different from playing any other style of music. It's all about making it feel good."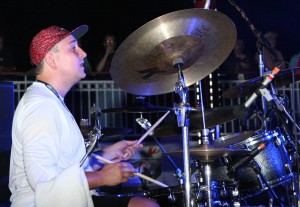 The Flower Kings are the first prog band I've played with, but I feel that playing it isn't really different from playing any other style of music. Prog is known for its complicated time signatures, but it's just music to me. It's all about making it feel good, together with the bass player. Don't make it so complicated that you lose the people, no matter what time signature you play in. Prog drummers tend to play too many licks, and I'm not a big fan of that. Sometimes you can feel that there's a lick coming up because the time speeds up with the drummer anticipating his licks.
My main prog drumming influence is Terry Bozzio. If you're going to play prog, you should know about Bozzio. I was nine years old when I first saw him at a drum clinic in Berlin. He changed my whole way of thinking about drums.
I also love Dennis Chambers. He still gives me sleepless nights. And Vinnie Colaiuta, you can't get around him. I also love Jack DeJohnette. But I also love Chad Smith and Alex Van Halen. I think a lot of drummers in the drumming community underestimate Alex. Advertisement
On this cruise, I'm a big fan of Matt Gartska. And Mike Portnoy is the king. He brings the whole package, as a drummer and a showman, like nobody else. I saw him with Bigelf last night and he rocked, like a true rock drummer should. I love Pain of Salvation and Spock's Beard. There's so much talent on this ship. I didn't know what to expect from this cruise, with so many bands. But it's been incredible. It feels just like a big festival, like a big musical vacation. The whole vibe on the ship is totally relaxed, with the fans and the bands hanging out together. This is how music should be presented.
For more on Progressive Nation at Sea 2014, get the November issue of Modern Drummer, out now. And to hear music by all the drummers interviewed in this article—plus lots of other great contemporary and classic prog drummers—check out Modern Drummer's exclusive Progressive Rock playlist on Spotify.