Drummer Blog: Rosie Slater of New Myths on Creating the Groove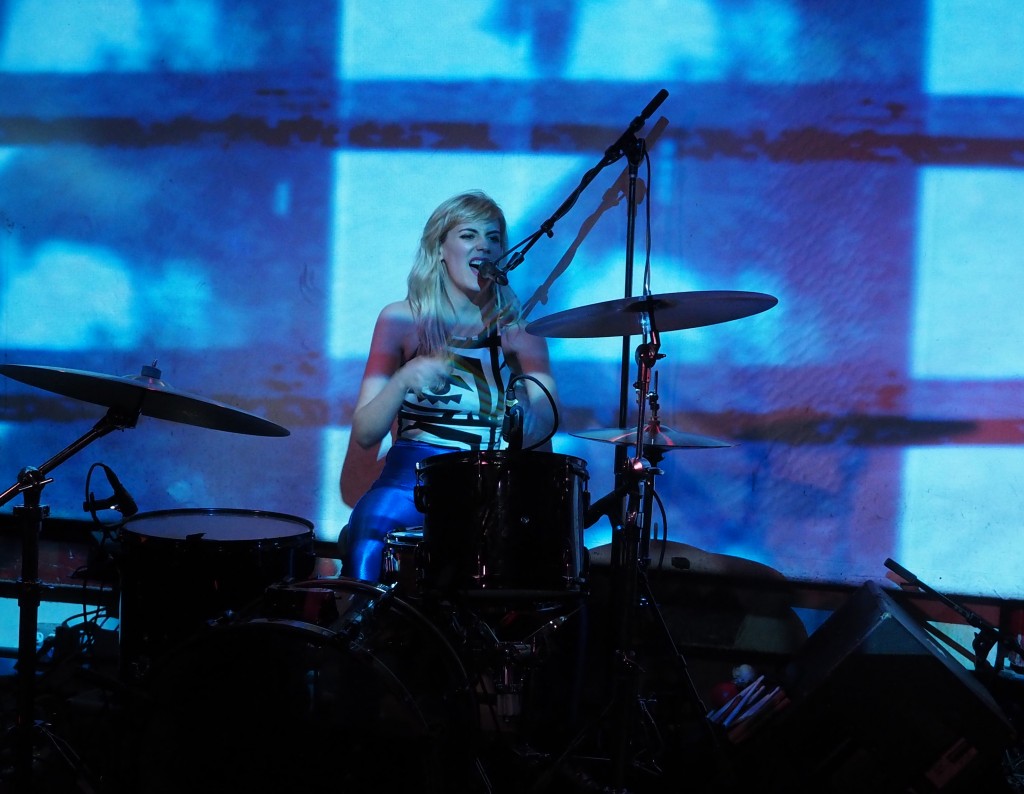 Hey, MD readers! It's been a busy year since the last time I checked in. My band, New Myths, wrapped up recording and recently released our first full-length album, Give Me Noise. We couldn't be more excited.
For the last two years we've been working with producer Seth Glassman on the album. We love mixing different textures and timbres into the grooves. I tracked the basic grooves first on kit and then built them up with hand percussion and electronics. Most tracks are a standard four-piece kit with hi-hat, ride, and two crashes, but a few swapped out the hi-hat for two stacked junkyard cymbals.
I had a blast tracking the album's title song/bonus track "Give Me Noise." The song didn't call for a dance groove the way the others had, so I built a drum corps groove instead. Carriage House Studios in Stamford, Connecticut, where we tracked the kit, has a great selection of drums, including vintage marching snares and bass drums. I tracked the basic groove there, but went absolutely wild with overdubs (thank goodness for patient producers). I wanted the drum corps to sound a little sloppy and chaotic but still groove against the more ambient vocals, synths, and strings, so doubling the same couple drums wouldn't work. I used every drum I could get my hands on. The groove is split into two parts, snares and toms. To capture the snare sound, I tracked several different drums played right side up and snare side up, piccolos, deep wood and brass shells, and a WWII-era Ludwig. Getting the tom "corps" right was more difficult. Advertisement
After tracking the toms (16″ and 18″ DW custom), de-tuning and playing a few more tracks, the timbre still wasn't right. I added some timbales, congas (with mallets), and a frame drum. The texture of the hand percussion gave the groove the lilt I'd been looking for, but it still wasn't one hundred percent. I played the final tracks on my Roland HPD-15, manipulating the Taiko sound. With a few dramatic mallet rolls on my Paiste 505 it was perfect. I also played a lot with sticking and beat placement. I'm a lefty, but play on a right-handed kit. It was the most fun!
I love playing with sound. In the last year we've also done a few shows that have called for some drumset alternatives, which can be tricky. We played an acoustic set on the Goddamn Dave Hill show with cajon, bells, and shaker, and recently did a session with Charged.fm that was totally electronic (HPD-15 and a SPD-20 with a kick trigger). Both were totally different but kept the character of the grooves.
In my regular setup, I'm having a blast working with my Paiste cymbal set-up. I use 14″ 2002 Sound Edge hi-hat, 18″ 505 crash, 22″ Masters crisp ride, and the 20″ Giant Beat multi-functional. Now that the album is done, we are planning on hitting the road. Advertisement
Keep up with New Myths live shows at www.wearenewmyths.com and check out the video for "It Burns Through Your Armor" below:
Listen and get the album at https://www.newmyths.bandcamp.com.