Drummer Blog: Mark Zonder on New While Heaven Wept Album, Composing, and his Studio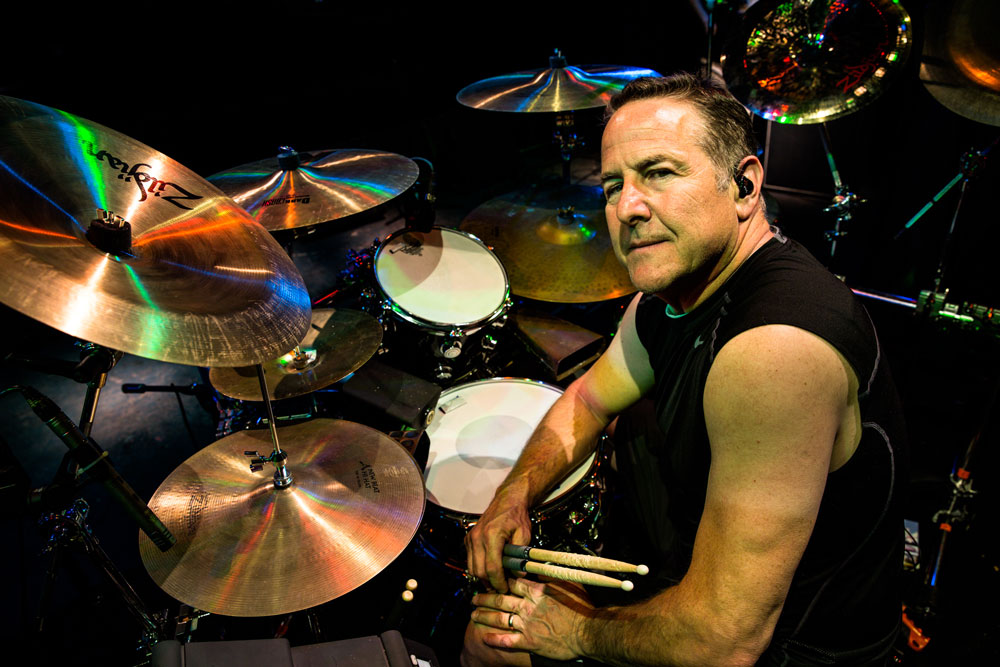 I became associated with Tom Phillips from While Heaven Wept a few years ago, when Warlord was gearing up for our first tour in twelve years. He was a big Warlord, Fates Warning, and Mark Zonder fan and wanted to give us any help he could.
I had mentioned to him to that I do a lot of recording for other artists as I am set up at home with an old school analog drum tracking studio. I took our four-car garage and built it out with a control room in one half and a drum tracking room in the other half. I have a lot of Neve, Summit Audio, and Manley pre amps and eqs along with Lauten tube mics that deliver warm, fat analog style drum sounds. It also helps to have a large room with a high ceiling.
Tom said they were looking for more of an organic, natural drum sound for this album. Since he was already a fan of my playing, combined with the style of studio, it was a perfect fit.
When receiving the tracks for Suspended At Aphelion, I did what I do on any material I work on. Whether it is a simple country tune, a Warlord song or an over-the-top prog metal tune, I listen and study the music. Before I can even think of coming up with parts, I need to understand the music. Some of the music was on the simple side and some on the complex. It is a nice blend of both styles. There were also a few songs that had very nice building parts that allowed me to start sort of simple and build. I always enjoy this kind of playing and it really went to my strengths as a drum composer. Advertisement
Drum wise I really did not change much of my usual setup: DW 10″ rack tom, 14″ floor tom, 20×16 kick, and 6.5×14 snare. This is a custom set that was design with Garrison and John Goode at DW a few years back.
When it came to cymbals I just changed a few types to try and capture the mood of the song. This basically meant using some of my Zildjian K crashes for some of the darker passages compared to using my Zildjian A Thin crashes that record perfectly and give that famous Zildjian shimmer.
As with any artist or band that I work with, I guarantee that they will be one hundred percent satisfied with the track. I do not take the "two takes and I am done" approach. It is very important that the client be one hundred percent happy. Because I have the studio in my house, Tom was able to listen to the parts, pass them along to his band mates and then make decisions on what they liked and what they wanted changed. This is a serious benefit to all of my clients because if we were going into a commercial studio, once we were done they would have to live with it. There were actually a couple parts that that Tom rewrote and then we changed a week later. This obviously would not have been possible if we were not at my studio. Advertisement
We went back and forth on most of the songs, some taking at least a week to finish. I do not mind spending the time, as I know Tom and the band did get exactly what they wanted from my drum performance and studio. It was very important to me to raise the bar on their musical vision by creating and performing the best possible drum tracks I could.
For more on Mark Zonder, visit www.markzonder.com. For While Heaven Wept's album page visit http://smarturl.it/WHW-Aphelion.