Brad Wilk Dashes Expectations With the Last Internationale

Recording with Black Sabbath was the first surprise. Now the ex-Rage/Audioslave drummer dashes expectations again with the Last Internationale.
Interview by David Jarnstrom
Photos by Paul La Raia
Place yourself inside Brad Wilk's Converse All-Stars for a moment. You've just wrapped up a wildly successful, four-year victory lap around the globe with Rage Against the Machine by headlining an epic hometown blowout at the Los Angeles Coliseum. You follow this up by commandeering the drum throne for the recording of 13, the highly anticipated reunion album from Black Sabbath—one of the most influential hard rock groups of all time, whose original drummer, Bill Ward, happens to be one of your childhood idols.
What do you do for an encore? Why, you join a scrappy rebel rock duo from New York City, make a killer record with one of your favorite producers, and then get in the van for several months of hard touring, of course!
Most drummers who've attained Wilk's prolonged level of mega stardom would balk at the notion of slogging it out with a relatively unknown entity like the Last Internationale—especially in an era that's quick to dismiss even the most talented and hardest working up-and-comers. But then again, those same drummers likely no longer possess the same white-hot fire that continues to burn in Wilk's battle-hardened belly. Advertisement
Yes, the heaviest of hitters still has plenty left in the tank, as evidenced by his inspired performance on We Will Reign, the Last Internationale's incendiary major-label debut. Fans of Wilk's drumming will be pleased to hear that his hallmarks—deep, commanding grooves and muscular, propulsive fills—are well represented here. But the seasoned rocker also reveals a surprising level of depth, showcasing his versatility with a more muted touch on the record's gorgeous ballads.
Wilk recently spoke to Modern Drummer over the phone from his Los Angeles home to discuss his new band, what the future holds for Rage Against the Machine, and much more.
MD: How did you come to join the Last Internationale?
Brad: Well, I'd done the Black Sabbath record and I was taking some time off to be with my kids, when I got a call from Tom [Morello], my old guitar player, asking me if I was doing anything. He's friends with Edgey [Pires, guitar] and Delila [Paz, vocals/bass], and he told me they were looking for a drummer to record a couple songs. I heard their stuff and I said I was game.
Once they made it out to L.A., we got in a room and played together, and it felt really good. Things just snowballed from there. After a week they asked me if I wanted to join the band, kind of laughing about it—I don't think that they thought that I would say yes! [laughs] I wound up playing on the whole record, so it kind of made sense to me to join. I like them as people, and I like the music, so here I am. There's something really exciting about going back to square one like this. Not that I exactly love doing the van and Red Roof Inn tours again, but it's cool to go back to your roots, where it all started. Advertisement
MD: Why didn't you tour with Black Sabbath?
Brad: It was never really the plan for me to tour with them. Ozzy has a relationship with his drummer [Tommy Clufetos], and I think they always planned on him doing the tour. I just got brought in to do the record. And I'm so happy that I got to do it; it was such a great experience for me.
MD: How long did it take to record We Will Reign?
Brad: We made the entire record in two weeks over Christmas. Brendan O'Brien produced it, and he's just really great at moving quickly and capturing what's important. We recorded at A&M Records, where both Brendan and I have worked quite a bit—The Battle of Los Angeles and a couple Audioslave records were done there.
MD: Did the Brendan O'Brien connection come from you?
Brad: No, they actually hooked up with Brendan before I was in the band. The same thing happened to Brendan that happened with me—both of us were only going to do a couple songs, and we just decided to make the entire record together. Edgey and Delila had tried to make this album in Nashville, and it just didn't come out they way they wanted it to. I feel weird saying this, but I guess when they were recording in Nashville they kept bringing up my name as far as trying to coach other drummers how to play to their stuff—and now they're in a band with the guy that they were telling other drummers to emulate! [laughs] Advertisement
MD: Were they star-struck at all upon meeting you?
Brad: They didn't seem star-struck, but they definitely seemed excited and appreciative towards the fact that I was playing with them—and that felt really good.
MD: The Last Internationale's early work is rooted in folk and lo-fi garage rock, while We Will Reign is epic and bombastic. Can that shift be attributed to you, or were they consciously moving in that direction already?
Brad: Adding Brendan and me into the mix certainly changed the chemistry of the band, but it really just is what it is. There wasn't a lot of methodical thinking on this one—it was all very primal and instinctual. Those are my favorite kind of records, you know? There's something to be said for taking a lot of time as well, but I thought this was just a perfect way to make a first record with these guys.
MD: You cover some familiar ground here, but on the whole, this is a pretty different dynamic for you.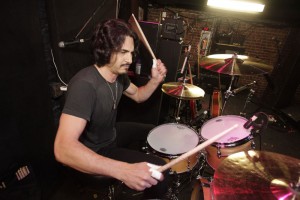 Brad: The fact that it was a different dynamic was one of the biggest selling points to me doing this. I played in Rage Against the Machine and Audioslave—where do you go from there, and how do you even compete with those lead singers? It's not the easiest thing to do. So this just seemed like a perfect idea, to play with a female vocalist and have this really raw, stripped-down approach. Edgey's main influence is the blues, so it was really exciting to go back to that. And I always wanted to be in a three-piece band. Advertisement
MD: Were there any drummers you were channeling on this recording that you haven't had the chance to emulate in any of your past projects?
Brad: I remember thinking a lot about Charlie Watts on quite a few things. "Life, Liberty and the Pursuit of Indian Blood" made me think of the Pretenders song "Message of Love," so that's Martin Chambers right there. Other than that it was completely instinctual for me. When I started out at thirteen, fourteen years old, I was playing in bands that were doing Zeppelin and Stones covers. So this record was kind of like going back to basics for me.
MD: The way you're pushing the hats on "Wanted Man" reminded me a bit of Charlie Watts.
Brad: Interestingly enough, on that song I was not thinking of Watts. To me that song has more of a Motown feel, with those really greasy hi-hats. So I was really channeling Motown drummers on that one and also on the song "We Will Reign." On "Devil's Dust" I kept hearing that Stones song "Wild Horses," so that's when I was specifically thinking about Charlie Watts. But the truth is that Charlie Watts was a huge influence for me growing up. I used to sit and play to those records over and over, so his vibe is within me at all times.
MD: "Baby It's You" is one of the coolest drum tracks you've ever done. That's another one with a killer Motown vibe.
Brad: Thank you! Yeah, there's definitely a bit of a Motown vibe to it—a "shake your ass" kind of a groove. A band called Smith did that song back in the '60s. Burt Bacharach wrote it originally. It was actually Brendan's suggestion to put that song on this record, and we all just went for it. Advertisement
MD: You played vintage cymbals on the Sabbath record. Did you use any special gear for this one?
Brad: In the studio I always use vintage cymbals. They just sound better. There's a lot of dirt on 'em. [laughs] Brendan has an old Gretsch kit that I wound up using for the most part. I used a mix of old and new snare drums, depending on what each song needed.
MD: The drums sound incredible.
Brad: Yeah, I've got to give it up to Brendan. He's just so great at capturing the right tones.
MD: You're singing a lot of backup vocals—is that new for you?
Brad: I sang backups live in Audioslave, and I'm doing a lot in this band, yeah. I really enjoy it, but it's kind of hard because you've got get your stamina up in order to sing. And I tend to really, you know, lay into my drums, so it's tricky. For me the focus is really in the breathing—being able to have breath to sing while not taking away power for playing the drums.
MD: Does playing in politically charged bands help you get up for the challenge of playing so hard night in and night out?
Brad: I would imagine that it does, but truthfully, since I was a kid and I was playing in backyards and stuff I've always felt this sense of urgency, this sense of…This is what I do. I don't have any other choice. This is who I am. There's no doubt about it. So I'm either going to fail miserably, or I'm going to succeed. Advertisement
MD: Is the idea of becoming more of a session player attractive to you these days?
Brad: Ask me that question in a year. [laughs] No, I never really saw myself as a session guy. I've always been a band guy. I mean, I never really thought about music on that level—just going and playing on people's records. I've always wanted to be a part of something, you know, on a deeper level. I've always wanted more. It's certainly hard work, though—especially now. We're definitely not following any trends here. Rock bands are few and far between at the moment.
MD: Being in an up-and-coming band in 2014 must be quite different from the way it was in 1991.
Brad: Yeah, the music business is just the Wild West right now. Record companies are basically falling giants, and there's not a lot of support or nurturing going on for artists anymore. And you have to be involved in these 360 deals where the label is attached to everything if you want a major behind you. It's more nerve-wracking than it was in the past, but I'm up for the challenge.
MD: Are you excited about playing club-level shows again? The Rage reunion gigs were all so massive.
Brad: Yeah, the last show we played with Rage was the L.A. Coliseum, so that's pretty big. [laughs] Honestly, I love playing the Coliseum and I love playing intimate shows. I love all of it. They all have something unique to offer. Advertisement
MD: What is the current status of Rage Against the Machine?
Brad: You know, I don't know. I didn't this hear from anyone in particular, but I sort of heard through the grapevine that maybe the Coliseum show was our last show. I'm always happy to play a Rage show, but that that very well could have been it.
MD: Do you think that Rage is needed now more than ever, given the state of rock music right now?
Brad: I've always felt like there was a need for Rage Against the Machine—and I will always feel that.
For more on Brad Wilk and the Last Internationale, go to thelastinternationale.com.