Rhythm! Discovery Center Joins <i>Smithsonian</i> Magazine's Tenth Annual Museum Day Live!
Free Admission for All Participants Presenting a Museum Day Live! Ticket
– Experience Famous Drumsets and Over 150 Percussion Instruments to Play –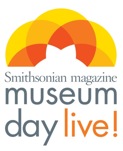 Rhythm! Discovery Center will open its doors free of charge on Saturday, September 27, 2014, as part of Smithsonian magazine's tenth annual Museum Day Live! A nationwide event, Museum Day Live! offers free admission to visitors presenting a Museum Day Live! ticket at a participating museum or cultural institution.
Inclusive by design, the event represents Smithsonian's commitment to make learning and the spread of knowledge accessible to everyone, giving museums across all 50 states the opportunity to emulate the admission policy of the Smithsonian museums in Washington, D.C. Last year's event drew over 400,000 participants, and this year's event expects record-high participation.
Rhythm! Discovery Center is the world's foremost percussion museum and a top 10 Great Place for Hands-On Music Making in the US. Current exhibits include DRUMset: The Exhibit – exploring the evolution of the drumset in American music with instruments on display from John Bonham (Led Zeppelin), Neil Peart (RUSH), Glenn Kotche (Wilco, NPR's Radiolab), and many more. The September 27 weekend will be the last weekend to witness the Leedy exhibit about the world's largest drum manufacturer headquartered in Indianapolis from 1895-1930. Rhythm! also has over 200 instruments from around the world for families to play while enjoying the power of music. Advertisement
The Museum Day Live! Ticket is available to download at Smithsonian.com/museumdaylive. Visitors who present the Museum Day Live! Ticket will gain free entrance for two at participating venues for one day only. One ticket is permitted per household, per email address. For more information about Museum Day Live! 2014 and a list of participating museums and cultural institutions, please visit Smithsonian.com/museumday/venues.
For more information about the Rhythm! Discovery Center, visit its website at RhythmDiscoveryCenter.org or www.pas.org or call 317.275.9030.