Drummer Blog: Street Drum Corp's Bobby Alt on Producing Teen Drummer John Tessin of Hero for Today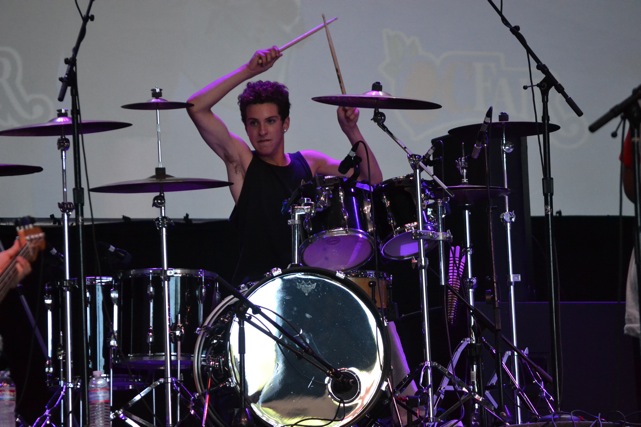 Hi, everyone! It's a real privilege when I get to produce and record young drummers who are just coming into their own, and it's a very special privilege when they're great.
Seventeen-year-old John Tessin, drummer for Hero for Today, is that drummer. He is young, energetic, skilled, and has great timing. He brings the drums to the party every time. You know when you see a kid tear it up, and you're like "daaaaamn, that kid can really play!"? Well, that's John.
I had the task, and honor, of capturing John's energy on Hero For Today's new EP, All You Wanted, which is out September 2014. We did take after take, making sure it didn't sound like a jam of drums, and laid down the grooves to help complement the songs without losing John's amazing energy. Rocko Beall, the main songwriter, knows how to write a pop song, and it's important that the drums lay in there just right without taking away from the song as a whole.
We had a fun time capturing these tracks at Tommy Lee's Atrium Studio in Calabasas, CA. John got to meet Tommy, and I'll never forget how excited he was and how grateful he was to be recording in that studio. Advertisement
John uses a Tama Rockstar kit, which was his first drumset, Vic Firth 5B drumsticks, Paiste hi-hats, Zildjian crashes, and a Sabian ride. In the studio we used Tommy's Pearl Export series drumset, which offered a driving force for the energetic pop-rock feel of what we were going for. We also used some Zildjian A Custom cymbals.
We worked hard on having patience with the recording process, sticking to the click, listening to all of the band member's opinions, and collectively working to make the songs and parts jell together. When working with a young band it's important to let the band get comfortable in the studio and not get too caught up in getting everything perfect right away. There's no need to stress everyone out. My job as a producer is to make sure all of the band members are having fun and are happy with the finished product. The band and I also worked hard in their rehearsal space beforehand doing pre-production so that when we hit the studio we were not wasting time and money.
Expect great things from John Tessin and his band of brothers, Hero for Today, and listen to "All You Wanted" at soundcloud.com/herofortoday/all-you-wanted.
A bit about me: I'm a seasoned touring and studio drummer and record producer for over twenty years, as well as the co-owner and creator of the award-winning drum and percussion ensemble Street Drum Corps. You can purchase my new electro drum album, Back Towards Earth, from iTunes. Advertisement
For more on Bobby Alt and Street Drum Corps, visit www.streetdrumcorps.com.
For more information on John Tessin and Hero For Today, visit vimeo.com/98619011, herofortoday.com, and @hero_for_today.