Drummer Blog: Gabor "Gabs??? Dornyei on Touring and Being True to Yourself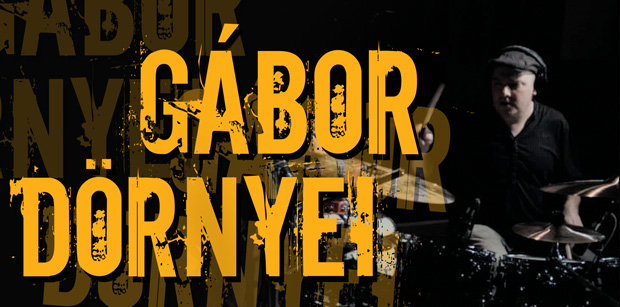 Hi there, Modern Drummer readers, it's Gabor "Gabs" Dornyei here from London, UK, and it's great to be given the opportunity by MD to share some insights of my career with you.
When you find yourself playing on the same stages with Jojo Mayer, Billy Cobham, Chris Coleman, Dom Famularo, Mike Portnoy, Gavin Harrison, and other greats, you quickly come to the realization that there is no point trying to be cooler, hipper, faster, or better than they are, you're just better to be yourself. After all, me being me has worked fine so far. I've always found it very important to sound different from others, so I worked hard on my own ideas and sounds and I hope you will find my videos and playing interesting.
In 2011, Rob Wallis and Paul Siegel of Hudson signed on for my second DVD, Thunder Duo, with Dom Famularo. This was a game changing moment me. Seeing our work together with the likes of Gadd, Weckl, and Colaiuta—the masters I've always been listening to—gave me some extra strength in my unshakable faith that with hard work and commitment, everything is possible in one's career. You just have to keep doing it, whatever it takes. And although I had several highlights in my life, the gold and platinum selling albums, recording sessions for Walt Disney with an eighty-piece classical orchestra, the Budapest Radio Big Band, and many more, this one was definitely a special occasion and a new opening for me in America.
I've been on the road pretty much all my life, and my favorite tours were the three-year-long Pop World Tour with the London production of the Michael Jackson Thriller Show (seen by over two million people around the globe) and the sold-out U.K. and European tours of drum festivals and clubs with my original project Thunder Duo, alongside my world class percussionist partner Kornel Horvath. Advertisement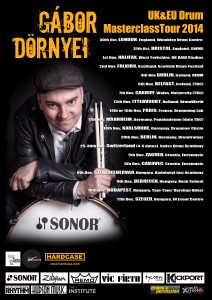 Education has always been another great passion of mine; therefore, I really enjoyed holding master classes at the Los Angeles Music Academy and at a long list of major U.K. and European universities. When I'm back in London, you can find me challenging my students from all around the world at the Institute of Contemporary Music Performance (ICMP) or bashing the drums in hit West End shows, most recently on Rock of Ages.
My latest North American work is the creation of the three long years of full university drum course material, in cooperation with noted marketer and branding expert Wayne Blanchard, for a brand-new institution in the United States. On top of that we're currently mixing and editing my upcoming Duo DVD on Hunnia Records, with another world-class percussionist, Pete Lockett, titled Rhythm Frontier.
The highlight of 2014 so far has certainly been the invitation from Drum Channel president Don Lombardi for an all-day solo recording on DC. But the road is calling again, so this October, November, and December I will be doing over twenty-five stops in the U.K./E.U. for my Solo Drum Master Class tour. Advertisement
All the above wouldn't be possible without the great support of the very best companies in the business: Sonor, Zildjian, Vic Firth, Remo, Tycoon Percussion, Roland, Hardcase, Kickport, and the Institute.
You great MD readers can find both my lesson "Moving Around the Kit" and my solo "Alexander Hedgehog" on YouTube. Please look for my upcoming Modern Drummer print interview, and don't hesitate to get in touch via gabordornyei.com.
https://www.youtube.com/watch?v=92BoXeuqWOs&feature=youtu.be