<em>Rudiments On Congas</em> by Alex Acuña Available as Download or on DVD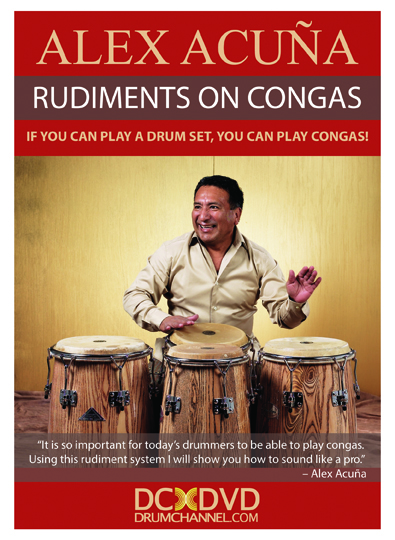 Rudiments On Congas, available via Drum Channel, features nearly two hours of lesson material from world-renowned drummer and percussionist Alex Acuña (Weather Report, Paul McCartney, Whitney Houston, Herbie Hancock, Chick Corea, and more). Acuña discusses and demonstrates how drumset drummers can quickly become conga players by applying traditional drum rudiments to hand drums. During the series of thirteen lessons, Alex covers topics such as single strokes, double strokes, rolls, paradiddles, flams, and drags—giving drummers a foundation to expand their technical and musical skills.
Rudiments On Conga lists for $19.95 and is available by instant download and on DVD at the DrumChannel.com store, as well as through the DC Affiliate program.