Karl Latham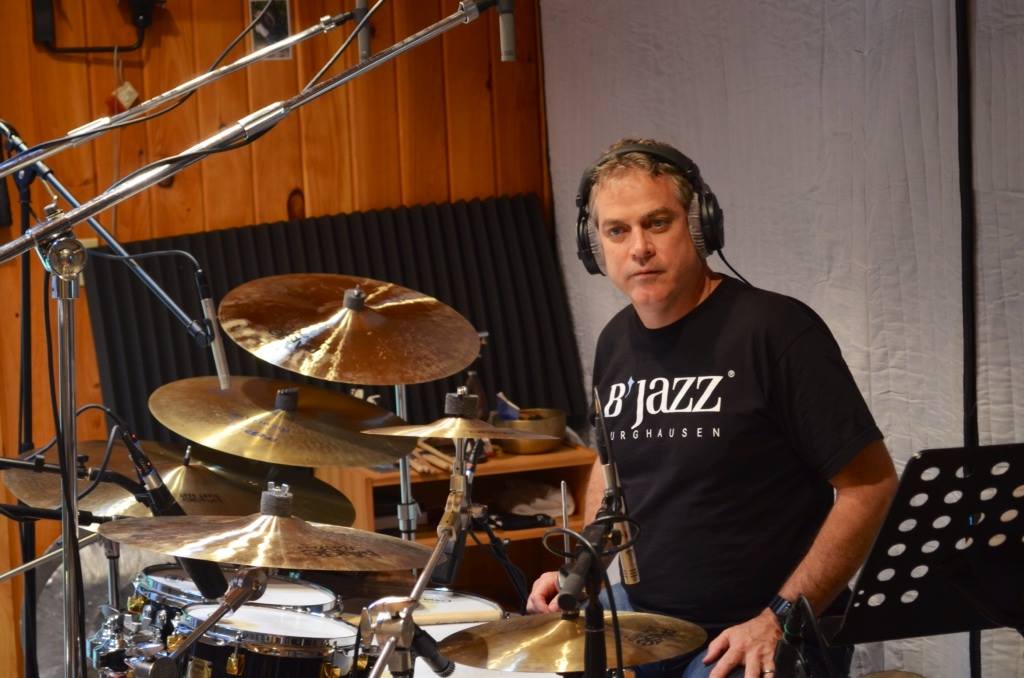 Hello, Modern Drummer readers! It's been a while since I last checked in from "the North Woods." I see all is great in drum land—so many amazing new talents every day!
Over the past couple of years I've been very busy with many cool projects that cover nearly the entire spectrum of musical genres, from funk master Bernie Worrell's orchestra to subbing (along with bad-boy drummers Cliff Almond and Joe Bergamini) for master drummer Andres Forero on the Broadway musical Bring It On.
I've also been very fortunate to appear on a number of albums recently, including Traveler by saxophonist Andy Snitzer (Rolling Stones, Paul Simon) along with trumpet player Chris Botti, and bassists James Genus and Tim Lefebvre; vibes player Wolfgang Lackerschmid's Magic Brewery, with bassist Mark Egan and trumpet player Ryan Carniaux; and pianist Johannes Mossinger's Live and December Suite, both with saxophonist Joel Frahm and bassist Calvin Jones.
Master jazz saxophonist Don Braden and I released our fun and funky debut live CD by Big Fun(K), with Gary Foote on bass and Nick Rolfe on keyboards. And Wavetone Records released the self-titled album by the trio I share with Mark Egan and guitarist John Hart, Unit 1, which landed in JazzTimes' Top 50 CD Picks for 2013 list—and somehow put me between Vinnie Colaiuta and Antonio Sanchez in the JazzStation 2013 Best of Jazz Poll. Big Funk and Unit 1 both have studio CDs brewing. Mark Egan and I have actually been appearing together in a number of different groups; it's always a blast to play with Mark in flautist Ali Ryerson's Quintet with keyboard player Pete Levin and guitarist Mike DeMicco. Advertisement
My new projects include performing with guitarist Howard Paul, president of Benedetto guitars, and a very cool fall 2014 release called Constellations. Constellations features Ryan Carniaux, Mark Egan, and I interpreting the music from Icelandic pop star Björk. It's a highly adventurous improvisational outing that draws influences from a wide palette, including Miles Davis's Live-Evil. The album was recorded at Barbershop Studios by Jeremy Gillespie and mastered by Fred Kervorkian. Jeremy and Fred really captured the essence of the Yamaha maple drums, Evans Level 360 heads, Vic Firth sticks and Rakes, and Paiste Dark Energy, Traditionals, and 602 cymbals that I utilized. I'm sure it will be a sonic treat for anyone who is a fan of those sounds!
Mark and I met Ryan for the first time on the Wolfgang Lackerschmid Magic Brewery recording and immediately became bros. I'd wanted to do a Bjork-influenced CD for many years, but it wasn't until I met Ryan that it all came together. Nick Rolfe created some amazingly psychedelic soundscapes in addition to his always beautiful keyboard playing.
Mark and Ryan and I recently recorded a "making of" video of Constellations—I think you'll dig seeing how it came together. Check it out below.
Signing off—4/4 and more my drumming brothers!
For more with Karl Latham, go to karllatham.com.