Influences: Harvey Mason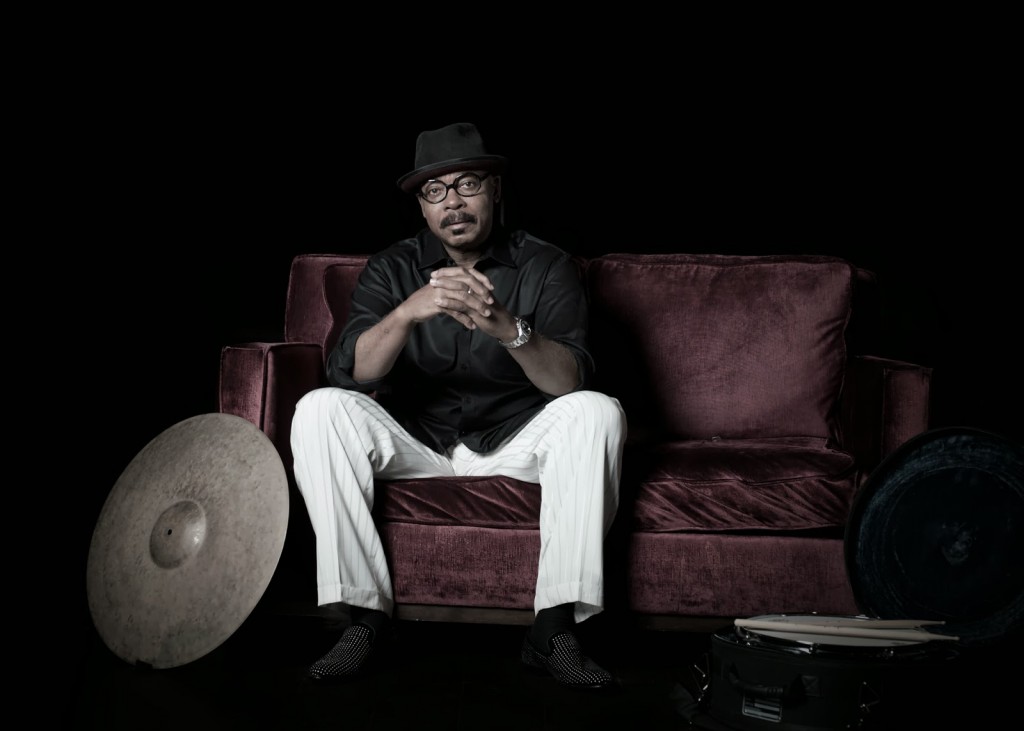 by Ken Micallef
Harvey Mason's classic 1970s-era session work comprises some of the most soulful jazz, pop, and R&B recordings ever cut to vinyl. Mason's golden '70s period includes Herbie Hancock's Head Hunters, Donald Byrd's Black Byrd, Seals & Crofts' Diamond Girl, Bob James' Three, Randy and Michael Brecker's The Brecker Brothers, Bill Withers' Making Music, George Benson's Breezin', and the Brothers Johnson's Look Out for #1, Right on Time,and Blam! Somewhere between Lenny White's intricate fusion and Steve Gadd's precision pocket, Mason brought his own blend of soul, style, and flow for perfect whisper-funk smoothness.
Mason has recorded many solo albums (including Marching in the Street, Earth Mover, Funk in a Mason Jar, Groovin' You, M.V.P., Stone Mason,and Ratamacue), has played on hundreds of movie soundtracks, was a founding member of the L.A. smooth-jazz quartet Fourplay, and continues to record with artists from Beck and Beyoncé to Bob James, Britney Spears, John Legend, Jennifer Hudson, and Seal—and that's not even including his live gigs!
Now, given that Herbie Hancock's Head Hunters is considered the album that put Mason's career on its upward trajectory, Harvey revisits his classic jazz-funk past on an album titled Chameleon, after the classic Hancock track (which Mason cowrote with the keyboardist). Accompanied by an assembled group of L.A. jazz's brightest young talents, Chameleon is light years from the smooth-jazz finery that Los Angeles residents often favor. But then, smooth jazz has always suited L.A.'s endless sunshine, traffic jams, and beach-blanket blondes.
As deeply funky a record as Mason has made, Chameleon beautifully documents Harvey's compositions and drumming. Highlights include opener "Black Frost," a slippery slow-funk jam; the lithely pulsing "Montara," complete with delicate snare drags and crisp snare/tom punctuations; the grittily dense "Looking Back"; an extended drum solo, "Studio Life (Hold It One Second)"; and the popping backbeat workout "Mase's Theme." Here, as a companion to our August 2014 Influences piece on Mason, we speak with the drummer about his new album, his early days, the drummers who inspired him, and more.
MD: How did your new album, Chameleon, come about?
Harvey: I have played in Japan often; the people there have always been very receptive to Fourplay and my other bands. I'm always looking for something fresh. So I took my Chameleon band there a couple years ago to play the music I played with Herbie Hancock but never had a chance to record. It was a big hit in Japan—they loved it. So I had the idea that I should record that music. I wanted to move past that era and make it a little more modern, but the A&R man at Concord loved the project and didn't want it to go modern. I eventually saw it his way and went with the moment. I created another CD for Japan. It's the same music but with three new tunes and some drum solos that don't appear on the U.S. version.
MD: What is the essence of your style and sound?
Harvey: Just trying to make music on the drums and looking for something interesting to play. I am more motivated by music than by drums. I love music more than I do drums. I am always trying to find the music in the drums; I'm thinking musically and harmonically and melodically and not thinking as much rhythmically. I'm motivated and inspired by music, and that's what inspires me to play. That's why things may come out sounding a little bit differently than they do with other people.
MD: Are you playing melodies on the kit?
Harvey: I'm interpreting the song on the drumkit. Trying to do it in a melodic way, even though there are no real pitches on the drums. I'm trying to augment the melody and solidify the rhythm and find some sort of inside rhythm, rather than necessarily just playing 2 and 4 all the time. I find the other accents. That's how I'm inspired to play.
MD: What's your drumset on Chameleon?
Harvey: I'm playing Gretsch on the record with four different snares: Canopus, Singerland Radio King, Brady 10″, and Noble & Cooley 5.5×8. I've been using two and three snare drums with Fourplay for years, usually in the same song. One for the groove, one for accents. I use those to add some different colors and some spark. I keep the alternate snare drums on my left side. When you add different things to your kit in different places it brings out different colors. If you turn your toms around where they're not left to right—go right to left instead—or put up a different cymbal, things will sound different. It induces you to play differently. Generally when I'm recording I have a lot of different snare drums and cymbals. I use different cymbals and snare drums for different tracks, depending on the song. On "Before the Dawn" I played an old Noble & Cooley—it's about nine inches deep. I tune it low and it kind of rattles. It sounds like an Al Green snare. I use it often on ballads.
MD: Are you likely to play more in the studio and less in live performance?
Harvey: When I'm playing live I always play more, but in the studio I'm hearing the overall picture. I've always played for the music more than just playing for myself, but it depends on the context.
MD: How do you generally work up a drum part?
Harvey: I am inspired by the music. I never think about it beforehand. On most records we play it and we record it. On George Benson's Breezin', those were mostly all first takes. So you hear it, you feel it, and you go for it. Sometimes on pop records they will tell you exactly what to play. But on creative records they trust you. I go with what I feel. If I have to play the song over and over, I get bored, so I'll change it, and that often sparks the entire session. If you are playing the same groove for more than three takes, it feels like you're in a factory. I will energize the whole session by playing something very different at that point. Go in another direction and it creates a new energy. It gets everyone out of the doldrums. I am always looking for something fresh that makes for a great part and fits musically. You can feel when it feels right or it doesn't.
MD: How did you begin playing the drums?
Harvey: I began playing when I was a kid and took lessons right away in school. I had a gift. But I did cultivate it. By my senior year I knew I wanted to make a living playing music. I went to Berklee for a year and a half, then New England Conservatory, where I graduated. I worked really hard at expanding my musical horizons. We had a very good music program in Atlantic City where I grew up. It was a huge haven for jazz and rock 'n' roll. I played all that and jazz clubs, strip clubs, pop clubs—such a variety. I was a staple in Atlantic City at a club called the Wonder Gardens. I saw all the greats there, and there were organ bars everywhere. The big acts would play until 4 A.M., and then I would play with my band from 4 until 10 A.M., the breakfast hour. There were never enough hotel rooms for the people in Atlantic City. They had music around the clock. People would stay in the bars and rock out.
MD: How did you break into the recording scene?
Harvey: I was hired at big sessions in New York City as a percussionist first. Then Quincy Jones hired me for The Bill Cosby Show in L.A. I was the drummer on The Lucille Ball Show in L.A. Ray Brown was the contractor on that show, and he hired me for a big Texaco commercial. I made my first hit record with the Sylvers on a song called "Misdemeanor" in the early '70s. It took me three years to be considered a drummer—I was doing all this percussionist work. But then I began working like a madman.
MD: You cover one of your older tracks, "Montara," on Chameleon. Your drumming is so subtle there, a perfect example of what I think of as whisper funk. How do you burn at such a low dynamic level? Dave Grusin's soundtrack to Three Days of the Condor is another good example of your taste and control.
Harvey: I play the drums and cymbals for sound. And yes, I also play with a lot of control. I may not be as fast as a lot of guys, but I have a lot of control. That's why I'm able to play very softly and make it feel good.
All my strokes are controlled. I never used bounce that much. When I play fast it's usually controlled. I spent a lot of time in the early days distinguishing and separating the beats. That's why my drumming is so clean and articulate and why it's so in the pocket, because I have complete control. Everything flows right at the place it should be. I'm not trying to control the bounce; I am actually sticking everything. I may have limited speed and power, but I make up for it in articulation and sound.
MD: What are some of your favorite recordings that feature your drumming?
Harvey: Gerry Mulligan and Chet Baker's Carnegie Hall Concert is one of my favorites. And the two M.V.P. records of piano trios is good. I got so many great piano players there, including Herbie Hancock, Brad Mehldau, Eric Reed, Gonzalo Rubalcaba, Cedar Walton, Mulgrew Miller. I got a gold disc in Japan for those records.
MD: What are some of the early records you loved for drumming?
Harvey: Gene Ammons' records with Art Taylor. I listened to him for hours for his feel. And I loved Jimmy Smith's The Sermon! with Art Blakey. One song is almost the entire length of one side of the record, and Blakey plays an incredibly swinging shuffle from start to finish. I listened to all of Art's records after that.
MD: Do you have other favorite records from when you began drumming?
Harvey: When I was a kid in Atlantic City, we were so poor. My mom had eight kids; no dad, no record player at home. I went to other people's homes to hear music. I only bought two records, but my friends had them all. They turned me on to the music. After Art Blakey I got into Roy Haynes. I loved him. He was so modern. He played so hip, that snap, crackle, and pop. I loved that. I saw him play a lot in Atlantic City with Cannonball Adderley. Roy would come to my gigs around 1964, and he was so cool with me. I fell in love with his drumming and the music on Chick Corea's Now He Sings, Now He Sobs. Roy would show up at Atlantic City in his gold Mustang. All snap, crackle, pop, and excitement. He had a timpani at the time too; his stuff was exciting and so very hip. I hadn't heard Max Roach or Philly Joe Jones. I had to go back and check them out later.
MD: And you knew Elvin Jones then?
Harvey: I did a clinic with Elvin in Chicago once, in 1971. We just talked at a school. We played together after our separate clinics. I was really into Elvin with Coltrane during his Atlantic Records period. And the Coltrane/Johnny Hartman album on Impulse.
MD: Were you also listening to R&B drummers then?
Harvey: Yes, Pistol Allen at Motown, then Jabo Starks with James Brown. Then I fell in love with Miles Davis and Tony Williams. He changed drumming for me on Seven Steps to Heaven. He was fresh, the way he played the ride cymbal and the hi-hat. He used the hi-hat more for time than the bass drum. At that time people used the bass drum for time. Everything Tony played was very different. He was economical, and he didn't sound like anyone else. His interplay with the piano players was different—he was a lot freer—but then dominant in some other places in the music.
As time went on I got more into Elvin, and Buddy Rich. [Rich would eventually cover Mason's compositions.] I saw Steve Gadd in Atlantic City before he was in the service, with the Jimmy Tyler organ trio at Wonder Gardens. We hung out and played some drums. I met his dad. Then he came back the next year with the Supremes. He played great R&B too. He always had that special technique.
MD: What other albums really inspired you?
Harvey: Well, all the Miles albums with Tony Williams are great. And Jimmy Cobb and Philly Joe Jones with Miles too. Max Roach with Clifford Brown. Bill Evans is one of my favorite musicians. That whole period in the '60s and '70s when all those great records were made. Joe Chambers was always great, and I listened to Billy Higgins on a lot of records. He had some special soul happening. So much feeling. The technique wasn't important—it was the feeling and the way he touched the drums. He kept the energy going. He was ridiculous. It was about the feeling, not how fast he played.
That's what records are about, transmitting feeling through the music. The drumming on a record doesn't matter; it's about getting the feeling and the sound and complementing everything and helping the music go different places. And pushing the performers to go different places—that's the most important thing a drummer can do on a record.
For more with Harvey Mason, check out "Influences: Harvey Mason" in the August 2014 issue of Modern Drummer magazine.