Protection Racket Redesigns Website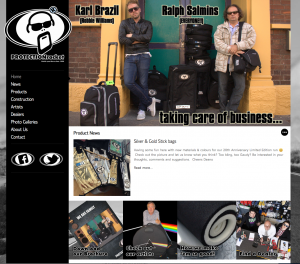 Protection Racket is pleased to announce the launch of its completely redesigned website. The site is now more closely aligned to the company's philosophies of keeping things simple, easy-to-use, and fun.
The website has undergone a complete overhaul to offer a clean, modern design with easy-to-navigate functionality. The content-rich site contains full details of the entire range of Protection Racket products, a downloadable catalog, and specifics of what goes into making the cases.
Visitors to the site can check out many of the artists who endorse Protection Racket gear. Those looking to buy Protection Racket gear can bring up a list of worldwide dealers as well. There's also a new photo gallery showcasing the various ways Protection Racket cases are being used. Advertisement
"We have been making cases for more than twenty years to the exact same specifications and using the exact same materials," said Protection Racket managing director, Dean Bowdery. "And although we have always had the mantra 'if it ain't broke, don't fix it,' we recognize the importance of constantly innovating and adapting our designs. The same applies to how we do business and the technology we use. So when we redesigned our new website we applied exactly the same approach. It is still recognizably Protection Racket. It still has loads of news, details of all the cases, and the stuff we use to make them, but the website's new, clean, modern design reflects Protection Racket as it is today. The improved navigation makes it easier to find what you need, and we have added stacks of material about our artists we have never shared before."
Check out the new Protection Racket website at www.protectionracket.com for all the latest news on products and endorsers, as well as links to the company's Facebook and Twitter pages.