Check out the Loop Loft's Matt Chamberlain Drums, a Collection of Loops, Multi-tracks, Samples, and MIDI by the famed session drummer.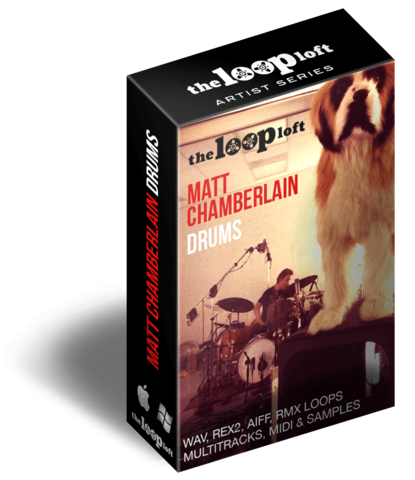 As one of the most in-demand session drummers of the past twenty years, Matt Chamberlain's extensive list of recording credits reads like a veritable who's who of the music industry: Peter Gabriel, the Wallflowers, Fiona Apple, Kanye West, David Bowie, and Elton John, just to name a few. With the release of Matt Chamberlain Drums, drummers, songwriters, producers, and programmers around the world now have access to the drummer's unmistakable vibe.
"The release of Matt Chamberlain Drums truly embodies the spirit of our company's philosophy," says Loop Loft CEO, Ryan Gruss. "We're democratizing the music production landscape, giving anyone, with any music software, the ability to make songs with royalty-free beats and grooves featuring legendary musicians like Matt."
Recorded at Chamberlain's personal studio inside the famed Sound City complex in Van Nuys, California, the Matt Chamberlain Drums collection captures a range of beats, sounds, and styles. Nine complete sessions offer dozens of rhythmic and sonic options, ranging from organic brush grooves to driving rock, vintage soul, and cinematic textures. Advertisement
Included in the collection are over 380 beats, fills, and breaks in variety of tempos and genres. The Deluxe Edition gives access to fifteen channels of separate audio tracks, recorded in 24-bit/96 kHz, so users can mix every element of Matt's drumkit, including kick, snare, toms, overheads, and a variety of room mics. The Deluxe Edition also includes loops in all stereo formats (REX2, AIFF, WAV, Stylus RMX), as well as MIDI.
The Matt Chamberlain Drums collection lists for $49 for 48 kHz stereo loops and $79 for 96 kHz multi-track loops and is available for download at thelooploft.com.