VHF's Todd Vinny Vinciguerra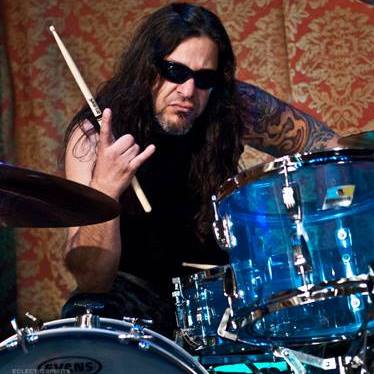 Hi! While I was working on my Rock Perspective columns for the August 2013 through January 2014 issues of Modern Drummer, I was also recording drum tracks for my new project, VHF, with guitarist Joel Hoekstra (Night Ranger, Trans Siberian Orchestra, Rock of Ages NYC) and bassist Tony Franklin (the Firm, Blue Murder, Kenny Wayne Sheppard). Here, I'd like to share a bit about our recording process.
To start, the guys were completely independent to create or layer whatever they wanted over my drum tracks. It was a "backwards writing process," as Joel put it. After I wrote and arranged several songs on drums, I went into my garage studio armed with a Zoom handheld digital recorder and my old DR-550 drum machine (used as a click track) to record some very raw ideas. It was a one-take, live feel, with no overdubs or fixes, just to get the ideas and arrangements outlined so I could send them to Tony. Tony would then send me his bass tracks via Pro Tools session files. I went into my friend and producer Joe Floyd's studio in Redondo Beach, CA, to record my final drum tracks.
Before we tracked, Joe asked me what I was looking for, as far as sound and overall vibe for this project. These tunes are all about rock grooves, à la Pink Floyd, Led Zeppelin, and the music I grew up on. It was about not overplaying the drums or showcasing my technical skills, but to leave plenty of room for the guitars and bass. Advertisement
As I started getting guitar tracks back from Joel, I was getting more and more excited to get this project heard. Joel composed some amazing parts with many textures and layers. As Tony put it, "another guitarist could quite easily have just come into this and jammed a few things, but he really went for it. I like his approach, and I'm impressed with the whole thing." I equate this to group painting where everyone has independent brush strokes, but the end result is complete picture. The overall vibe is trippy, and I swear you wouldn't know that we were never in the same room together.
To help create my sound, I used a Ludwig Classic Maple kit consisting of 14″, 16″, and 18″ toms and a 26″ bass. I used a 6.5×14 Black Beauty snare and Paiste 2002 series cymbals (15″ Sound Edge hi-hats, 18″ and 20″ Medium crashes, 18″ and 20″ Power crashes, and 5″ and 6″ Cup Chimes).
The CD will be released June 20 via CD Baby and iTunes, and I am looking forward to your feedback. Thanks for reading and rock on!
For more on Todd, visit facebook/todd.vinnyvinciguerra or via email at vinny@anotherstateofmind.com.
Watch VHF's debut video at below.