Kenn Youngar of Messer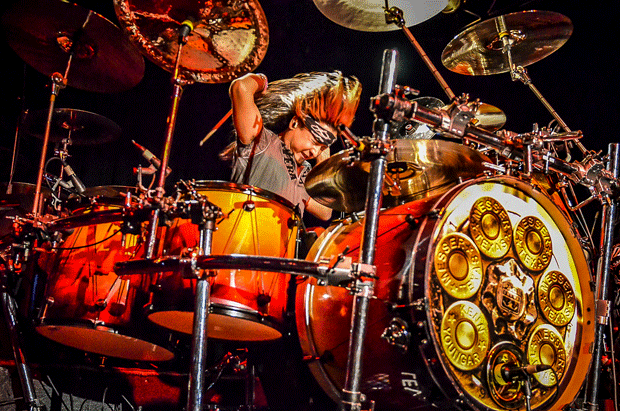 Modern Drummer readers, cheers from Dallas! I am honored to be featured alongside these great drummers, not to mention the opportunity to be a part of an amazing magazine I grew up reading.
I've been playing drums since I was in high school in Canada, but I've found myself chasing my dreams in the U.S. since 1998. Currently my band Messer is on the final stages of recording our first album with Chad Gendason and James "Jimbo" Barton at Silverlake Pro Studios in Los Angeles, California.
In October 2012, I was asked by Adam Budofsky, the editorial director of Modern Drummer, to write this blog. I really didn't forget to write this, Adam, I swear! It's quite the opposite, really. I thought about this a lot and only now do I feel the time is right. Back then I was about to leave on a cross-Canadian tour with Black Label Society, Protest the Hero, and Pop Evil. I hadn't been back to Canada in seventeen years, and it was my first theater and arena tour. You would think that then would be a great time to write this, but I'm glad I didn't.
That was many moons ago, and I feel like a completely different drummer now. In the last year I feel I have learned more than in the previous five, as a player and as a person. I found I was always staying in my comfort zone as a performer and had grown stale, coloring inside the lines. I never wanted to peek out of my box for fear of the new or messing up. I see now that to find "the new" you usually stumble and fall to discover it. It's never an easy task to leave the safety of the nest and attempt to fly. Everyone has that comfort zone, some constantly thrive to get out of that box and become amazing players. I was not one of those drummers. The root of fear or laziness knows no age. Advertisement
I've been pushed out of my normalcy and thrust into learning new things. Being a self-taught player, my motivation level was always whatever I wanted it to be. With this new album, having a producer, manager, and bandmates that are always pushing their own envelopes, it was time to hammer down on mine. For the first time I was pushed to the edge of my understanding and familiarity in playing style. It's never too late to learn.
To grow, you must change. To change means there is risk. Taking risks leaves you vulnerable. That's the pesky part of being human—vulnerabilities. You need to take on that self doubt, that voice that keeps you down, and look for that new influence…that modern drummer waiting inside, and let him or her out. Set goals, make routines, keep that promise to yourself to look beyond where you are. Visualize a new level for yourself and set new standards. Believe me, I know it's hard. But I'm living proof that it can be done!
We all have trials, frustrations, and slip-ups. Ultimately it's up to you to change. I feel like I'm starting my drumming career again, and I'm pretty stoked about it. I look forward to all the new things I will learn, the new mountains I will climb, and for every mess-up there will be a smile at the end when I clean it up. Advertisement
I look forward to seeing all of you out on the road, and I'm always open to hear from other musicians. I would like to thank our families, friends, and fans for all the support. I would also like to give a big shout out to the following companies that have supported me through the years: Hudson Custom drums, Los Cabos drumsticks, Peace drums, Soultone cymbals, Kickport, 1964 Ears, Kelly Shu, Lizard Spit drum polish, Rock-n-Roll GangStar Apparel, Trick Drums USA, and Messatory Studios. I appreciate each and every one. Like they say, I get a little help from my friends. I love you all!
For more on Kenn Youngar and Messer, go to messerband.com, kennyoungar.com, facebook.com/messerband,  or facebook.com/OfficialKennYoungar.  And to watch a lyric video for Messer's track "Simple Man," go here or look below.
https://www.youtube.com/watch?v=r40aaDOMoek